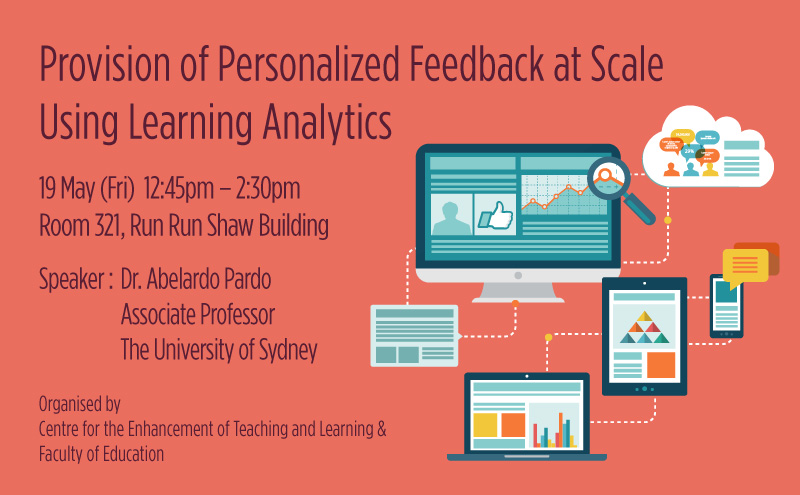 Organised by Centre for the Enhancement of Teaching and Learning (CETL) and Faculty of Education
Details of the workshop:
Date : 19 May, 2017 (Friday)
Time : 12:45pm – 2:30pm
Venue : Room 321, 3/F, Run Run Shaw Building (Main Campus), HKU
Speaker : Dr. Abelardo Pardo, Associate Professor, The University of Sydney, Australia
Facilitators : Prof. David Carless, Associate Dean, Faculty of Education, HKU
Dr. Cecilia Chan, Head of Professional Development, CETL, HKU
Abstract
The increasing presence of technology mediation offers an unprecedented opportunity to use detailed data sets about the interactions that occur while a learning experience is being enacted. Areas such as Learning Analytics or Educational Data Mining have explored numerous algorithms and techniques to process these data sets. Additionally, technology now offers the opportunity to increase the immediacy of interventions. However, not much emphasis has been placed on how to extract truly actionable knowledge and how to bring it effectively as part of a learning experience. In this talk, we will use the concept of feedback as the focus to establish a specific connection between the knowledge derived from data-analysis procedures and the actions that can be immediately deployed in a learning environment. We will discuss how there is a trade-off between low-level automatic feedback and high-level complex feedback and how technology can provide efficient solutions for the case of large or highly diverse cohorts.
Speakers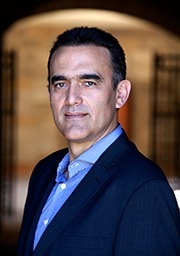 Abelardo Pardo is Associate Professor in the School of Electrical and Information Engineering at The University of Sydney, Australia. He is the director of the Learning and Affect Technologies Engineering Research Laboratory and deputy director of the Centre for Research in Learning and Innovation. His research interests include the design and deployment of technology to increase the understanding and improve digital learning experiences. More specifically, his work examines the areas of learning analytics, personalized active learning, and technology for student support.
For information, please contact:
Ms. Noranda Zhang , CETL
Phone: 3917 4729; Email: noranda@hku.hk​