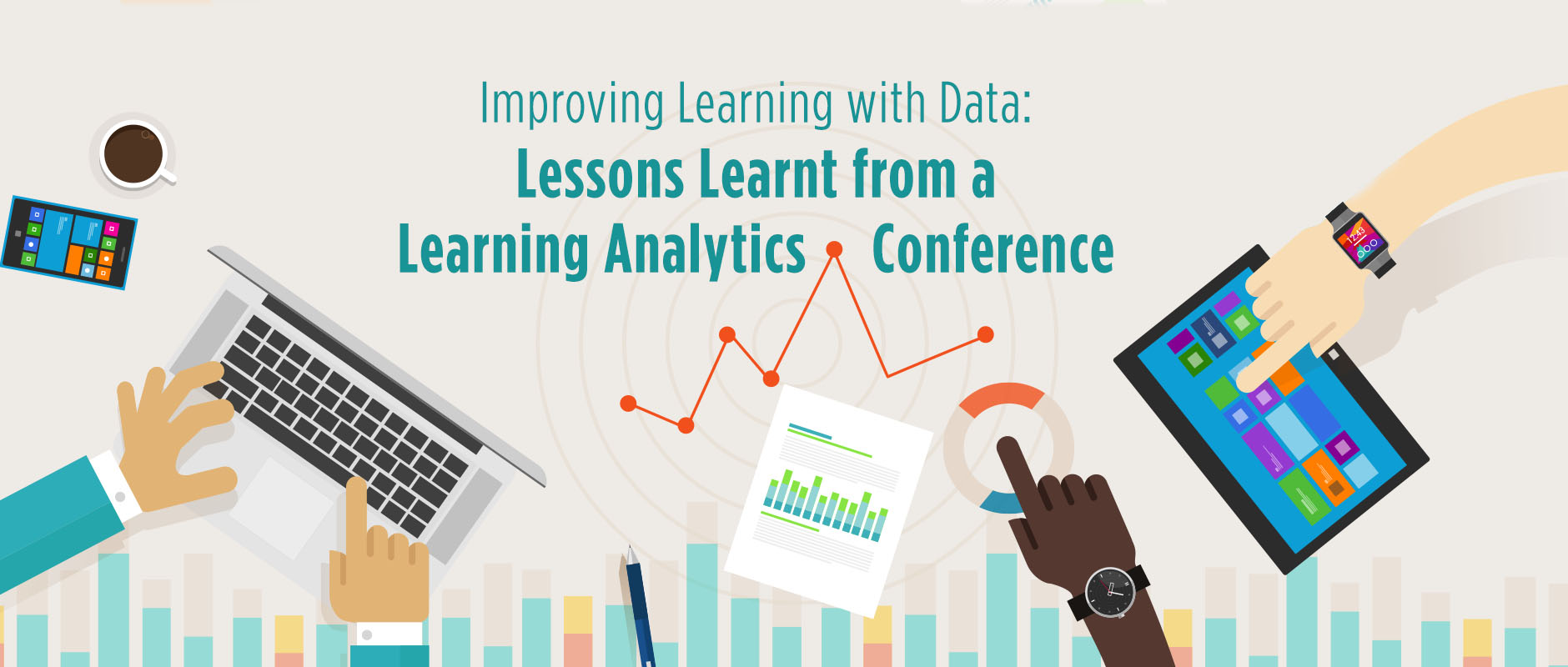 The use of technology in teaching and learning has generated learning data at a massive volume. But how can we maximize the impact of learning analytics (LA)? We explored this question in the 7th International Learning Design & Knowledge (LAK) Conference, themed Understanding, Informing & Improving Learning with Data. It was an exciting experience to find out how educators from around the world develop and deploy their LA tools. Some of our colleagues also presented their research on improving video instructions and their progress on developing learning progress dashboards in the conference.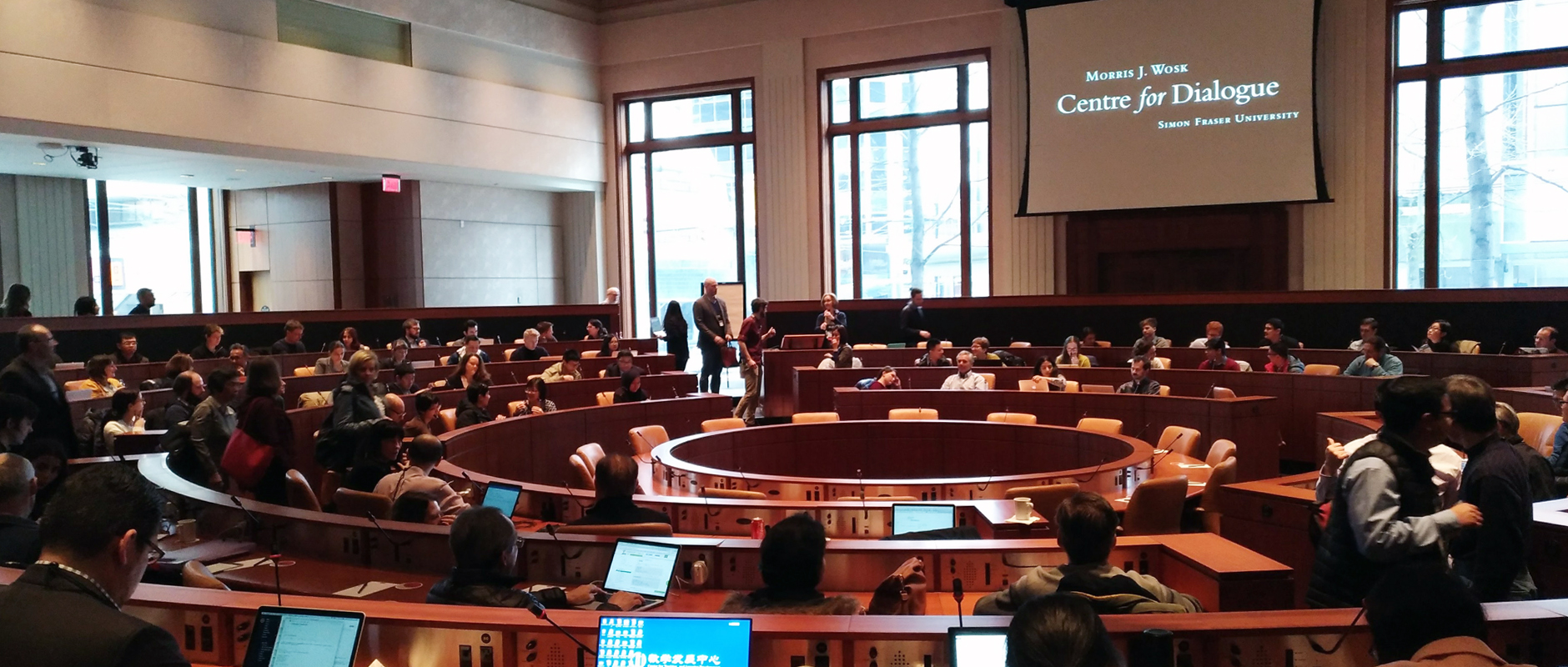 Discussions in the Morris J. Wosk Center for Dialogue
The conference featured 3 keynote sessions, 30 technical sessions and 16 pre-conference events. It covered various aspects of LA, from modeling students' learning behaviour to institutional deployment of LA in practices, gathering ideas from cognitive science, learning design, educational psychology, learning technology, data science and other related fields.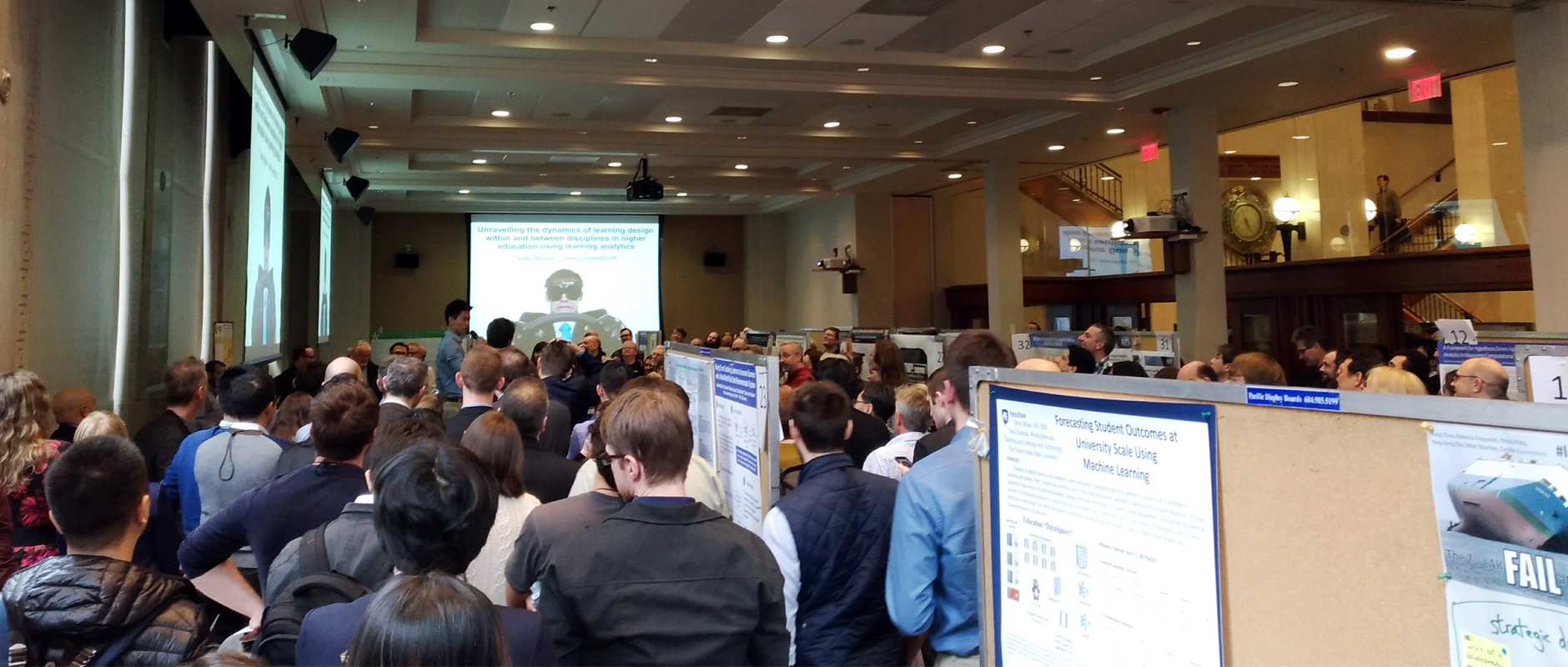 A highly engaging poster session where participants shared their ideas via 30-second pitch talks
Several major takeaways from the conference:
Students' learning behavior, triangulated with their physiological data such as pulse, gesture, eye movement and brain wave, etc., reflect the process of learning, said keynote speaker Dr. Sanna Järvelä from the University of Oulu, Finland. Her research focused on using multimodal data to support the inquiry of learning. With guidance of existing learning theories, learning scientists could understand better the process and product of students' learning, and provide suggestions for improvement accordingly.
To ensure effective analysis of students' learning processes, an adaptive data-driven learning ecosystem should be established, as pointed out by Dr. Timothy McKay, keynote speaker from the University of Michigan. To establish this adaptive system, learning data needs to be continuously collected and integrated. This informs both students and teachers of students' learning as an individual and in groups over an extensive period of time, throughout or even beyond their university life. In the University of Michigan, 10 years of learning data from different sources has been collected for establishing a learning system. This system advises teachers and students by providing relevant data to them. The purpose of putting data in people's hands is to support decision making, motivate actions and guide behaviour change.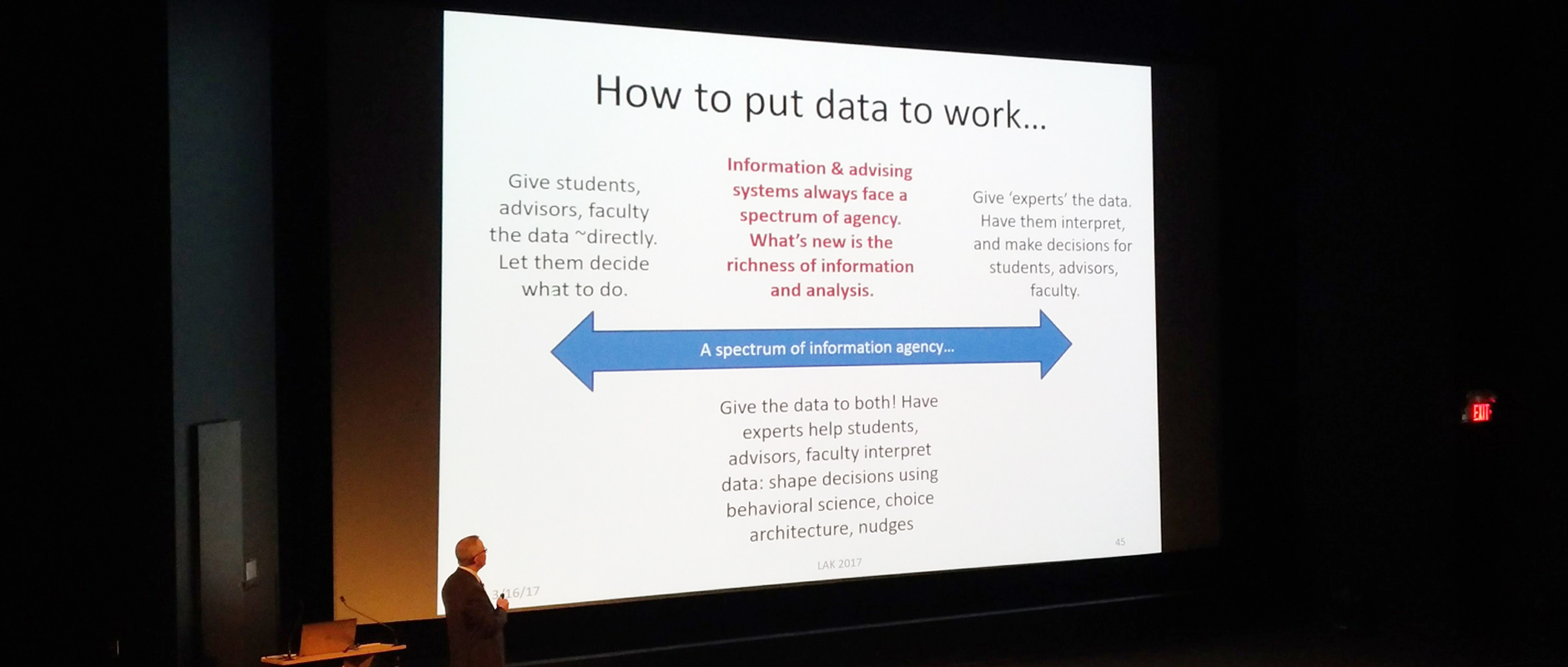 Dr. Timothy McKay illustrating how data can be used for decision making
Just as research tools are always guided by research methodology, LA tools need to be student-centered and pedagogy-considered. This requires trust and understanding among teachers, system developers, user interface designers and behavioral scientists, whose expertise could jointly contribute to the sense-making of learning data.
For analytics to work well, the data collected from prior experience must be extensive, accurate and relevant. Some classes tend to be more suitable for deploying LA, such as large introductory courses with relatively mature course contents and classes where teachers have a clear understanding of students' background and ability. The course should also involve a variety of instrumented learning activities, and the course team should constantly and gradually improve the course structure, content and assessments.
Finally, we must remind ourselves that data by itself is not all powerful until actions are taken in response to the analysis. We should also work to ensure that the collection of educational data and the use of LA tools are lawful and ethical.