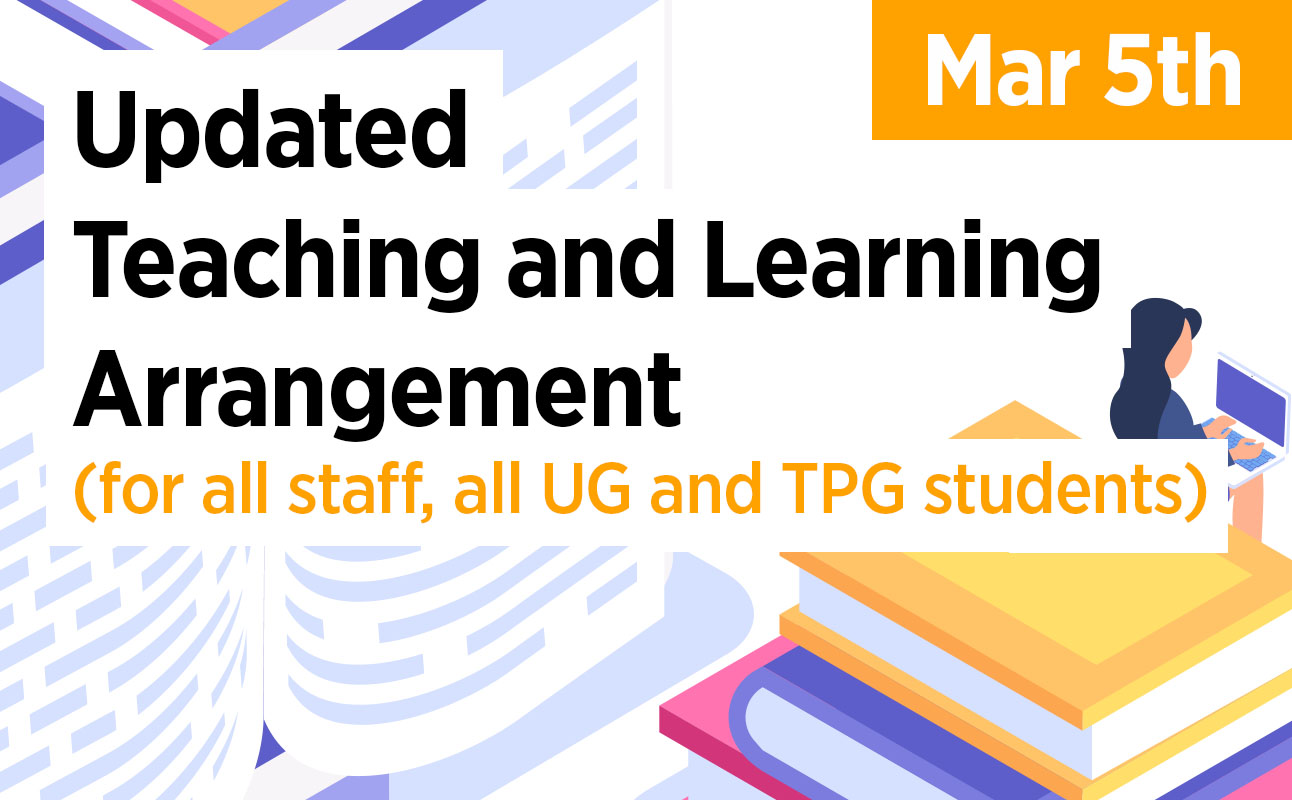 Dear colleagues and students
We're continuing to monitor and analyse the COVID-19 situation and its implications for the University. Within this still uncertain framework, we're trying to figure out the best way forward for teaching and learning. As before, our absolute priority remains the health and safety of both HKU members and the general public.
With this at the forefront of our minds, we're announcing a series of updates to our plans for the remainder of the semester. We recognise that the choices we're able to make at the present time are not ideal, but we believe they're the best that are available to our campus community.
Until the end of the teaching period on May 16, all teaching and learning will be delivered online. There are just a few exceptions, including:
(1) Non-clinical laboratory, studio and practical skills components of courses for final-year students that have to be taught through face-to-face classes in order for students to graduate on time. We will arrange for these students to come on campus for low-density laboratory, studio and practical skills teaching sessions beginning no earlier than March 30. Their other classes will remain online. When required to come on campus, these students will be provided with face masks. Faculties will inform final-year students taking these courses of detailed arrangements at the start of next week.
(2) Clinical programmes in the Faculty of Dentistry and the Faculty of Medicine. These two Faculties will reach out separately to students enrolled in these programmes.
Assessment
Assessment components and weightings will conform to the arrangements already announced by course coordinators. However, for all courses taught online there will be no proctored, in-hall exams during the assessment period from May 18 to June 6. Instead, all 'final exam' components will be moved online. We're asking teachers to rethink the tasks that will constitute the 'final exam' to ensure they're suitable for online assessment.
Assessment choices
As in Semester 1, we're offering all UG and TPG students three assessment choices:
– Continue with letter grading, where applicable (contributing to GPA)
– Change to pass/fail grading (not contributing to GPA)
– Opt out of the course entirely through a late drop option
Students will be able to make these choices through a link on SIS from March 23 to April 30. Full details will be announced within the next two weeks.
Pass/fail
We strongly advise all students to think carefully when opting for pass/fail grading. Courses that are simply passed will be recorded as P on the transcript, with no GPA. For UG students in particular, this could have important knock-on effects. Internally, we rely on SGPA data for elective opportunities, such as academic exchange and other funded programmes. Externally, employers and universities around the world examine transcripts in some detail when taking decisions about jobs and postgraduate study. Students without solid SGPA data from 2019-20 may therefore place themselves at a disadvantage.
Late drop
Students returning to the University beyond the normative study period solely to make up late dropped credits from 2019-20 will not be asked to pay a composition fee. Normally, this policy will apply only in 2020-21. However, in cases where a student is unable to make up the dropped credits in 2020-21 because the requisite course is not on offer or, in special cases where personal circumstances stand in the way, an extension to 2021-22 may be permitted.
As ever, many thanks for working together with us to get through a challenging semester. Please do write to me with queries: ian.holliday@hku.hk.
Best wishes, Ian
Professor Ian Holliday
Vice-President (Teaching and Learning)
The University of Hong Kong