Message from Centre for the Enhancement of Teaching and Learning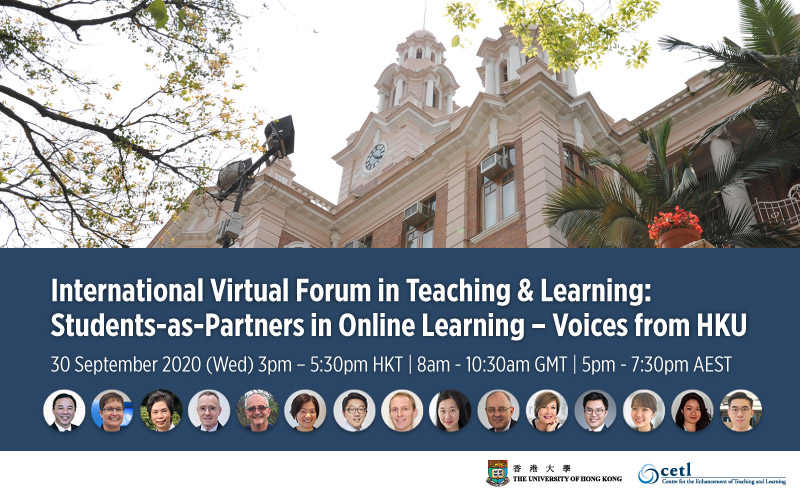 Date:
30 Sept 2020 (Wed)
Time:
3:00 p.m. – 5:30 p.m. (Hong Kong Time)
8:00 a.m. – 10:30 a.m. (GMT)
5:00 p.m. – 7:30 p.m. (AEST)
Venue: To be held virtually
About the Forum
The terms flipped, blended, flexible, hybrid, distance, synchronous, asynchronous, virtual and mobile learning have now become integral to our teaching. As we welcome students into our university in an online format for the first time, we also want to take the opportunity to converse with them and their teachers to learn more about this new experience.
This International Virtual Forum in teaching and learning brings us closer to one another, provides us a platform to reflect, share and chat with HKU students, teachers, experts, and colleagues from other universities around the world.
We are extremely fortunate to have senior leaders from HKU and universities in Australia, United Kingdom, Finland and Ireland with us to share their views on teaching and learning in the past months and to share their thoughts on how this will impact on universities in the coming years. More information about the Forum can be found here https://www.cetl.hku.hk/iforum2020/
For information, please contact:
Mr. Thomas Lau, CETL
Phone: 3917 4807; Email: kanclau@hku.hk