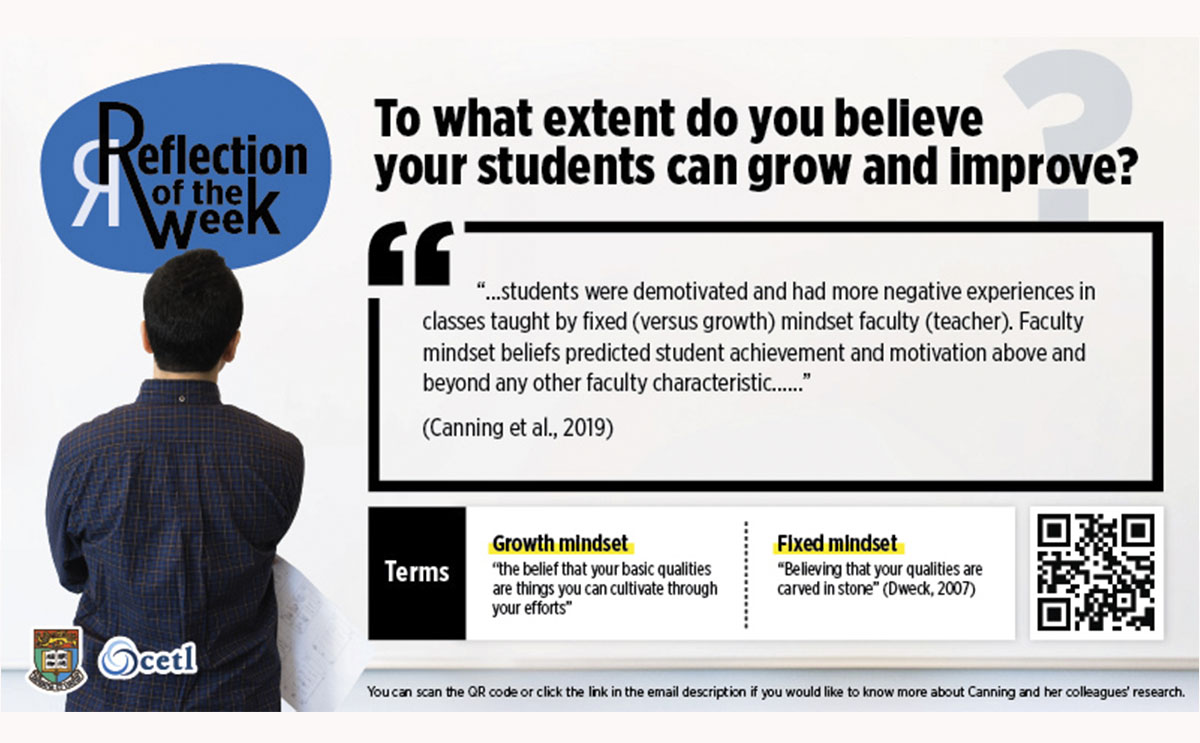 Message from Centre for the Enhancement of Teaching and Learning
Dear colleagues,
We, at the Centre for the Enhancement in Teaching and Learning (CETL), strive to support you in your teaching and learning journey. Starting this month, we will be sharing with you relevant "Reflections, Tips, and Quotes" from the teaching and learning community (yourself included). We hope you will find them useful and interesting.
This week's reflection is drawn from research conducted by Canning and colleagues (2019).
JOIN US in promoting teaching and learning at HKU!
Teaching and learning are best nurtured when we are part of a community of teachers and learners. We would like to collect relevant teaching and/or learning reflections, quotes, and tips that you've come across. Send me a quick email at Cecilia.Chan@cetl.hku.hk. We would love to hear from you and we hope to collect inspirational tips from the community.
Keep safe and smile always,
Regards
Centre for the Enhancement of Teaching and Learning
Check out more pedagogical support from CETL here: https://www.cetl.hku.hk/
Check out our Motivating and Engaging our Students Series here: https://www.cetl.hku.hk/motivate2021/
Check out our Virtual Summer Sandbox Series: Ready, Steady, Learn! here: https://www.cetl.hku.hk/sandbox2021ss/
Check out insights from international experts from our Education 4.0 series here: https://www.cetl.hku.hk/edu4/
Check out written and video resources on Technology Enhanced Learning here: https://www.cetl.hku.hk/tel/
Check out the Assessment Resources Website here: https://ar.cetl.hku.hk/index.php