Department of Architectural Studies
Rebecca Wang
"The things that we care about in daily life are sometimes unnecessary."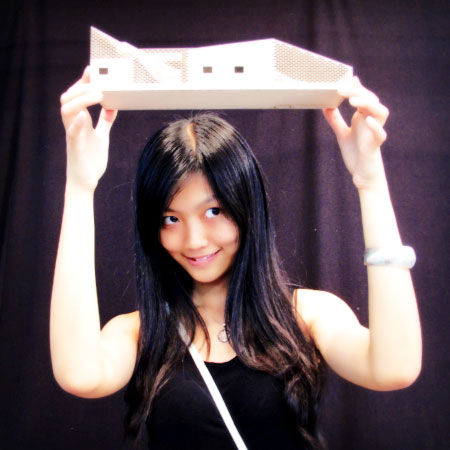 Year 1 Summer voluntary work: Housing in rural China
Task Performed
It was a volunteering activity. The aim of the project was to resolve housing in rural areas. We helped our professor build a house in rural China that would act as a model of development. We treated it as an opportunity to learn so we did a lot of research beforehand. We were guided by our professors in doing the design. This was different from the studio work that we do normally because we could see what the professor was thinking and we could learn from him/her directly. It was very precious.
We interviewed and investigated what was needed in the village. We tried to find out about how the family is structured, as well as their style of living. We had a group of 9 students and we worked in pairs to develop the design. When we went with the professor, we were dealing with the contractors to talk about how to build the house. We also learned a lot from those who actually built the houses. We had to work with different people and we learnt a lot from others.
It was a reality check on how complicated a project is. There was a lot of preparatory work and follow up; we only experienced a tiny part of it. There were also lots of problems we encountered, and you would probably run into different problems along the way.
Reflection
Since I started studying architecture, I could strongly feel the social responsibilities on my shoulder because I can directly affect the very basic well-being of others, which is their living condition. A lot of architects are working for big corporations to build large housing etc., and so it prompted me to think about the poor because they are the larger group of the world population. I was very glad to have such an opportunity to work on an actual project. It was also one that benefited rural China, so we felt great to be able to help. Our parents supported our decisions.
After I did the research for the project, I found that I was much better off than I thought I was. The things that we care about in daily life are sometimes unnecessary. When I saw that the villagers who had a lower standard of living than myself and yet they were living happily and self-sustainably, I felt that I was actually inferior to them.