Experiential Learning
The Faculty of Architecture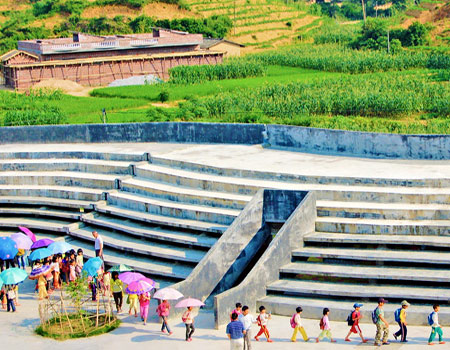 Overview
The Faculty of Architecture offers programs in its three departments and one division that cover breadth and depth in the professional as well as the academic research fields of Architecture, Real Estate and Construction, Urban Planning and Landscape Architecture.
Department of Architecture
The Department of Architecture educates students in an active culture of service, scholarship and invention. Design is based on the studio model of instruction, with students organized in small groups working directly with staff tutors on guided research and design projects over the length of a full term. Through opportunities for international exchange, study travel, and community workshops, the Department of Architecture prepares graduates for participation in an international community of design experts at the highest level.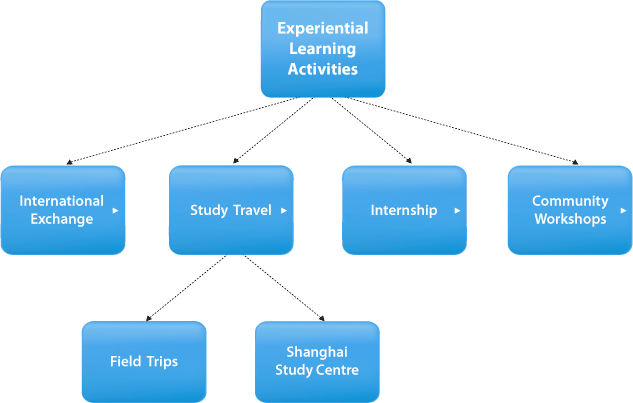 ---
I. Study Travel
Students are taken to China and other parts of East Asia in their first year, and often on local field trips in their second and third year. It is compulsory for all first year students, to go on a one-week field trip and engage in an analytical project in a foundational site of East Asian urbanism. Every undergraduate student in the Department spends one term at the Faculty of Architecture's Shanghai Study Centre.
II. International Exchange
The Department hosts undergraduate academic exchange programs with leading institutions in North America and Europe, while joint graduate level studio programs with universities abroad offer opportunities for students to engage their peers from around the world.
III. Community Workshops
Through the Faculty of Architecture's Community Design Workshop, students have opportunities to participate in design projects in China ranging from school construction to the design and repair of rural bridges.
Cases: Community Workshop
Yr 1 Summer voluntary work: Housing in rural China
Wendy Huang

Task Performed
We were only involved in the preliminary stage of design. The professor was thinking about how to help the students learn, and through helping in the project, the students also had a chance to envision what their career would be like. Therefore, it widened our perspective. We were able to contribute our thoughts and ideas in the design. In the end, we can say that the house was a collective piece of work and not just the work of the professor.

I think I acquired various sorts of skills that relates to the architectural profession. When you are doing different things, you have to use different skills. For example, at the research stage, you have to use communication skills and documentation skills. When you do design, you have to brainstorm. When you develop your ideas, you would need modeling and drawing skills.

Reflection
Through this project, I was able to understand what was meant by social responsibility because we were there to think how we could help the local people. It was very rewarding because we were able to try to use what we know to help people. Part of me felt really good because I felt I was being responsible for the society. I also think that I can be doing something similar in the future when I pursue my career.

Personally, I really wanted to do something that would help others. But if you were to donate or something, you don't really feel that you are actually helping. However, this opportunity gave me a chance to help others by using my own hands. I strongly felt the social responsibilities we had and the satisfaction from completing the project. Not only do you learn and benefit from working on these projects, you also gain social values, responsibilities, and morals. It is really good.

I observed a lot about design and I could compare my thinking process with that of my professor's and his/her way of doing things. I was able to reflect what I had done correctly and what I had to improve. It was a chance to better understand about design, and about myself.

---

Yr 1 Summer voluntary work: Housing in rural China
Rebecca Wang

Task Performed
It was a volunteering activity. The aim of the project was to resolve housing in rural areas. We helped our professor build a house in rural China that would act as a model of development. We treated it as an opportunity to learn so we did a lot of research beforehand. We were guided by our professors in doing the design. This was different from the studio work that we do normally because we could see what the professor was thinking and we could learn from him/her directly. It was very precious.

We interviewed and investigated what was needed in the village. We tried to find out about how the family is structured, as well as their style of living. We had a group of 9 students and we worked in pairs to develop the design. When we went with the professor, we were dealing with the contractors to talk about how to build the house. We also learned a lot from those who actually built the houses. We had to work with different people and we learnt a lot from others.

It was a reality check on how complicated a project is. There was a lot of preparatory work and follow up; we only experienced a tiny part of it. There were also lots of problems we encountered, and you would probably run into different problems along the way.

Reflection
Since I started studying architecture, I could strongly feel the social responsibility on my shoulder because I can directly affect the very basic well-being of others, which is their living condition. A lot of architects are working for big corporations to build large housing etc., and so it prompted me to think about the poor because they are the larger group of the world population. I was very glad to have such an opportunity to work on an actual project. It was also one that benefited rural China, so we felt great to be able to help. Our parents supported our decisions.

After I did the research for the project, I found that I was much better off than I thought I was. The things that we care about in daily life are sometimes unnecessary. When I saw that the villagers who had a lower standard of living than myself and yet they were living happily and self-sustainably, I felt that I was actually inferior to them.
IV. Internship
Case: Internship
Year Out Internship
Stephanie Cheng

Task Performed
I worked in a medium size firm. I think I have met a really good employer because we were treated as interns in the office, not experienced employees. The employer structured well all projects for us. I worked on 4 – 5 projects throughout the entire year and each project was in different stages, I got exposed to different stages of projects and their various construction phases. I had to design and communicate with clients. The firm that I had worked for highly valued research and intellectual discussion. During our discussion, we applied a lot of urban design theories and architectural history. Since it was a commercial project, we still had to abide by practicality and costs.

Reflection
Most important is to learn how to rectify mistakes, and how to avoid making the same mistakes again. I had to admit that I had created a lot of trouble during my year out yet, I was confident to say that I worked well with my colleagues for I had tried and contributed the best that I could for the team. There were times I would just do things crossly without much seriousness, and that was the time which I had made mistakes. Finally had I come to realize I had to be responsible for myself, I had to push myself meeting a certain level vs slack and cross. I wasn't the only intern working in the firm, there were other interns from other universities as well. In there, I was able to observe how others handle mistakes, as well as their working attitude and enthusiasm.