Faculty of Business and Economics
Yvon Zhu
"If we couldn't communicate with the locals, we would go through a third person or use another method to communicate with them, such as body language and gesture. After all, the experience has really opened my eyes."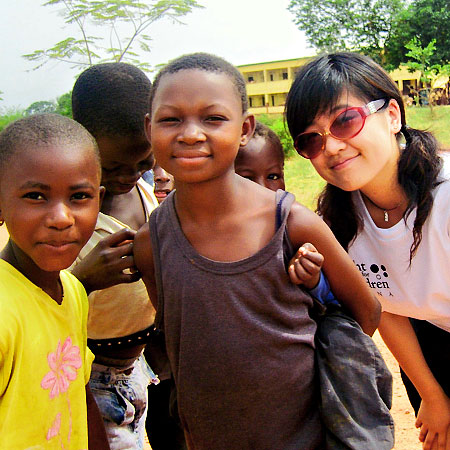 Year 1 Summer voluntary work
Task Performed
Last year in March 2008, I joined the NGO and went to Africa as a volunteer for half a month. We went to Ghana in West Africa. Other HKU students, exchange students and camera men also went along. Our target was to conduct an educational programme promoting Anti-Aids in schools and hospitals. We conducted interviews with local NGO members, distributed donations and stationery to kids, and documented the whole process.
There are a lot of international students here in HKU. Compared to local students, they are readily open to receiving new ideas. By interacting with them, their mindset has prepared me well for the trip to Africa. As you know more people, you will widen your perspectives knowing that this knowledge (by interacting with others) cannot be obtained from books.
Reflection
First of all, I have learned interpersonal skill, for I have to interact and collaborate with others. Our group members came from different cultural backgrounds, I had to learn how to work with them, communicate with them and interact with them. Secondly, when we reached Africa, we learned how to adapt to the local environment. We encountered a lot of difficulties which weren't what we had anticipated. Such as the weather was extremely hot and burning, the sanitation was terrible, even our working style was very different from the locals. We had to adjust to the local environment and deal with communicating with the locals. If we couldn't communicate with the locals, we would go through a third person or use another method to communicate with them, such as body language and gesture. After all, the experience has really opened my eyes.