You learn best when you teach another. That's why the teaching team of SCNC 1111 Scientific Method and Reasoning, which comprises Dr. Eddy Lam, Dr. Rachel Lui, Dr. William Cheung, implemented the Senior Tutor Scheme to encourage and facilitate undergraduate students in sharing their study experience. This scheme is a teaching innovation, applicable to all disciplines.
In the past semester, nine active students were chosen as senior tutors. They were in Year 3 or 4 with rich academic and cultural exchange experiences. The fact that the tutors come from different disciplines in Science also broadens and adds new perspectives to mathematics and statistics teaching.
The tutors contributed in all stages – from designing, preparing and conducting the tutorials, to marking and commenting on assignments. They did not come unprepared, weekly meetings were held by the teaching team as a training to ensure tutors had sufficient knowledge of pedagogy and class management. The teaching team oversaw each tutorial and provided assistance when necessary. Trainings on Moodle, the usage of Google forms and centralized email systems also facilitated smoother implementation.
The scheme's implementation in the past semester was undoubtedly a win-win case for everyone.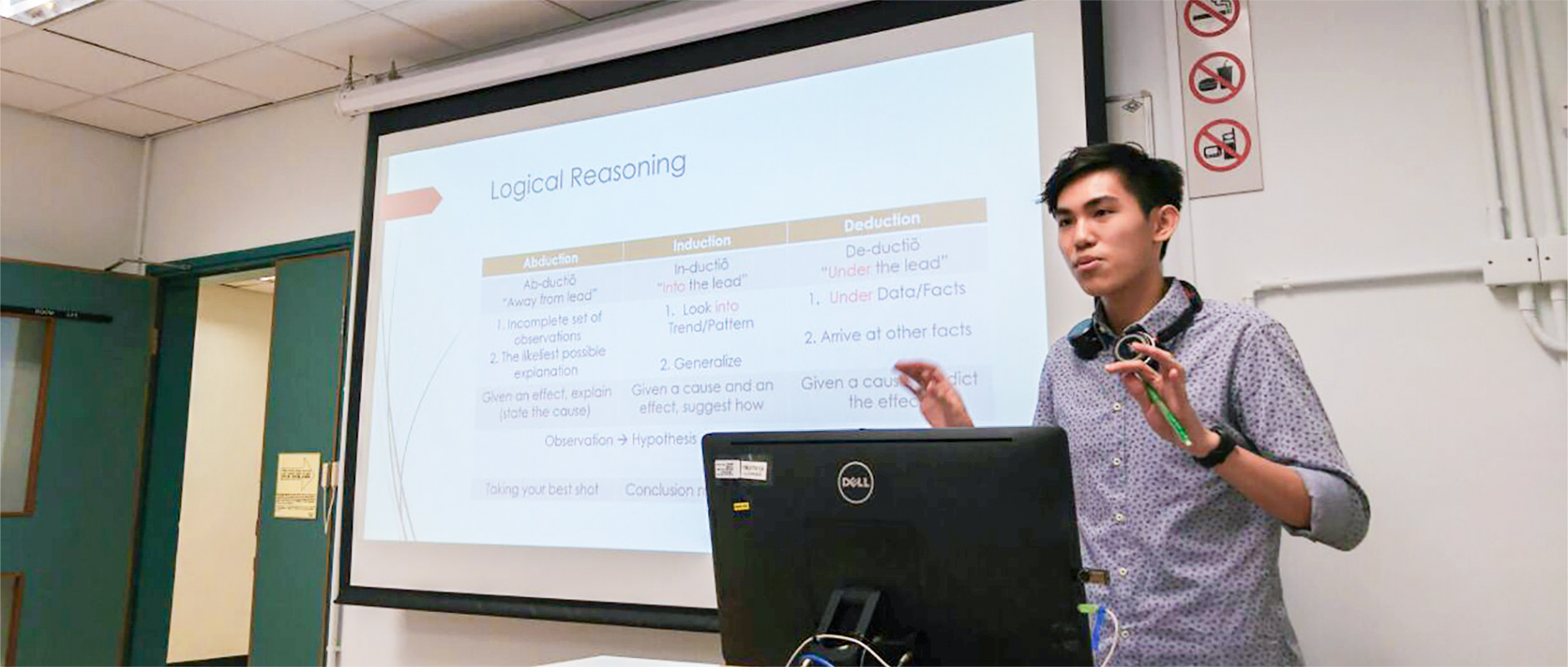 Senior Tutor teaching in a tutorial
For tutors
Tutors had a chance to review the basics of their learning – 'to gain insights from studying the past' 溫故知新.
Teaching the concepts through their own way or method in front of the first-year student groups trained their presentation skills and public speaking skills.
Preparing for tutorials and engaging students during tutorials provided field experience, improving tutors' management and organizational skills.
Both students and tutors had mutual learning. Tutors learnt through students' responses and comments.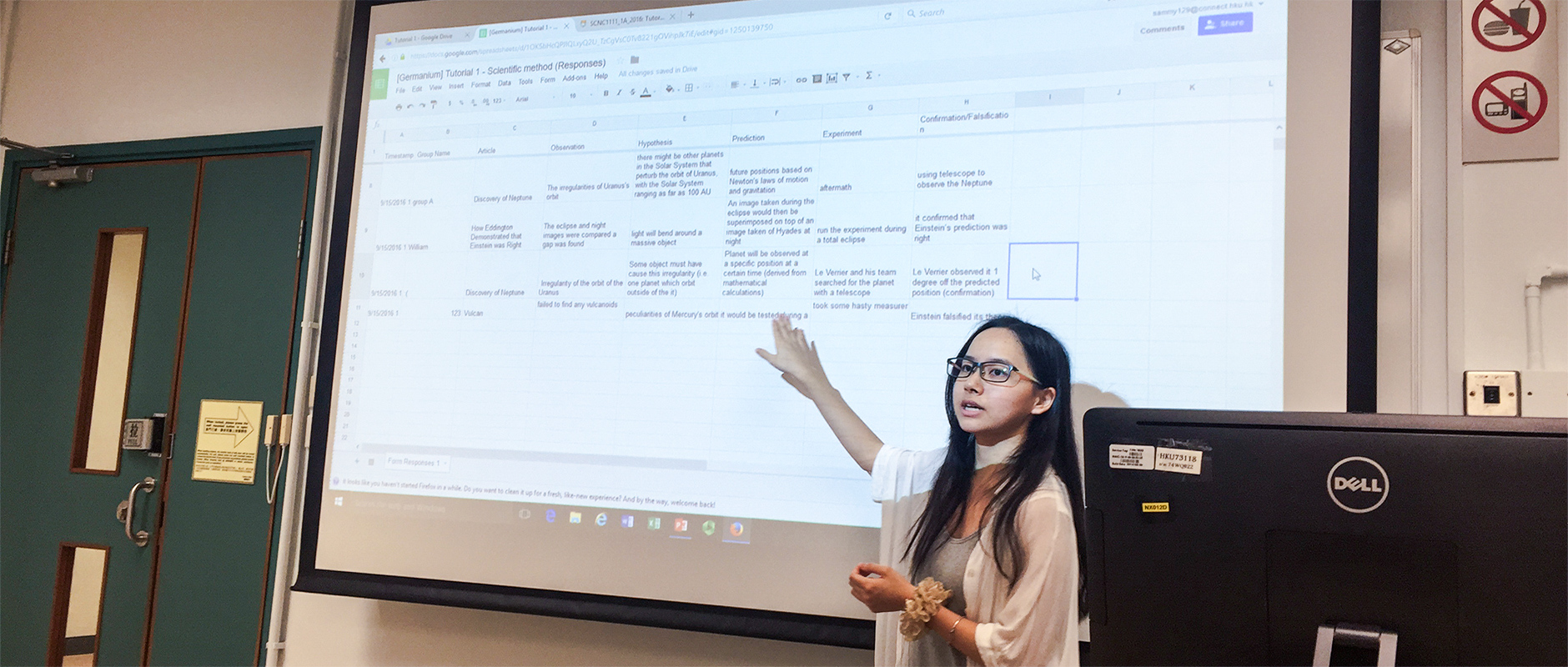 Samantha Wu, one of the tutors, commented: "Wrong answers could too inspire other students to think, and they sometimes lead the class discussion into a newer perspective of Science."
For students
The scheme enabled a decrease in student-to-teacher ratio, giving each student more attention and timely feedback.
The tutors being only several years older also meant they can be a role model, a peer and an adviser at the same time. Being on a similar academic level, tutors could encourage first-year students to speak up in class, while they may be hesitant in front of professors/teachers. At the same time, having taken this course, the tutors can also offer advice and peer support.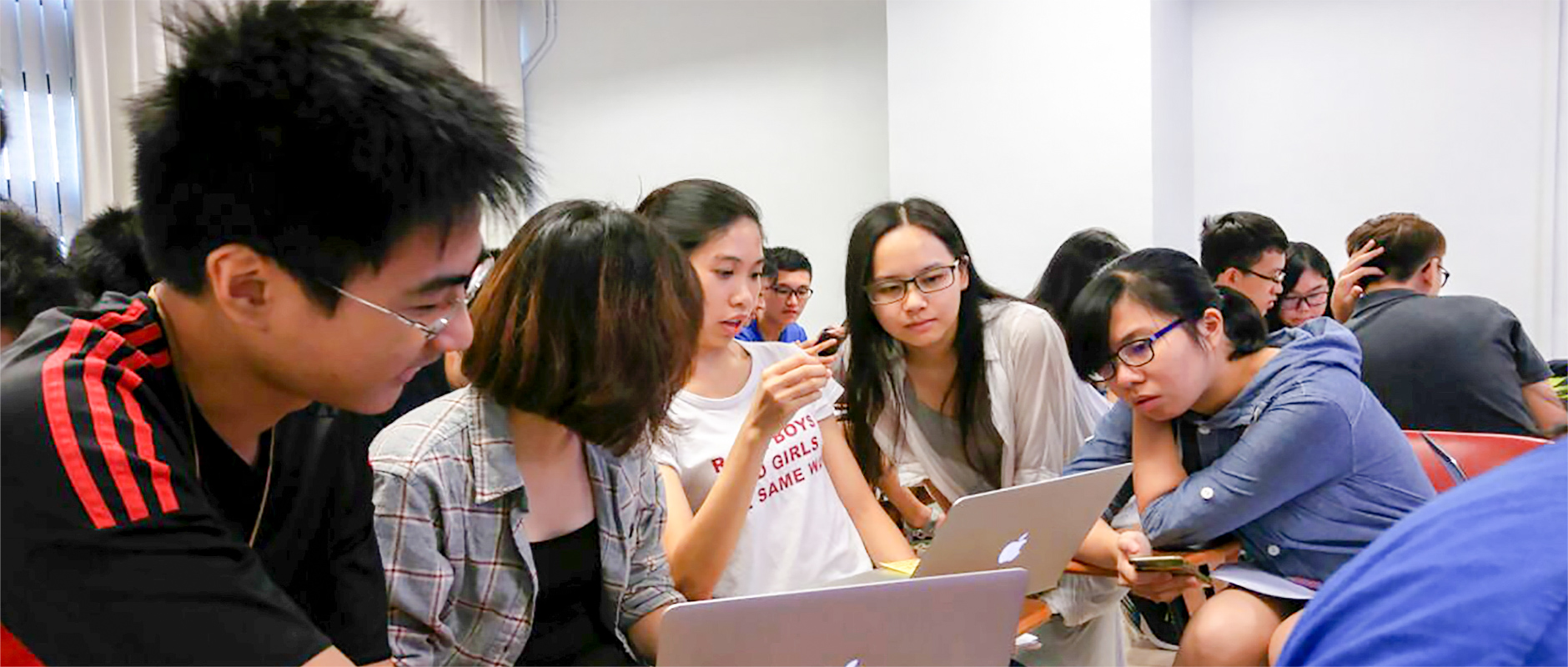 The senior tutors interacting with students during tutorials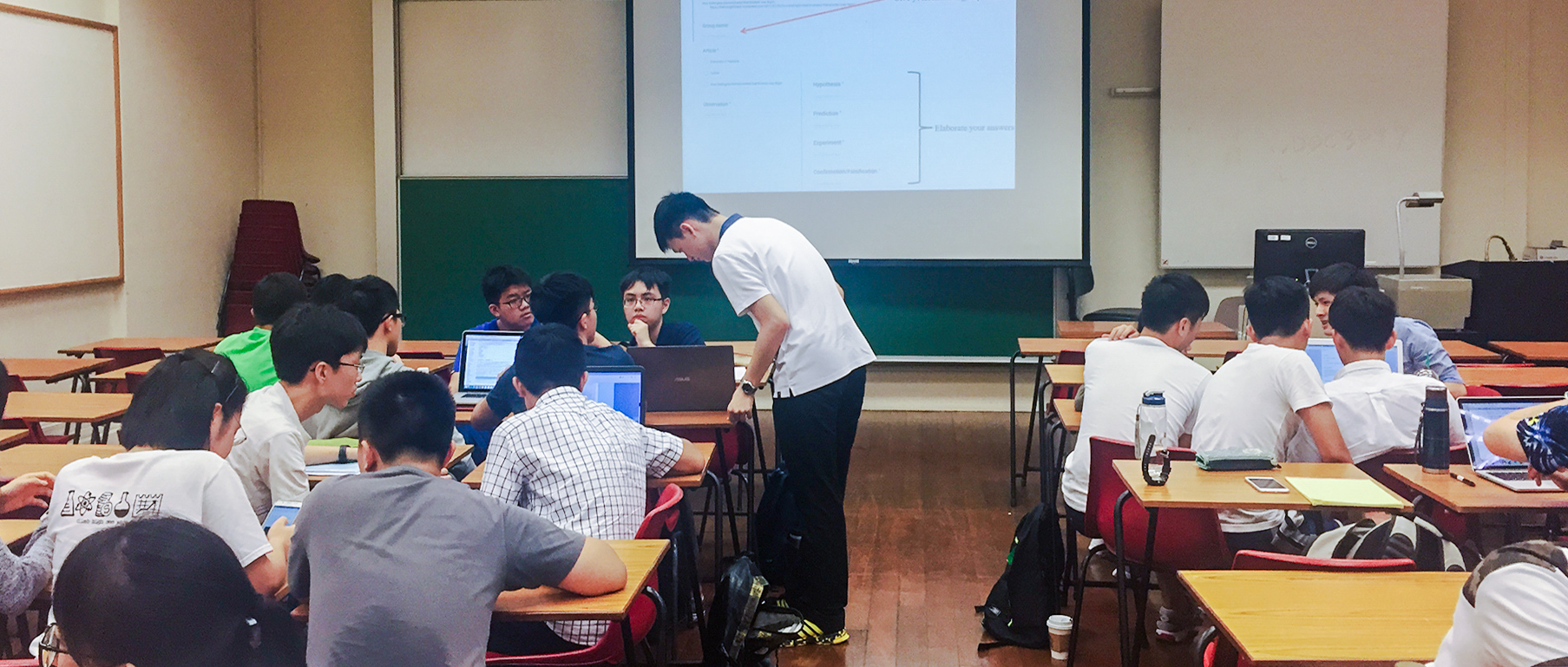 Team support is often needed in large-scale flipped classes. Perhaps enlisting the assistance from Senior Tutors would be one way to go. Please contact us if you have more ideas to share about making a greater impact in our teaching and learning through innovation.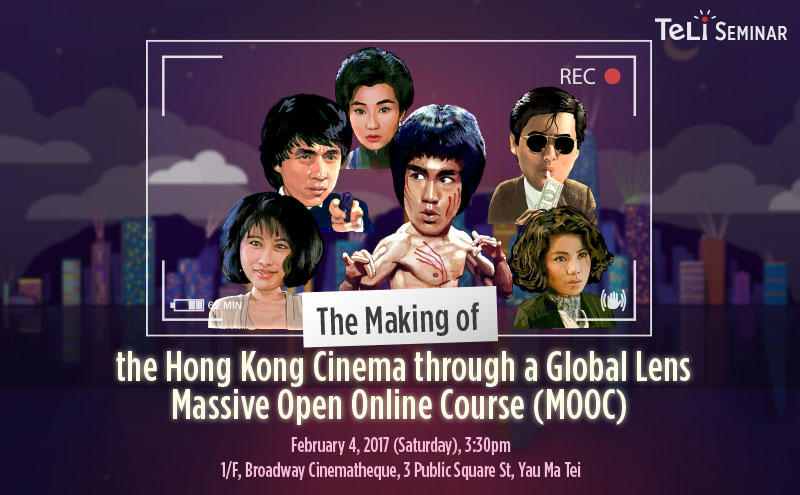 Organised by Technology-Enriched Learning Initiative (TELI)
Date : February 4, 2017 (Saturday)
Time : 3:30pm
Venue : 1/F, Broadway Cinematheque, 3 Public Square St, Yau Ma Tei
Speakers :
- Gina Marchetti, Professor in the Department of Comparative Literature, HKU
- Aaron Magnan-Park, Assistant Professor in the Department of Comparative Literature, HKU
- Stacilee Ford, Honorary Associate Professor in the Department of History, HKU
The talk will be conducted in English.
About the seminar:
Understanding the role Hong Kong plays on world screens animates the first Massive Open Online Course (MOOC) devoted to Hong Kong films. Together, let's examine how the local and the global intersect to make Hong Kong cinema an integral part of popular culture around the world as well as a leading force in the development of world cinematic art.
This presentation introduces you to the key films, stars, directors, and genres that represent Hong Kong on global screens. We will chat about how flows of capital, people, technologies, ideas and creativity circulate and shape the cultural industry of filmmaking globally, resulting in transnational co-productions and cross-cultural co-operations.
Join us to learn more about Hong Kong cinema as an expressive art and a creative industry.
Films:
The Karate Kid (dir. Harald Zwart, 2010)
Fist of Fury / The Chinese Connection 精武門 (dir. Lo Wei 羅維, 1972)
Enter the Dragon 龍爭虎鬥 (dir. Robert Clouse, 1973)
An Autumn's Tale 秋天的童話 (dir. Mabel Cheung 張婉婷, 1987)
The Killer 喋血雙雄(dir. John Woo 吳宇森, 1989)
Infernal Affairs 無間道 (dir. Andrew Lau and Alan Mak 劉偉強和麥兆輝, 2002)
In the Mood for Love 花樣年華 (dir. Wong Kar Wai 王家衛, 2000)
HKU free online course: Hong Kong Cinema through a Global Lens
| | | |
| --- | --- | --- |
| Week 1 Teaser | Week 2 Teaser | Week 3 Teaser |
| Week 4 Teaser | Week 5 Teaser | |
Rhythm is the heartbeat of music. "Alive by CPR" is an upbeat pop-song capturing the heartbeat of cardiopulmonary resuscitation (CPR), a lifesaving technique for heart attack victims. Similar to Bee Gee's song "Stayin' Alive", the TELI team recomposed the lyrics of "Alive", a song by a local band called
RubberBand
, with a rhythm of 120 beats per minute (bpm), matching with the recommended CPR rate of 100 to 120 chest compressions per minute.
When TELI Meets Music: The First CPR Song in Hong Kong
Heart attack is a scary thing to imagine. The collapse of a heart attack victim right in front of you is even more terrifying – Don't panic. You might just be one step away from saving his life. If we perform CPR on the collapsed victim within 5 minutes, the survival rate can be increased by as much as 50 percent.
There are nearly 3000 people suffering from Sudden Cardiac Death every year in Hong Kong, yet there is no mandatory first-aid training in local schools. To raise public awareness of CPR, the Emergency Medicine Unit (EMU) of the Li Ka Shing Faculty of Medicine initiated a series of campaigns in hope of increasing bystander response rates in cardiac emergencies.
One initiative to educate the general public is through music. The TELI team together with RubberBand and the EMU produced a music video on CPR, with correct procedures demonstrated. TELI is proud to act as the bridge between medical professionals and entertainers.
Only a Heartbeat Away: AED Locator App
In companion with the CPR song, HKUEMU AED, an AED locator app, has been developed by TELI in collaboration with EMU.

AED stands for automated external defibrillator, a device that can dramatically increase a victim's chance of survival by applying shock to his heart. However, inaccessibility is always an issue, especially during emergency. With this app and a GPS locator, you can locate the nearest AED in the area. This app also offers instructions on how to perform CPR on heart attack victims. You can also contribute to the map by adding unidentified AED locations!
(From left to right)
Information provided by the app
Map showing the locations of AED nearby
In case of emergency, you can call 999 through the app
You can submit information of new AED locations

"It's never too late to learn CPR. I cannot see a reason of not acquiring this skill if it can save a person's life," said 泥鯭, the drummer of RubberBand. You can be a rescuer at any point of your life. Stay upbeat. Stay alive.
Further reading

| | | |
| --- | --- | --- |
| Week 1 Teaser | Week 2 Teaser | Week 3 Teaser |
| Week 4 Teaser | Week 5 Teaser | |
---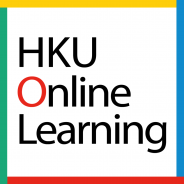 Whatever you know and wherever you are we invite you to join us on a journey to consider how the local and the global intersect to make Hong Kong cinema an integral part of popular culture around the world as well as a leading force in the development of world cinematic art.
「有華人的地方,就有香港電影」。香港電影享譽全球,最近港產導演、編劇和製作團隊在台灣金馬獎中大放異彩,勇奪多個獎項,再次奠定香港在世界電影業中的重要地位。
我們邀請您加入這個香港電影探索之旅,思考港式生活和全球文化交織而成的香港電影如何成為國際流行文化和世界電影藝術發展的主導力量。我們更邀請了電影專業人士,如導演張婉婷和劉偉強、製片人岑建勳、電影節導演高思雅等專家,分享電影業的內幕故事。
網上課程完全免費。
Highlights of the course
Develop your critical and historical thinking skills through analyzing the interconnected relationship between the global scene and local lives in HK films;
Broaden your perspectives on identity issues through finding the familiar in the foreign in Hong Kong cinema;
Deepen your perspective on the impact of globalization on your own society through analyzing Hong Kong cinema.
課程精髓
通過分析香港電影業的本地市場與國際舞臺之間的關係,培養您的批判和歷史思維能力;
在香港電影中不熟識的場景尋找熟識的細節,從而拓展您對身份問題的了解;
通過分析香港電影業,讓您更明白全球化對社會的影響。