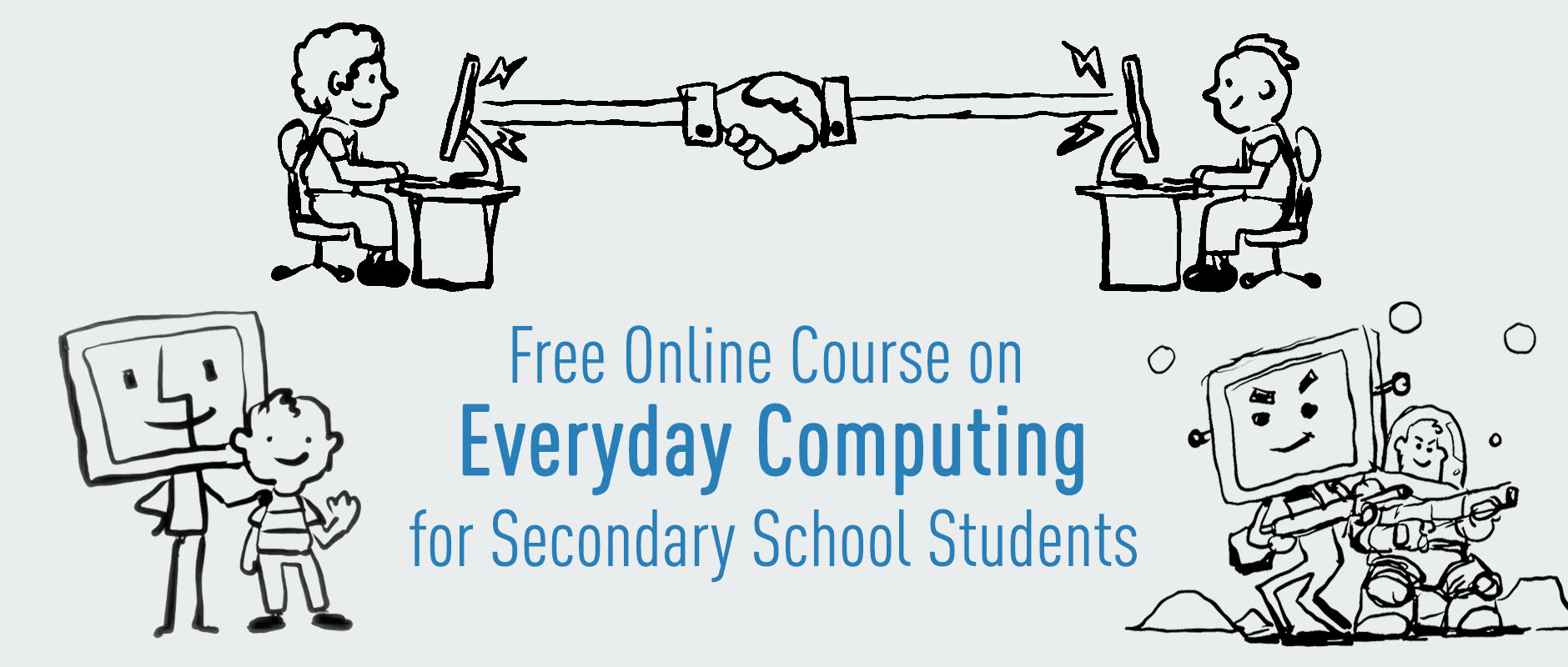 Everyday Computing aims to teach you how to make informed decisions in this information age. It is expected that everyone needs to have an efficient way to sift through and evaluate the myriads of information that is available through the Internet. The ultimate objective of this course is to help students develop a "computational" state of mind for everyday events. Specifically, the course will enable students to answer the following questions:
What daily problems need to be solved by a computational method?
Are such problems solvable?
By what means can such problems be solved?
Is it worthwhile to compute such problems?
We will also discuss intensively the societal impacts of computing technologies on our daily life.
Online lectures would be available for the whole course, making room for more in-depth learning in lecture sessions. Specifically, a face-to-face session will be conducted in collaborative workshop formats, whereby students need to work in teams to complete hands-on tasks corresponding to the topics covered in the course.
Our Small Private Online Courses (SPOCs) are here to give you a real taste of university courses. HKU is now providing two SPOCs taught by our very own Professors – Journey into Madness and Everyday Computing.
Assessment criteria for certificates
A Certificate of Completion will be issued upon completing the first 5 basic badges. Each badge can be earned upon fulfilling these two criteria:
Watch all video lectures and read through all topic materials
Getting a 50% mark in each topic challenge questions
A Certificate of Excellence will be awarded to learners
Collected all 7 badges
Attended the Face-to-Face session
FAQs about HSST9003
Is it open to everyone?
Yes and no. Yes, it is open to public but limited to secondary school students in Hong Kong.
Is this course free?
Yes, It is absolutely free. And the best part is that there is another course "Journey into Madness" that is as good as HSST 9003 and it is also absolutely free.
Can I get a certificate out of it?
Yes, it offers two levels of certificate. Certificate of Completion and Certificate of Excellence.
How do I register for this amazing course?
You can click here to sign up and we will email you your free learning.hku.hk account.
I already signed up but I didn't get any email, what should I do?
Usually, it takes few hours for us to send a reply. But not to worry. You can also check your SPAM mail just in case.
I've waited for hours, check my SPAM, but I still cannot find the email. What should I do?
You can email the course team directly through it CCST9003@teli.hku.hk
What is it like in the original Hong Kong class?
About the face to face session:
There will be two classwork activities for this online course and this will be part of the requirement to earn the certificate of excellence.
Classwork #1 Keep Talking Game

In this classwork activity, your group will collaborate to solve a series of puzzles and make sure that every bomb will not explode. So you need to keep talking so that nobody will explode.

Classwork #2 Finding Dr. X

In this classwork activity, your team will travel back in time to help the justice alliance to decrypt the messages left by Dr. X. Your team needs to find his whereabouts and help Prof. Kwok arrest him.
These classwork activities will be held on 8 April 2017, from 10:30 – 12:30, at CPD 3.41, 3/F, Centennial Campus, University of Hong Kong.
The course begins on 8 March, 2017. Registration is open until 22 March, 2017.
Eligibility: Enrollment is open only for Secondary School Students.
Like our Facebook page to receive more information on The University of Hong Kong Online Learning: https://www.facebook.com/hkuonlinelearning/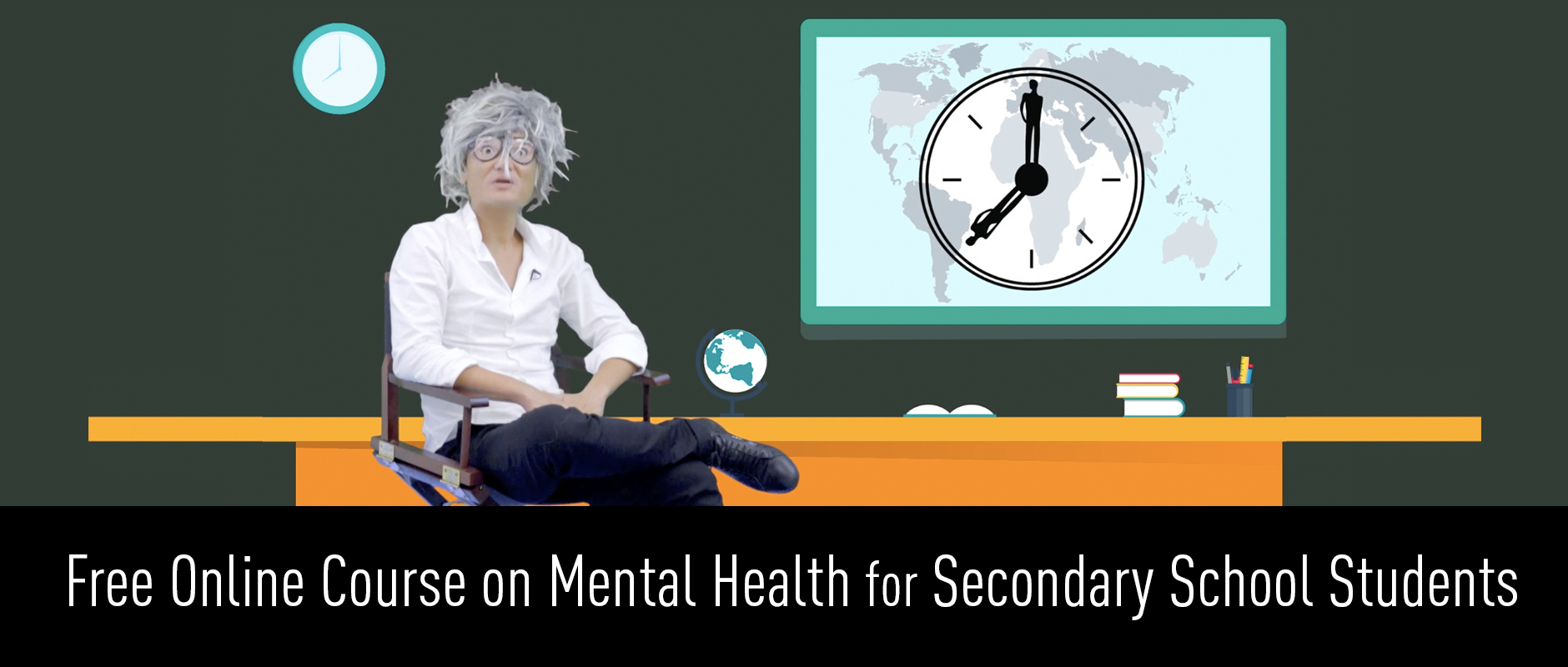 Are you a prospective university student? Have you thought of what major you want to study in the future? What do HKU students learn in class?
Our Small Private Online Courses (SPOCs) are here to give you a real taste of university courses. HKU is now providing two SPOCs taught by our very own Professors – Journey into Madness and Everyday Computing.
Journey Into Madness: A Free Online Course on Mental Health
About the course
When you hear the word 'mental illness', what kind of image comes to mind? Do you think of a homeless person babbling to a tree or wonder about that emo kid sitting in a dark room?
Mental health is fundamental to our overall well-being and influences us far more than we'd like to admit. Because mental illness is often portrayed as a threat, we immediately fear those who are associated with it. This course will help you unlearn those misconceptions about mental illness by examining the definitions of abnormality and challenging the stigma attached to mental disorders. Together, we will delve deeper into the following topics:
Madness: What is considered abnormal?
Diagnosis: How is one diagnosed with a mental disorder?
Depression: What impact does this growing illness have on youth suicide?
Stigmatization: What measures can you take to reduce stigma associated with mental health problems?
Through online lectures, discussion forums and a peer-review assignment, you will have a better understanding of what constitutes an individual's mental health status.
Assessment criteria for certificates
A Certificate of Completion will be issued upon completing the following tasks:
Attempt all quizzes in the course, and get above 60% correct.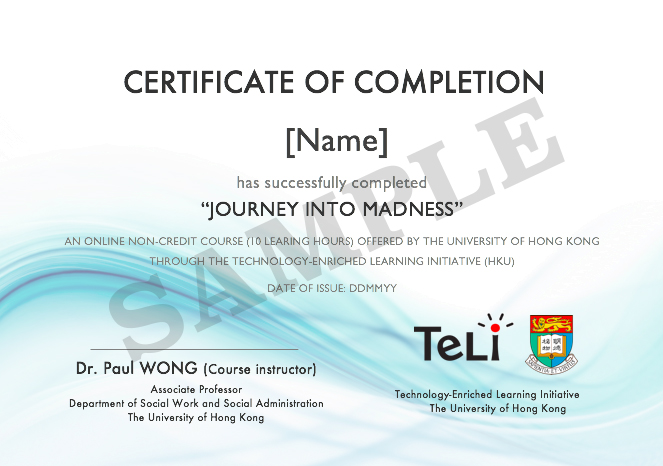 A Certificate of Excellence will be awarded to learners
Attempt all quizzes in the course, and get above 60% correct.
Submit an Anti-Stigma Campaign proposal to raise awareness of mental illness among Secondary School students (no more than 300 words)
Perform two peer reviews by marking your classmates' work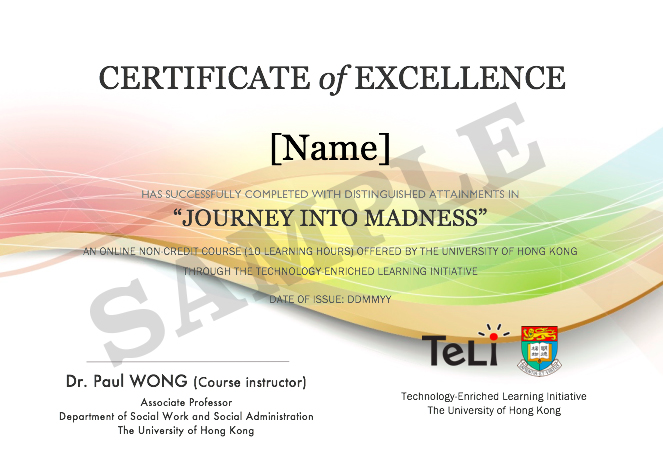 Registration: http://bit.ly/hku_spoc
The course begins on 1 March, 2017. Registration is open until 15 March, 2017.

Eligibility: Enrollment is only open for Secondary School Students.
Like our Facebook page to receive more information on The University of Hong Kong Online Learning: https://www.facebook.com/hkuonlinelearning/

Course trailer also available on Uvision
—-
Featured video: Have you ever eaten Dinosaurs?
—-
What is this course about?
| | | |
| --- | --- | --- |
| Week 1 Teaser | Week 2 Teaser | Week 3 Teaser |
| Week 4 Teaser | Week 5 Teaser | Week 6 Teaser |
What was it like being a dinosaur? Where did they live? Who did they live with? Were things anything like they are today? How do we even know all this?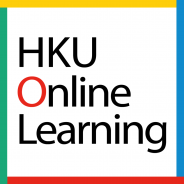 Find out the answers to these questions and more in our upcoming Massive Open Online Course (MOOC) on Dinosaur Ecosystems! Starting from February 8th 2017, Dr. Michael Pittman of the University of Hong Kong's Department of Earth Sciences, together with Professor Xu Xing of the Institute of Vertebrate Paleontology and Paleoanthropology (Chinese Academy of Sciences), will lead you on an expedition to the Gobi desert to unveil a famous ancient ecosystem!
In this course, we will take you to Erlian, Inner Mongolia, and leading museums and institutions to explore:
dinosaur biology
how palaeontologists reconstruct ancient ecosystems using fossil and modern evidence
the traits and significance of a Late Cretaceous dinosaur ecosystem.
—-
Our milestones
Dinosaur Ecosystems is the first MOOC on dinosaur in Asia; also the first MOOC offered by our Faculty of Science. It is the first time that we send crew members to the desert and world-renowned museums to film. Our course was also featured on the edX homepage, edx newsletter and various media reports (for the list of media reports, please refer to the "Further reading" section below).


Our course featured on the edX homepage!
Dinosaur Ecosystems @ Hong Kong Science Museum
We have also set up, for the first time, a booth in the T. rex exhibition in Hong Kong Science Museum to introduce the course.
"T-Rex Revealed – The Augmented + Virtual Reality Experience" is an ongoing exhibition in the Science Museum where you can interact with dinosaurs with Augmented Reality (AR) and Virtual Reality (VR) technologies. Our course instructor, Dr. Michael Pittman, is the advisor of the exhibition.
—-
A Roaring Start
With the collaborative efforts from multiple parties, our course has a roaring start. The enrollment number jumped from 2,000 to 3,000 two days before launch, and even doubled on the next day. Currently we have 8,500+ learners from over 100 countries!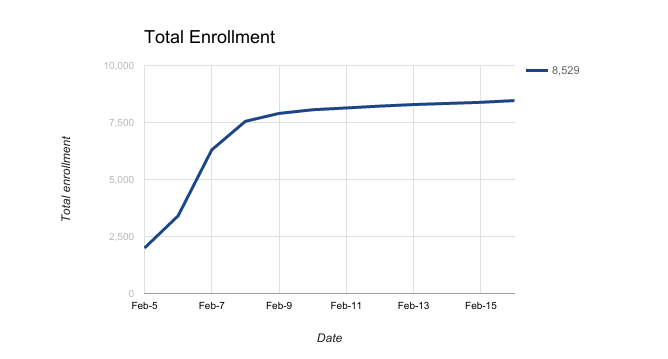 —-
Sharing Knowledge, Sharing Joy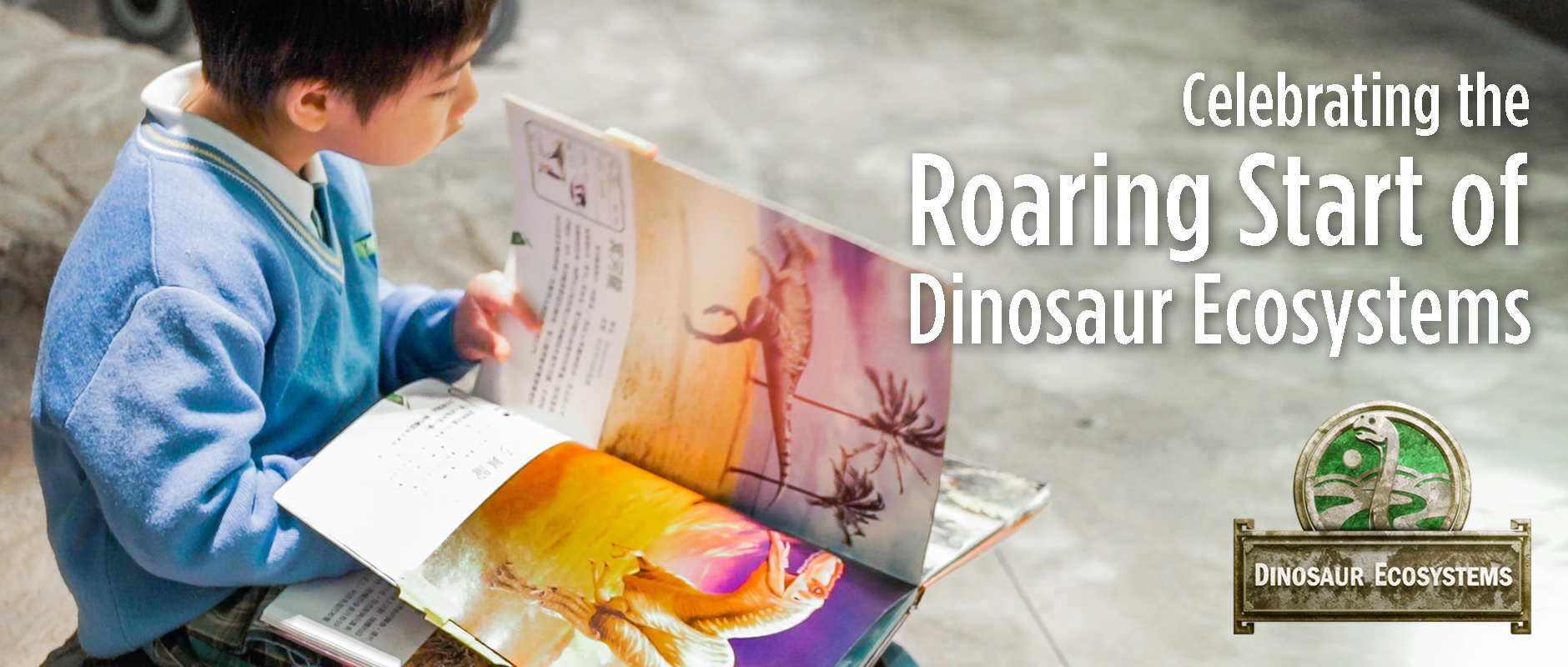 To celebrate the joyful success of our course, Dr. Pittman hosted a party on February 8th, 2017 with almost 50 HKU colleagues and members of the general public at Stephen Hui Geological Museum. More details here.
A fun drawing competition titled "The Year of the Dinosaur" was also organized to engage dinosaur lovers in the community. The following is a selection of fun dinosaur-themed Chinese New Year scenes designed by creative young minds: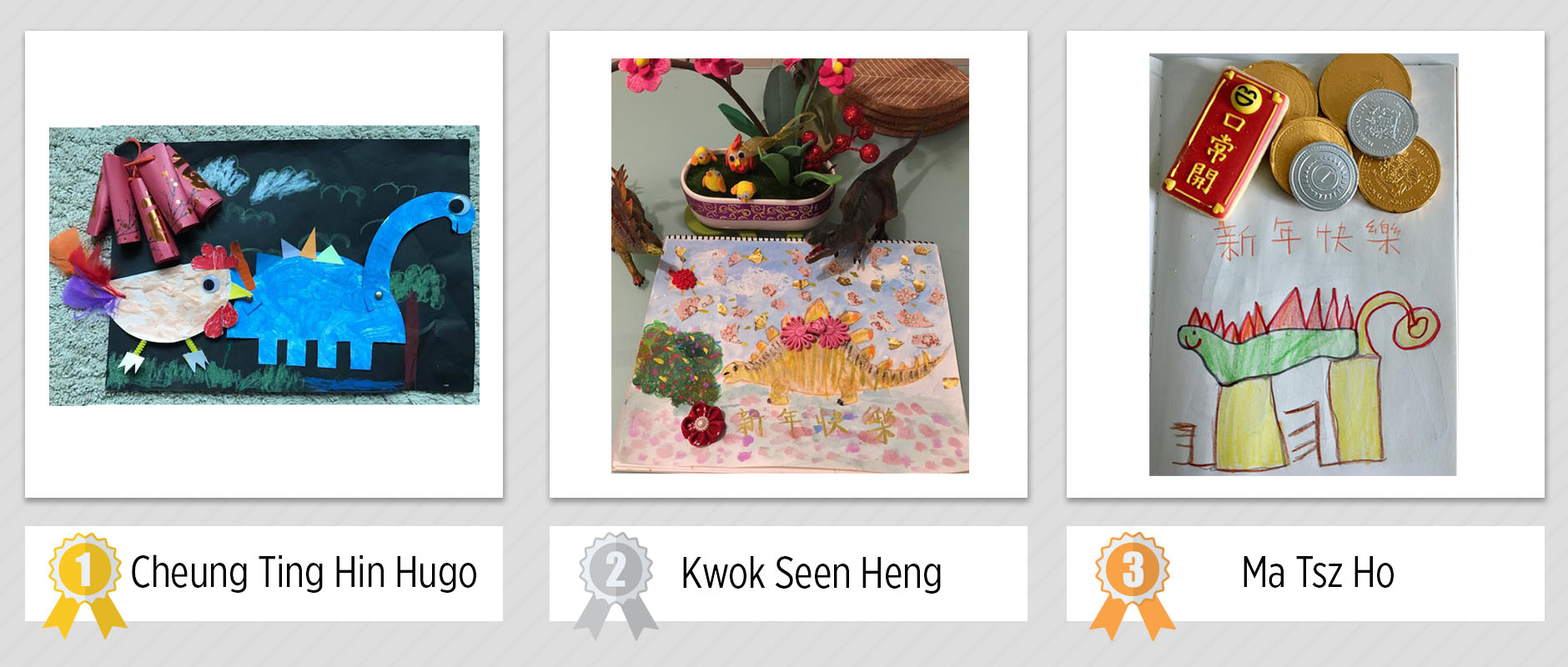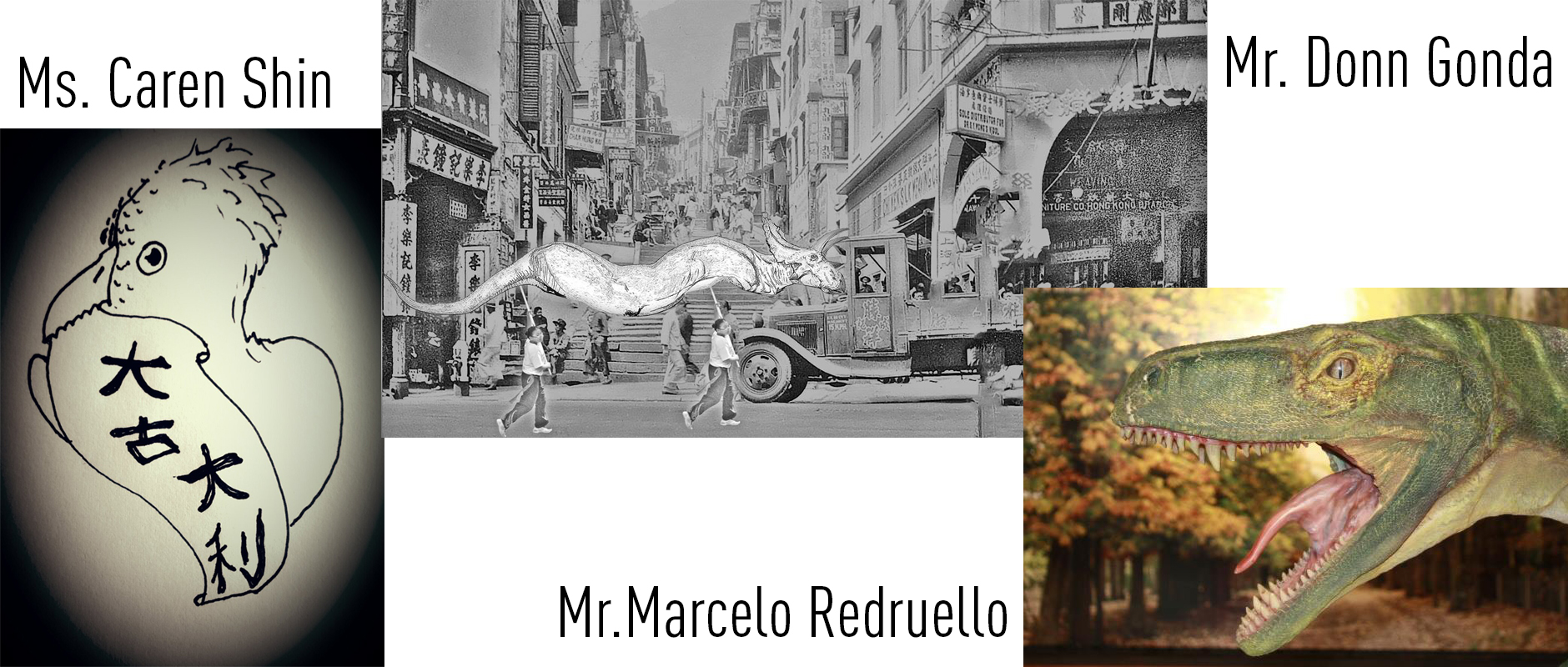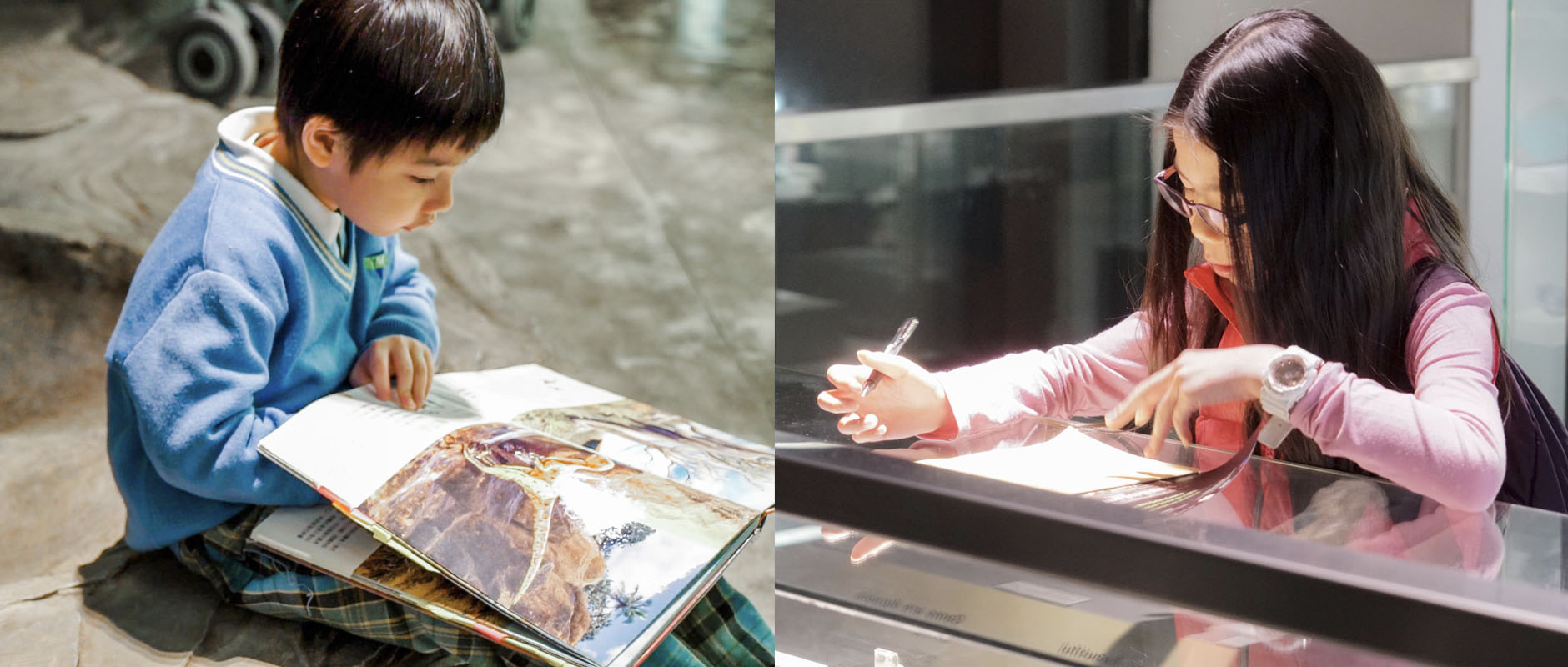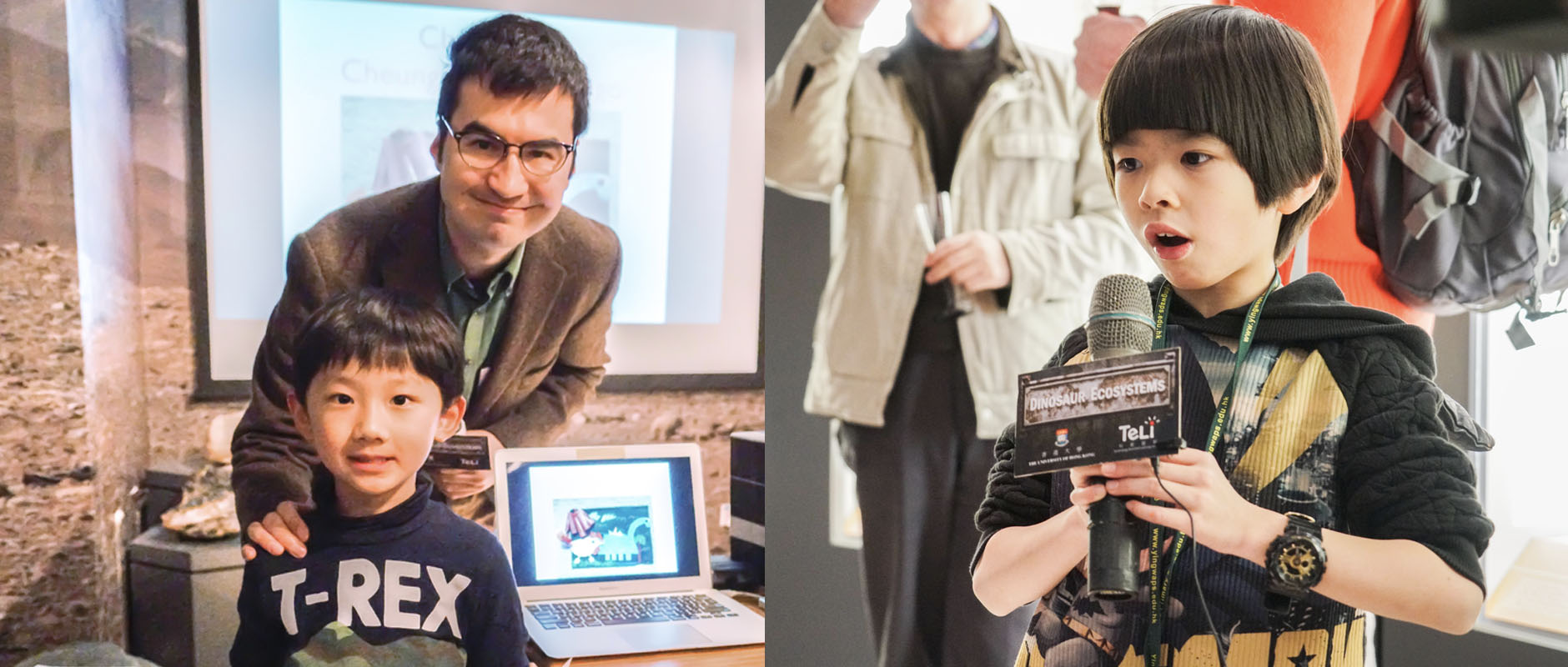 Further reading
Don't forget to follow us on Facebook and Twitter to get the latest updates!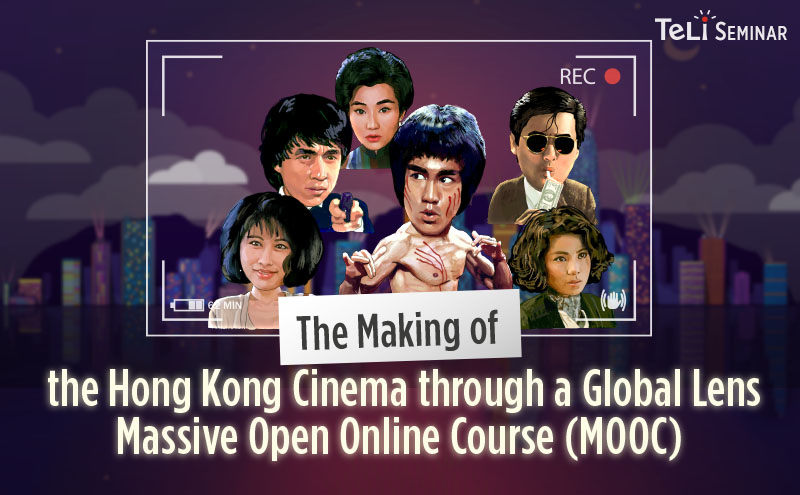 "In this case, it's not just Hong Kong films, but I'm hoping that people will have a better appreciation of processes of globalization and all of the ways in which globalization changes our lives in a dramatic way, and Hong Kong film is one example of that." – Profession Gina Marchetti at a public talk.

Hong Kong Cinema Through a Global Lens, as the title suggests, is about cinema. To answer the call, the teaching team, Professor Gina Marchetti, Dr. Aaron Magnan-Park and Dr. Stacilee Ford, moved our classroom to the Broadway Cinematheque in Yau Me Tei on February 4, 2017 to reach cinema goers, because movie "is a very important part of the cultural life of Hong Kong," Gina remarked.
Given the wide variety of audience involved in a MOOC, it's never easy to decide on what to include and what not. So the course team asked themselves two questions: What are people genuinely interested in around the world? And what is extremely significant but people may not be so interested in? The answers helped them to construct a learning environment that allows people to reflect on what they already know as well as expand their horizons.
Among our audience were many International Baccalaureate (IB) students who are particularly interested in Wong Kar Wai's In the Mood for Love. In the Q&A section, one student asked, "What do you think was the director's intent when filming the film?" While Gina explained that she cannot get into any director's head, she was pretty sure that "Wong Kar Wai had Cannes on his mind." But more importantly, Aaron reminded students who are studying films that "your interpretation based on your insights on the film is in some ways more important that what the director intended to do."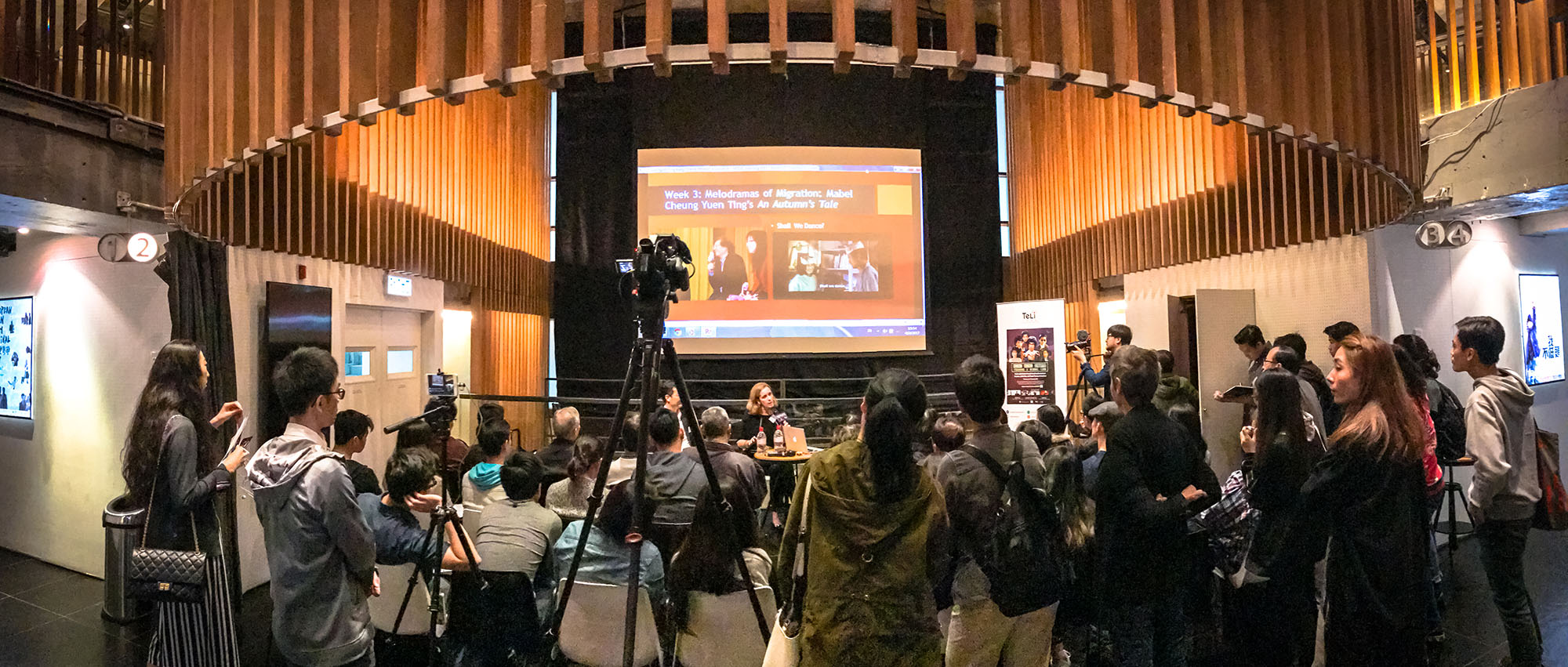 We were joined by an audience of over 40.
Given that MOOCs are open to all and free of charge, one of the audience members wondered where the funding comes from. It was a wonderful occasion to let the public know that MOOCs are now an important initiative for all universities. Many of them, including this course, are funded by the university because, as Gina put it, "it's part of our educational mission to do researches that are significant to the public, and to make it available to the public."
So what does the course team want to tell everybody via this MOOC? In short……
Week 1: Jackie Chan
"Pushing the boundaries of what was going on in world cinema at that time, pushing the boundary of what people were conceiving in terms of action in the Hollywood."
Week 2: Bruce Lee and the Global Kung Fu Craze
"Shattering the image of China as the sick man of Asia" and "creating an image of a successful and popular Chinese masculinity that broke away from Confucian tradition of just being the brainy smart guy."
Week 3: Melodramas of Migrations: Mabel Cheung Yuen Ting's An Autumn's Tale
Busts all the Hollywood stereotypes that still exist today – "the ways in which often times Chinese men are ignored, or feminized, or seen as only about Kung Fu; The ways in which women are seen as exotic, or available, or passive, or dragon ladies."
Week 4: John Woo's Heroic Bloodshed Films: Hong Kong vs. Hollywood
The Killer as a contract to John Woo's Hollywood movies reflects that Confucian Brotherhood as a core concept is replaced with American selfhood when John Woo moves on to the Hollywood.
Week 5: Hong Kong on Postmodern Screens: Infernal Affairs
The movie relates to "certain aspects of global society in terms of consumerism, technology, different aspects of identity, split identities, changes in Hong Kong, allegorical changes relating to politics."
Week 6: Hong Kong Cinema as World Cinema / In the Mood for Love
Its strong emphasis on Room 2046 expresses the fear of returning to China in the 1997 handover. Yet, the movie is a lot more than just about the handover. "If Wong Kar Wai made films only about 1997 in Hong Kong, he wouldn't be at Cannes."
Missed the seminar? No worries. Sign up for the course here to learn more or have a look at the event photos here.