Message from Common Core Curriculum Committee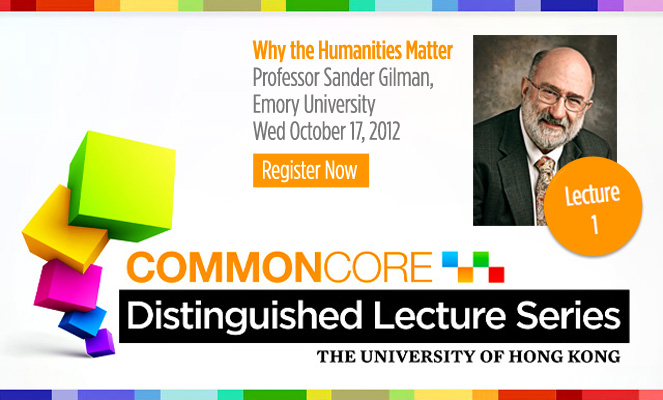 Lecture 1: Why the Humanities Matter
Speaker: Professor Sander Gilman, Emory University
Date: Wed October 17, 2012
Time: 6:45 – 8:00 pm
Venue: Rayson Huang Theatre (Main venue)
(Webcasting in other venues will be available)
Abstract:
The debates about the value of the Humanities taking place in North America and Europe have been answered to a degree by the new curriculum at the University of Hong Kong.  These debates, however, ask not only HOW we should study the Humanities but also WHY we should do so. The answer to this is more than simply topical: What value does such knowledge have for us, for our world, and for our time?
About the Speaker:
Professor Sander Gilman is a distinguished professor of the Liberal Arts and Sciences as well as Professor of Psychiatry at Emory University. A cultural and literary historian, he is the author or editor of over eighty books.
For twenty-five years Professor Gilman was a member of the humanities and medical faculties at Cornell University where he held the Goldwin Smith Professorship of Humane Studies.  For six years he held the Henry R. Luce Distinguished Service Professorship of the Liberal Arts in Human Biology at the University of Chicago and for four years was a distinguished professor of the Liberal Arts and Medicine and creator of the Humanities Laboratory at the University of Illinois at Chicago. He has been a visiting professor at numerous universities in North America, South Africa, The United Kingdom, Germany, Israel, China, and New Zealand.  Currently, he is a Visiting Research Professor at the University of Hong Kong.
The distinguished lecture will be followed by a conversation with the speaker on Thursday, October 18 from 5:30 – 7:00 pm in Room G-07, Main Building.  Students who have attended the lecture on October 18 are most welcome to participate.
For enquiries, please mail to commoncore@hku.hk or call 2219 4957.
[bsbutton size="small" style="warning" icon="icon-play" iconcolor="white" text="Registration" link="http://hkuems1.hku.hk/hkuems/ec_hdetail.aspx?ueid=19998″ target="This page"] [bsbutton size="small" style="warning" icon="icon-play" iconcolor="white" text="Learn more about this Distinguished Lecture Series" link="http://commoncore.hku.hk/dls" target="This page"]