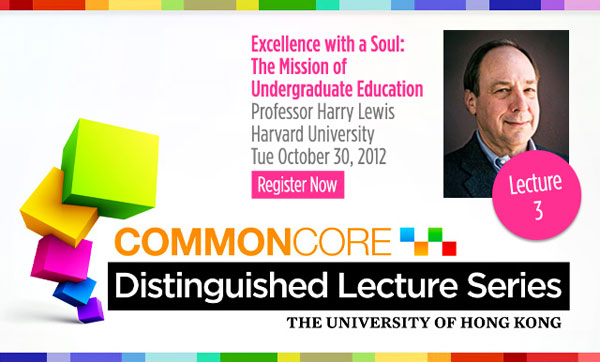 Lecture 3 – Excellence with a Soul: The Mission of Undergraduate Education (Common Core Curriculum)
Speaker: Professor Harry Lewis, Harvard University
Date: Tuesday October 30, 2012
Time: 5:30 – 6:30 pm
Venue: Rayson Huang Theatre (Main venue)
(Webcasting in other venues will be available)
Abstract
What should students get from their undergraduate education? Not just knowledge and skills, but habits, values, and ideals. A great education leaves students empowered by their knowledge and humble about its limits, curious to learn more and skeptical about what they have been taught. Well-educated people can place the problems of their society in the course of human history, and can face their personal challenges in the context of what others before them have wondered about themselves. True educational excellence does not just transmit information; it inspires students and awakens their souls.
About the Speaker
Professor Harry Lewis is Gordon McKay Professor of Computer Science in the School of Engineering and Applied Sciences at Harvard University. He served as Dean of Harvard College from 1995-2003. He holds A.B., A.M., and Ph.D. degrees from Harvard, all in Applied Mathematics.
Professor Lewis is the author of numerous books and articles in three areas of scholarship: theoretical computer science; the social implications of the development of the Internet; and the history and future of higher education. His books have had a significant influence on the teaching of computer science to undergraduates.
During his almost forty years of teaching, Professor Lewis has helped launch thousands of Harvard undergraduates into careers in computer science. His former students include dozens of today's computer science professors and many successful entrepreneurs, including both Bill Gates and Mark Zuckerberg.
The lecture series is sponsored by Mr Alex CH Lai 賴振鴻 (BSc(Eng)1985).
For enquiries, please mail to commoncore@hku.hk or call 2219 4957.
[bsbutton size="small" style="warning" icon="icon-play" iconcolor="white" text="Registration" link="http://hkuems1.hku.hk/hkuems/ec_hdetail.aspx?ueid=20000″ target="This page"] [bsbutton size="small" style="warning" icon="icon-play" iconcolor="white" text="Learn more about this Distinguished Lecture Series" link="http://commoncore.hku.hk/dls" target="This page"]