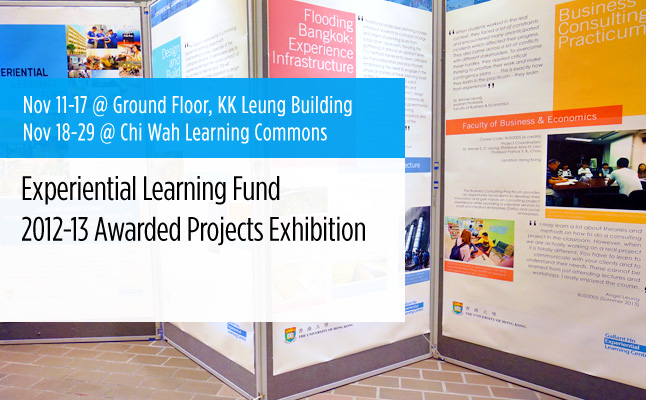 The Gallant Ho Experiential Learning Centre (GHELC) has established the Experiential Learning Fund to support Faculties in introducing, expanding or enhancing experiential learning in their undergraduate curriculum.
We are happy to share with you the projects awarded for 2012-2013. From November 11 to 29, 2013, an exhibition will be held in HKU campus to showcase the learning outcomes with highlights on student reflections and community impact of each project.
Dealing with real-life problems requires students to integrate knowledge within and across disciplines, to go beyond technical considerations, and to take into account social and human factors that come into play. It is in these situations that students put theoretical knowledge to test, gain a deeper understanding of theories and, most importantly, construct knowledge. It is also in these situations that students develop their core values and generic skills at the same time.
Exhibition Details
Date and Venue
(1) November 11 -17, 2013 @ North Wing, Ground Floor, KK Leung Building
(2) November 18-29, 2013 @ Chi Wah Learning Commons, Centennial Campus