Message from Information Technology Services
Dear Colleagues,
As part of our continuous effort to improve user experience of using e-learning at HKU, the e-learning Support Team of ITS is pleased to bring you an enhanced e-learning tab of HKU Portal in the new academic year. As you may have already noticed, released on 27 Aug, the new interface features three zones of information – Your e-Learning courses, Course specific information and e-learning resources. The Moodle course zone provides you easier access to the current and past Moodle courses. It is now more easy to recover and access to course outline, reading list, Gradebook and past exam papers in the Libraries (if any) of a certain current year Moodle course in the Course specific information area. We have consolidated the accesses to the mostly used e-learning resources including news updates, PC availability status, Lecture Capture Services (LCS), and seeking help and support information to the e-learning resources area.
Screenshot of the new layout: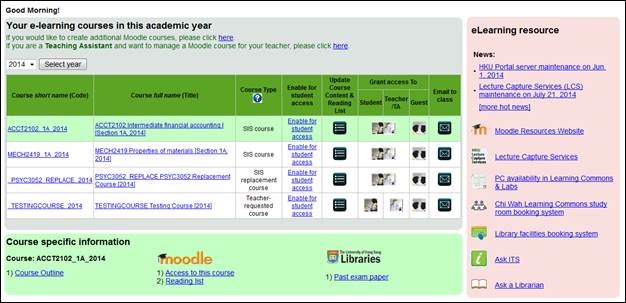 Besides, the existing Moodle Support Website (http://moodle-support.hku.hk) has been the center for getting support resources and training information of the centralized e-learning services for our users. A completely revamped e-learning support website will be released on 29 August 2014. The new website sports enhanced features over web accessibility for the disabled, with better navigation, and richer contents for users.
Screenshot of the new website: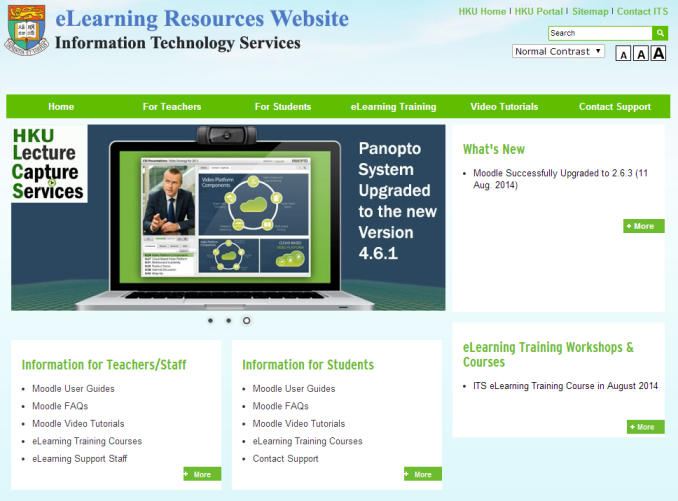 We hope that you will be happy with all these new updates. If you would like to have more information and have any inquiry, feel free to email us: e-learningTeam@hku.hk
Best Regards,
Kenneth Siu
e-learning Team
Information Technology Services