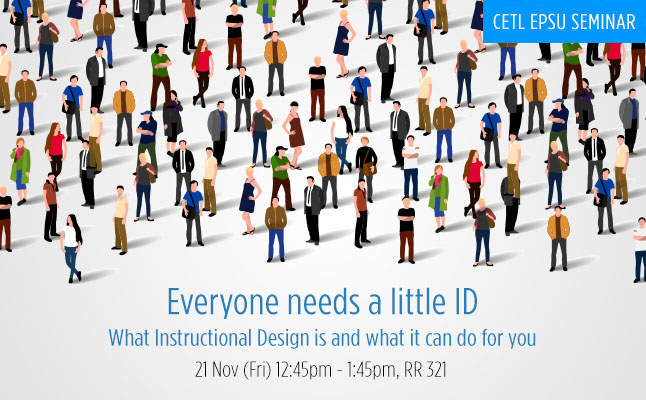 Organized by Centre for the Enhancement of Teaching and Learning (CETL) and Common Core Curriculum Office (CC)
Speakers: Dr. Jingli Cheng, e-learning Pedagogical Support Unit
Date : 21st November, 2014 (Friday)
Time : 12:45pm – 1:45pm
Venue : Room 321, Run Run Shaw Building
Abstract:
This seminar is for professors, teaching staff and anyone else who is designing and delivering learning experiences for students. We will introduce key principles of instructional design, a multidisciplinary field that encompasses learning psychology, human performance and technology, and discuss processes that you can incorporate in your current teaching and learning design and delivery practice.
We will also draw from perspectives of practitioners at Stanford University, University of Wisconsin-Madison, and Arizona State University, who will contribute to the discussions via recorded videos. From this seminar, participants can expect to gain insights, practical skills and the confidence to help them better design the learning experiences they want their learners to have.
About the Speakers:
Dr. Jingli Cheng has extensive experience applying instructional design theories and best practices in various organizational settings to help learners improve their knowledge and skills. Before joining the HKU's e-learning Pedagogical Support Unit, he worked as Instructional Designer at Stanford University, the Hewlett Packard company and several other organizations in the United States. His research interests include motivation for knowledge sharing in online communities and informal learning in organizational settings.
Sandwiches will be served with coffee and tea.
---
For information on registration, please contact:
Ms Ivy Lai , CETL
Phone: 3917 8996; Email: 
laichun2@hku.hk
.