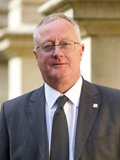 Public Lecture by Professor Sir Eric Thomas
Vice-Chancellor, University of Bristol, UK
UK Education Champion, since 2013
President of Universities UK, 2011-13
Date : January 12, 2015 (Monday)
Time : 5:30pm Tea Reception
6:00pm Lecture by Professor Sir Eric Thomas
Venue : Conference Room, 11/F, Cheng Yu Tung Tower, Centennial Campus, HKU
Enquiries : 2219 4892
For registration details, please click here.
Lecture abstract
The words "world class", "global" and "international" are used with undisciplined frequency by huge numbers of universities in their public relations, marketing and student and staff recruitment. In many respects such use has so undermined the very description that external observers attach little importance to it. There are, however, universities that do transcend their location and their activity and that would be agreed by most observers to be world class and globalised.
This lecture will look at the criteria that could be used to construct these definitions and analyse their strengths and weaknesses. It will ask the question as to whether there are only a tiny number of universities that should responsibly use these epithets or whether many universities have so many of the characteristics that it is fair that they describe themselves in this manner. It will also look at the factors and events that have shaped our major universities into thinking and planning in a global manner rather than the more parochial normality of twenty years ago.
Speaker's profile
Professor Sir Eric Thomas is Vice-Chancellor of the University of Bristol, a position he has held since September 2001. He was awarded a Knighthood in the Queen's Birthday Honours 2013 for services to Higher Education.
He graduated in Medicine from the University of Newcastle upon Tyne in 1976 and proceeded to obtain his MD by thesis in research into endometriosis in 1987. He trained as an Obstetrician and Gynaecologist and worked at both the universities of Sheffield and Newcastle. In 1991 he was appointed Professor of Obstetrics and Gynaecology at the University of Southampton and then became Head of the School of Medicine there in 1995 and Dean of the Faculty of Medicine, Health and Biological Sciences in 1998. He was a Consultant Gynaecologist from 1987 to 2001.
In July 2013, Sir Eric was appointed as the new UK Education Champion by the Government as part of its strategy to promote the UK education sector internationally. Sir Eric will also co-chair the new International Education Council alongside the Universities and Science Minister, David Willetts.
From 2011-2013, Sir Eric was President of Universities UK. He was previously Vice-President of UUK, Chair of its England and Northern Ireland Council and Chair of the Research Policy Committee. He was a Trustee and then Chair of CASE Europe from 2007-2014 and a member of the CASE Board in North America from 2010-2014.
Sir Eric is a Trustee of IntoUniversity and a Lay Trustee of the Royal College of Obstetricians and Gynaecologists. He chaired the government Taskforce into Increasing Voluntary Giving in Higher Education, which reported in 2004. He was Chair of the Worldwide Universities Network (WUN) from 2003-2007 and was a member of the Board of the South-West Regional Development Agency from 2002 to 2008.