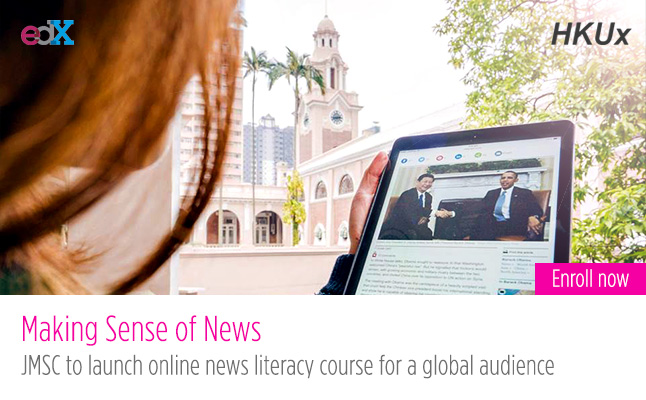 Making Sense of News
Learn essential, critical thinking skills in the age of social media to effectively navigate and make sense of news.
About this Course
With social media and a 24/7 news cycle, how do we — as news consumers — make sense of what we hear and read? At a time when we are flooded with an abundance of information and disinformation, it is essential for each one of us to become a more discerning news consumer.
This six-week course will help you identify reliable information in news reports and become better informed about the world we live. We will discuss journalism from the viewpoint of the news audience.
A certificate will be awarded upon successful completion of the course.
Together, we will examine the following topics:
What makes news? The blurred lines between news, promotion and entertainment.
Why does news matter? Social sharing and the dynamics of the news cycles.
Who provides information? How to evaluate sources in news reports.
Where is the evidence? The process of verification.
When should we act? Recognizing our own biases.
How do we know what we know? Becoming an active news audience.
If you are interested in becoming a more discerning news consumer, please join us and sign up today.
Registration:
https://www.edx.org/course/making-sense-news-hkux-hku04x
* All the instructional video clips in the course will have subtitles in Simplified Chinese
把握新聞資訊
在社會媒體充盈的時代,運用批判思維,清晰有效地把握新聞資訊。
課程介紹
面對24小時不斷滾動的社會媒體及新聞資訊,作為新聞受眾,我們如何更好地了解自己的所見所聞?我們所處的時代,真實與虛假信息大量糅雜並存。作為受眾,在這一背景下,如何保持清醒的判斷力,對每一個人都十分重要。
本課程為期六週,旨在幫助你識別新聞報導信息的可靠性,以更好地了解我們所處的世界。課程將從新聞受眾的角度對新聞報道進行審視和討論。
我們將探討以下話題
什麼是新聞?新聞、炒作以及娛樂之間的模糊界限。
新聞資訊為何重要?社會化分享以及新聞的動態循環過程。
信息來自哪裏?如何衡量新聞報道的來源。
證據在哪裡?如何對證據加以核實。
何時採取行動?了解我們自身的偏見。
知識如何形成?成為一個積極主動的新聞受眾。
想令自己成為識辨能力更高的新聞受眾嗎?請報讀我們的課程。
登記:
https://www.edx.org/course/making-sense-news-hkux-hku04x
*教學視頻配有簡體中文字幕