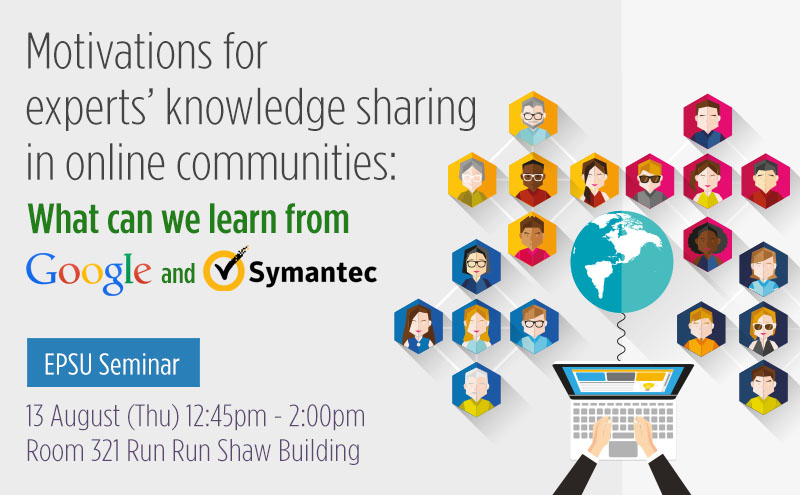 Organized by e-learning Pedagogical Support Unit, CETL
Speaker: Dr. Jingli Cheng, e-learning Pedagogical Support Unit
Date : 13 August, 2015 (Thursday)
Time : 12:45pm – 2:00pm
Venue : Room 321, Run Run Shaw Building
Abstract:
Communities of practice as an approach to informal learning has received attention from various types of organizations, including higher education institutions. A fundamental process underlying successful communities of practice is knowledge sharing. Yet, empirical understanding of motivations for knowledge sharing is lacking, especially with regard to an important subset of participants in these communities, the experts. Based on a research study that the speaker conducted with Google and Symantec, this presentation will highlight the key factors that motivated expert participants' knowledge sharing behaviors in the two companies' online user communities.
Colleagues who are considering implementing communities of practice or knowledge sharing initiatives in and beyond their organizations may get useful insights from this presentation. Teachers who are thinking about motivating student participation in online communities may also find this workshop beneficial. All are welcome.
About the Speaker:
Dr. Jingli Cheng has extensive experience applying instructional design theories and best practices in various organizational settings to help learners improve their knowledge and skills. Before joining HKU's e-learning Pedagogical Support Unit, he worked as Instructional Designer at Stanford University, the Hewlett Packard company and several other organizations in the United States. His research interests include motivation for knowledge sharing in online communities and informal learning in organizational settings.
---
Please send enquiries to Miss Cherry Lai
Email:
cherry.lai@hku.hk
.