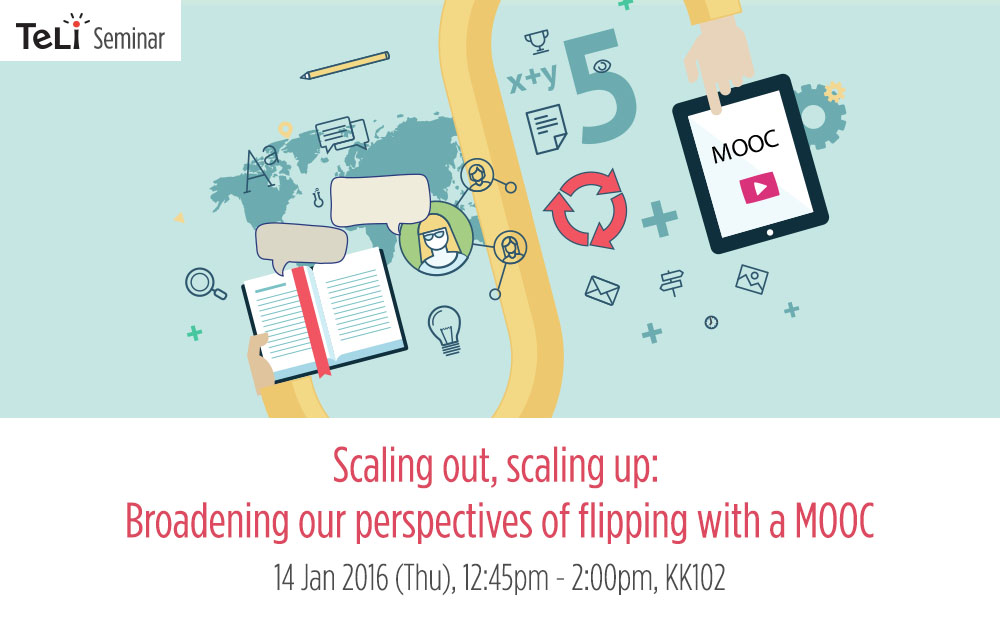 Speaker: Dr. Masato Kajimoto, Journalism and Media Studies Centre
Professor Ricky Kwok, Associate Vice-President (Teaching and Learning)
Date : 14 January, 2016 (Thursday)
Time : 12:45 pm -2:00pm
Venue :Room 102, 1/F, K.K. Leung Building, HKU
About the seminar
Further to his seminar delivered on integrating a MOOC into on-campus teaching in October, Dr. Masato Kajimoto​ is offering to show us more data from the student evaluation of his online lecture experiment in the Fall semester of 2015-16. Some of his students are also joining the seminar to recount their experience of this flipped classroom arrangement. Professor Ricky Kwok will share with participants how he puts Masato's initiative into context with the new paradigm of scaling out teaching and scaling up learning through the use of technology. We are planning to budget good enough time for you to raise questions, provide comments, and also to find out how the University might support your plans to introduce more innovative ideas in teaching and learning.
About the speakers
Dr. Masato Kajimoto is an Assistant Professor at the Journalism and Media Studies Centre at The University of Hong Kong (HKU). Masato specializes in news literacy education, multimedia storytelling, and social media in journalism. He taught the third iteration of HKU's online course on edX titled HKU04x Making Sense of News from May to June 2015. The course will be re-run from February 16, 2016 (register here).
Professor Ricky Kwok is Associate Vice-President (Teaching and Learning) at HKU, assisting the Vice-President and Pro-Vice-Chancellor (Teaching and Learning) in various endeavors related to e-learning (e.g., MOOCs, blended learning and gamification). He leads the Technology-Enriched Learning Initiative (TELI) team which consists of e-learning technologists, instructional designers, researchers in learning analytics, specialists in systems development, multimedia talents and collaboration associates. ​
For enquiries, please contact Miss Bonnie Yu by email yka0201@hku.hk.