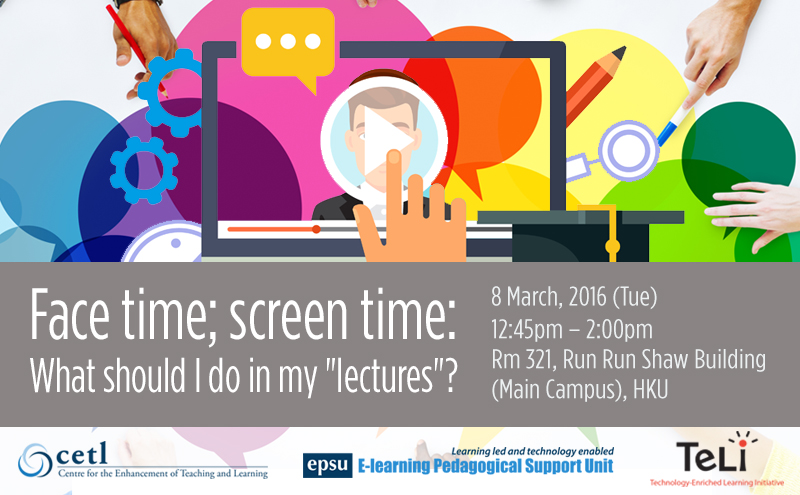 Organized by Centre for the Enhancement of Teaching and Learning (CETL), E-learning Pedagogical Support Unit (EPSU) and Technology-Enriched Learning Initiative (TELI)
Speakers: Dr. Lily Zeng, Assistant Professor, CETL
Professor Ricky Kwok, Associate Vice-President (Teaching and Learning)
Date : 8 March, 2016 (Tuesday)
Time : 12:45pm – 2:00pm
Venue : Room 321, Run Run Shaw Building (Main Campus), HKU
About the Joint Workshop
Many teachers who are planning to flip their classes might agree that moving traditional lectures online is an effective way to deliver instructional materials. More importantly, it can also make room for quality interactions between teachers and students. However, after the flip, what kind of learning opportunities can we create to engage, inspire, provoke, or even shock our students in the face-to-face sessions, the "face time"? How should face time and screen time be meaningfully blended? In this workshop, you will hear cases of flipped classes in different disciplines, analyze the key elements of the pedagogical strategies used in face time, identify the activities that you might be able to use, and come away with initial plans for a flipped class. Be sure to bring your wireless device and a lesson that you are considering flipping to work on!
This workshop is open to the first 42 registered participants to ensure that there is enough time to accommodate questions, provide comments, and give feedback for each participant.
For enquiries, please contact Miss Bonnie Yu by email yka0201@hku.hk.