HKU Dentistry is ranked No. 1 in the World in 2016. Known for its world-class quality undergraduate and postgraduate and research programmes and clinical dental specialties, HKU Dentistry moves to the forefront in using creative technology in teaching and learning. On 25 October this year, it launched the World's 1st MOOC (Massive Open Online Course) in Implant Dentistry on the Coursera platform.

Up-scaling learning and teaching, from solo to global endeavor
The Implant Dentistry MOOC successfully captured 7000+ enrollees who are practicing dental practitioners and dentistry graduates and students from more than 50 countries around the world. The MOOC gives students more than an option and convenience to a self-paced curriculum on an individual device; students are engaged in lively forum discussions with instructors, TAs and fellow online peers anytime, anywhere.
Engaging students in an interactive MOOC learning experience is not the work of one but many instructors – the course is taught by a dream-team close to 20 renowned international experts in dental implants and reconstructions led by HKU's Dr. Nikos Mattheos, Clinical Associate Professor in Implant Dentistry. Each teacher on the team contributed specialized knowledge and evidence-based best practices on the same platform to multiple-levels of dental professionals and multi-national learners.
The vision and mission
Why an Implant Dentistry MOOC? According to the chief course instructor, Dr Niko Mattheos,
"Implant Dentistry is one of the most dynamic and rapidly developing areas within oral health care, but is still a rather new discipline in dental education and is not quite often taught in undergraduate dentistry curricula."
Earlier this year, researchers from the Department of Oral Rehabilitation conducted a small-scale survey on postgraduate dental education to practicing dental practitioners in Europe, Asia, North America, Oceania and South America. The study showed that the most frequent period that dental practitioners placed the first dental implant was 3-5 years after dental school graduation and 82% of the respondents reported the need for further education, however, among the group, only 29% actually pursued further education in an academic setting, i.e. post-graduate 2-3 year full-time programs in accredited universities.
HKU Dentistry, with the vision to provide a top-notch dental education programme to the training of future dental professionals, endeavored to bridge the gap of knowledge in Implant Dentistry and diligently worked with HKU's TELI team to produce a world-class MOOC in Implant Dentistry to offer an opportunity for dental practitioners and dental students to learn about this specialized subject.
Creating impacts to international communities
The MOOC has reached beyond national borders, language and professional boundaries. We are excited to see that the MOOC has gained endorsement not only from universities and dental schools, but also from other professional communities. Among them are Ukrainian Academy of Periodontology and Canadian Dental Association. There are also strong incentives among learners in building learning communities in Implant Dentistry. Enthusiastic Arabic learners started a Facebook group, where they translated the course materials to Arabic and shared notes with their peers. There are currently 900+ learners and counting. We are also delighted to have established strong connections with professional organizations in mainland China that bring us 1500+ Chinese learners.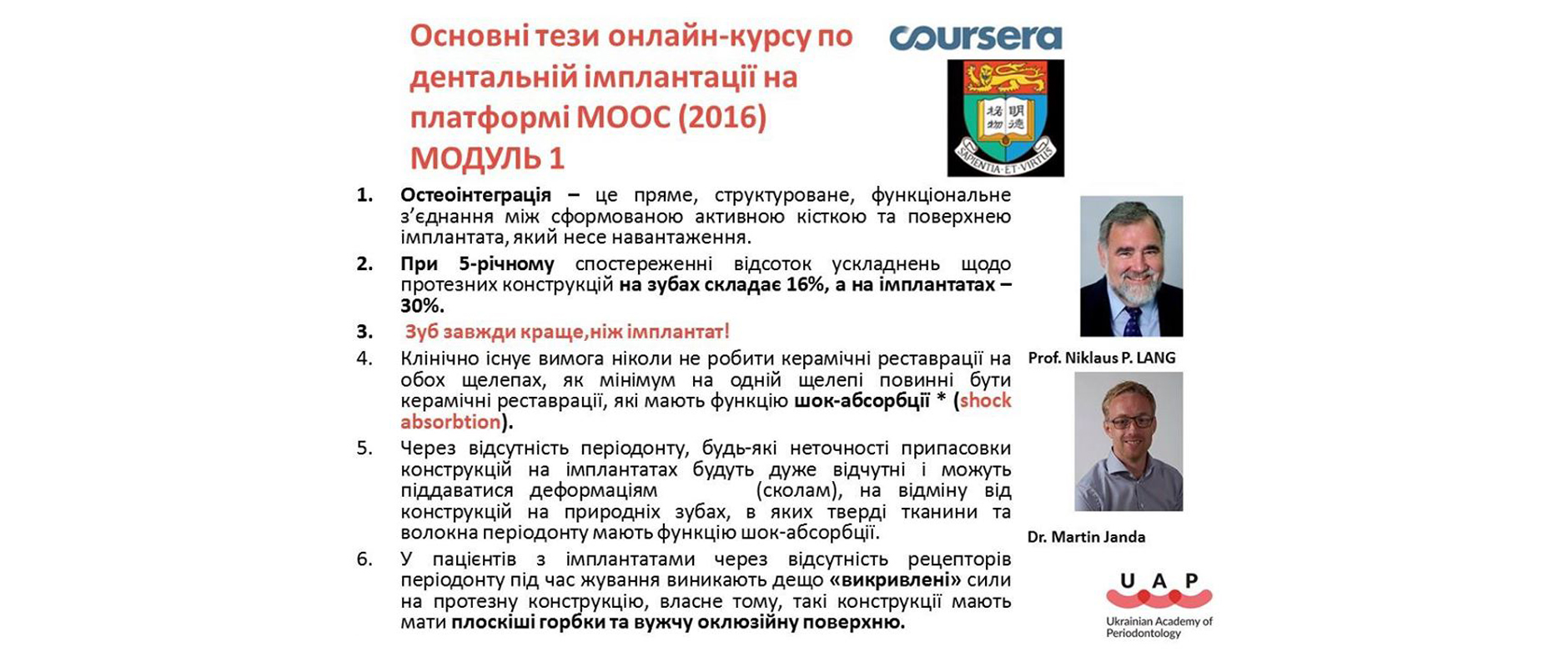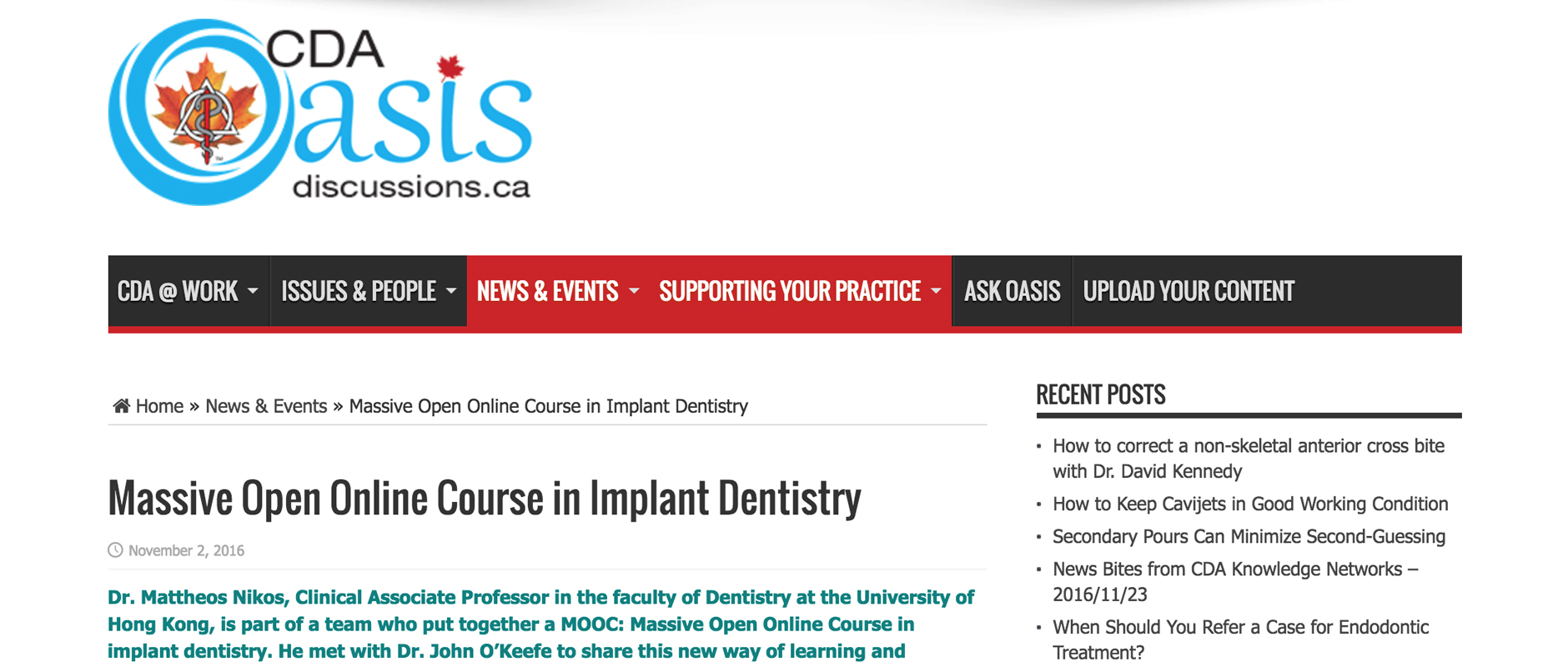 Learners' stories
Here are some testimonies and learners' sharing from the MOOC: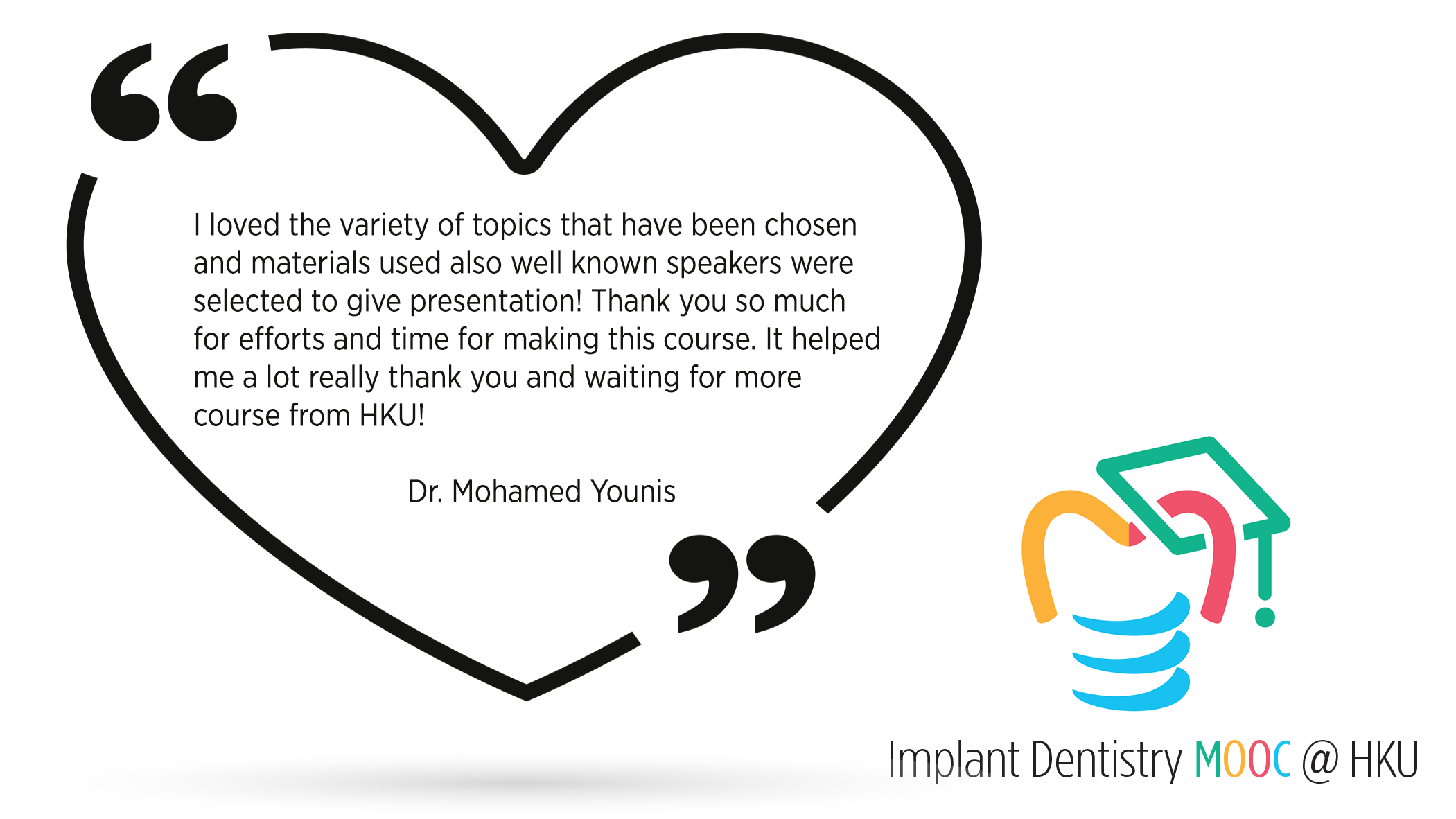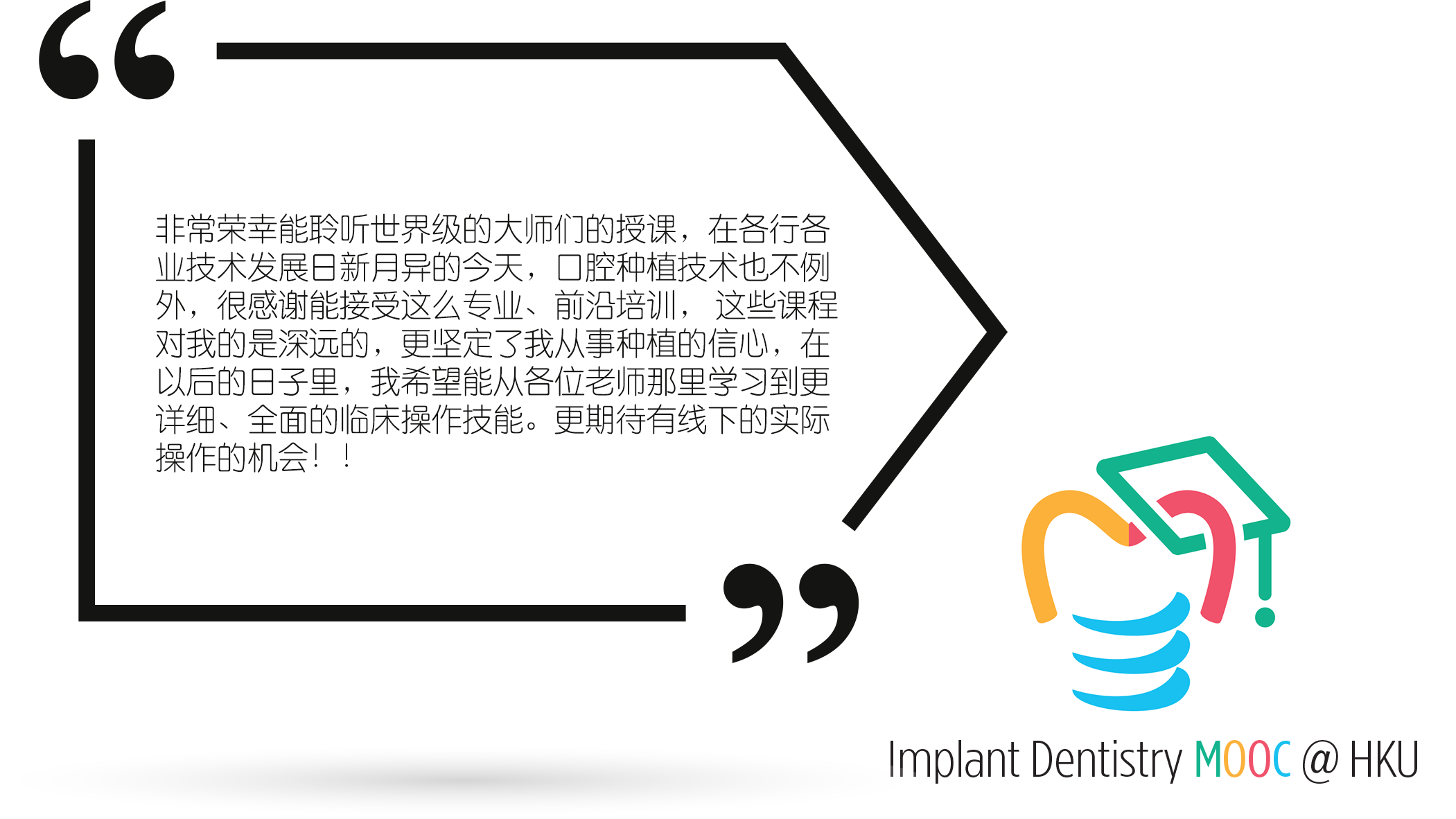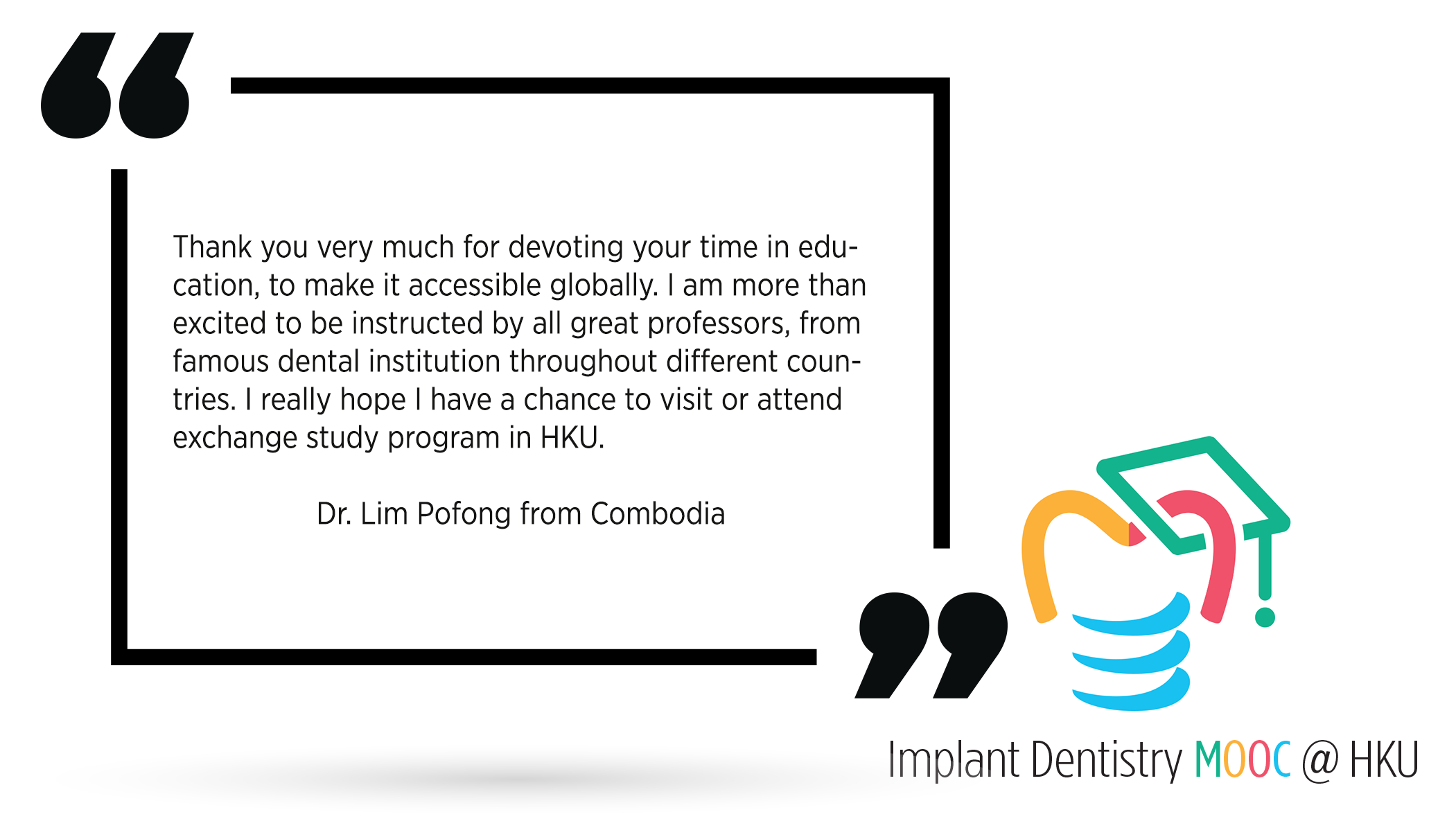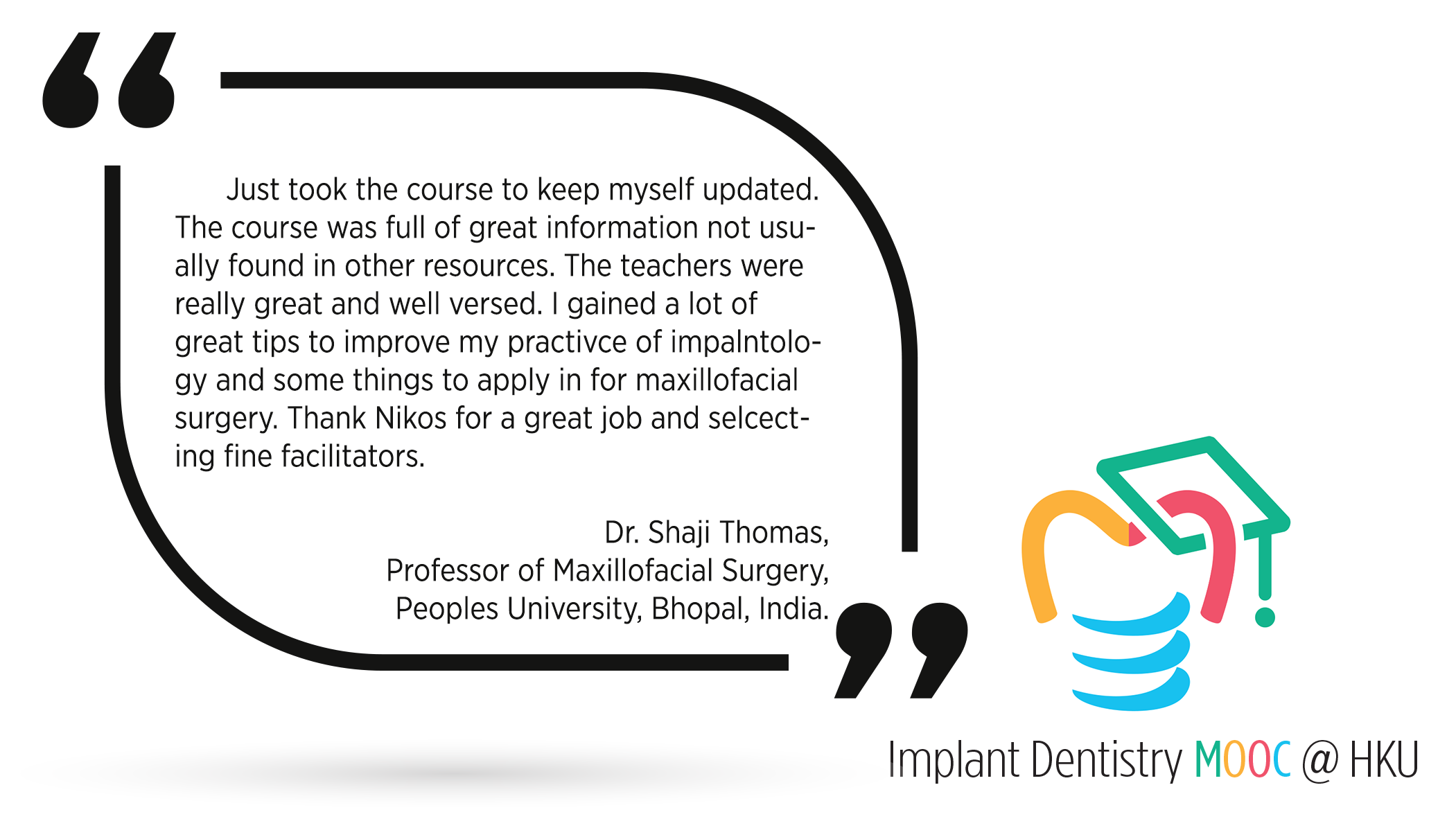 The course will be completed by 4 December 2016, but the second round will start soon from 27 February 2017. Join us now, to experience the world-class MOOC brought by the world-class dental school!
Further reading: