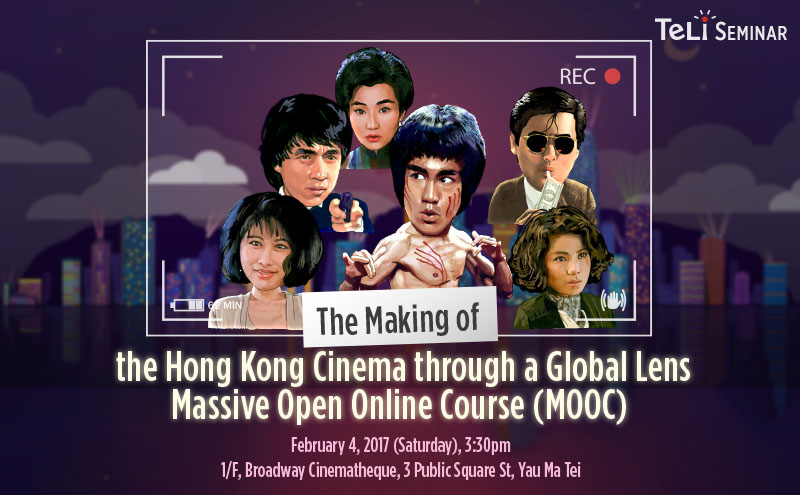 Organised by Technology-Enriched Learning Initiative (TELI)
Date : February 4, 2017 (Saturday)
Time : 3:30pm
Venue : 1/F, Broadway Cinematheque, 3 Public Square St, Yau Ma Tei
Speakers :
– Gina Marchetti, Professor in the Department of Comparative Literature, HKU
– Aaron Magnan-Park, Assistant Professor in the Department of Comparative Literature, HKU
– Stacilee Ford, Honorary Associate Professor in the Department of History, HKU
The talk will be conducted in English.
About the seminar:
Understanding the role Hong Kong plays on world screens animates the first Massive Open Online Course (MOOC) devoted to Hong Kong films. Together, let's examine how the local and the global intersect to make Hong Kong cinema an integral part of popular culture around the world as well as a leading force in the development of world cinematic art.
This presentation introduces you to the key films, stars, directors, and genres that represent Hong Kong on global screens. We will chat about how flows of capital, people, technologies, ideas and creativity circulate and shape the cultural industry of filmmaking globally, resulting in transnational co-productions and cross-cultural co-operations.
Join us to learn more about Hong Kong cinema as an expressive art and a creative industry.
Films:
The Karate Kid (dir. Harald Zwart, 2010)
Fist of Fury / The Chinese Connection 精武門 (dir. Lo Wei 羅維, 1972)
Enter the Dragon 龍爭虎鬥 (dir. Robert Clouse, 1973)
An Autumn's Tale 秋天的童話 (dir. Mabel Cheung 張婉婷, 1987)
The Killer 喋血雙雄(dir. John Woo 吳宇森, 1989)
Infernal Affairs 無間道 (dir. Andrew Lau and Alan Mak 劉偉強和麥兆輝, 2002)
In the Mood for Love 花樣年華 (dir. Wong Kar Wai 王家衛, 2000)
HKU free online course: Hong Kong Cinema through a Global Lens
| | | |
| --- | --- | --- |
| Week 1 Teaser | Week 2 Teaser | Week 3 Teaser |
| Week 4 Teaser | Week 5 Teaser | |