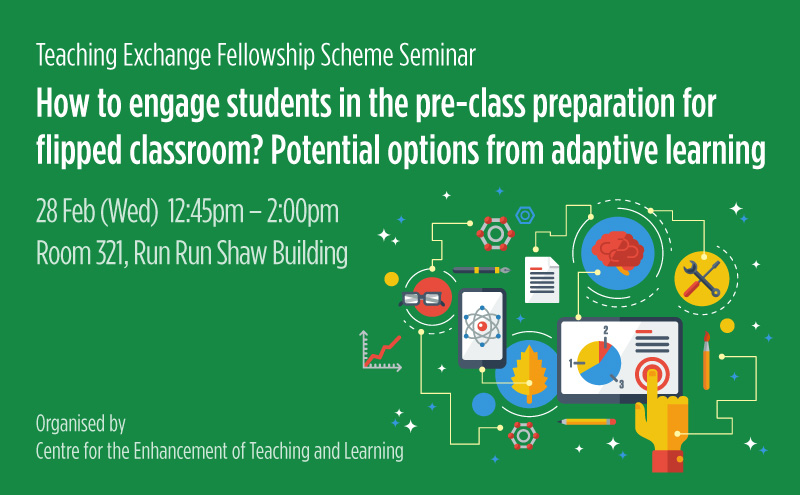 Organised by Centre for the Enhancement of Teaching and Learning (CETL)
Details of the workshop:
Date : February 28, 2018 (Wednesday)
Time : 12:45 pm – 2:00 pm
Venue : Room 321, 3/F, Run Run Shaw Building (Main Campus), HKU
Speaker : Dr Lily Min Zeng, Assistant Professor, CETL, HKU
Facilitator : Dr Luke Fryer, Associate Professor, CETL, HKU
Abstract
For flipped classrooms, how can we ensure students would do the pre-class preparation task before they come to the classroom? This seminar will share with you an exchange journey inspired by this question, which was raised by a participant in the presenter's previous workshop on flipped learning. Seeing the potential of adaptive learning in enhancing students' engagement in pre-class preparation, the presenter made a trip to The University of New South Wales, who had the world's first e-learning platform for adaptive learning. Drawing on the observations of classes, meetings with teachers and educational developers form different disciplines, and the actual experiences with the adaptive learning platform, this seminar will demonstrate the ways adaptive learning could be utilized to encourage students' engagement in pre-class preparation. In particular, how adaptive learning may contribute to the implementation of two flipped classroom models introduced in the previous workshop.
About the Speaker
Lily Min Zeng has 18 years' teaching experience in higher education institutions in Hong Kong, New Zealand and Mainland China. She earned her PhD degree in the area of educational psychology from The Faculty of Education at The University of Hong Kong (HKU). She has played leading role in coordinating and delivering effective tertiary-level professional development programmes in different universities and had been Acting Head of Programmes at the Centre for the Enhancement of Teaching and Learning (CETL) at HKU. Her current role at CETL involves teaching a required programme for new academic staff, developing e-learning resources for the professional development of university teachers, working with multiple units and faculties across the university to develop an e-learning package on experiential learning for undergraduate students, supporting other units at HKU for teaching and learning initiatives, conducting high quality TDG and research projects to support evidence-based teaching development at HKU, and providing pedagogical consultation for faculty within and outside HKU regarding learning diversity, assessment, feedback, peer review of teaching, and teaching portfolios. The MOOC she designed on University Teaching was launched in May 2017. It has received very good ratings and reviews among colleagues internationally.
For information, please contact:
Ms. Noranda Zhang , CETL
Phone: 3917 4729; Email: noranda@hku.hk​