Be flexible, be innovative, and you will discover numerous ways to engage students with technology. HKU TELI and the Knowledge & Education Exchange Platform (KEEP) of the Chinese University of Hong Kong (CUHK) jointly organized a seminar to share examples of effective teaching strategies, namely flipped classroom, mobile apps, visualization tools and gamification.
KEEP: Flexibility and Visualization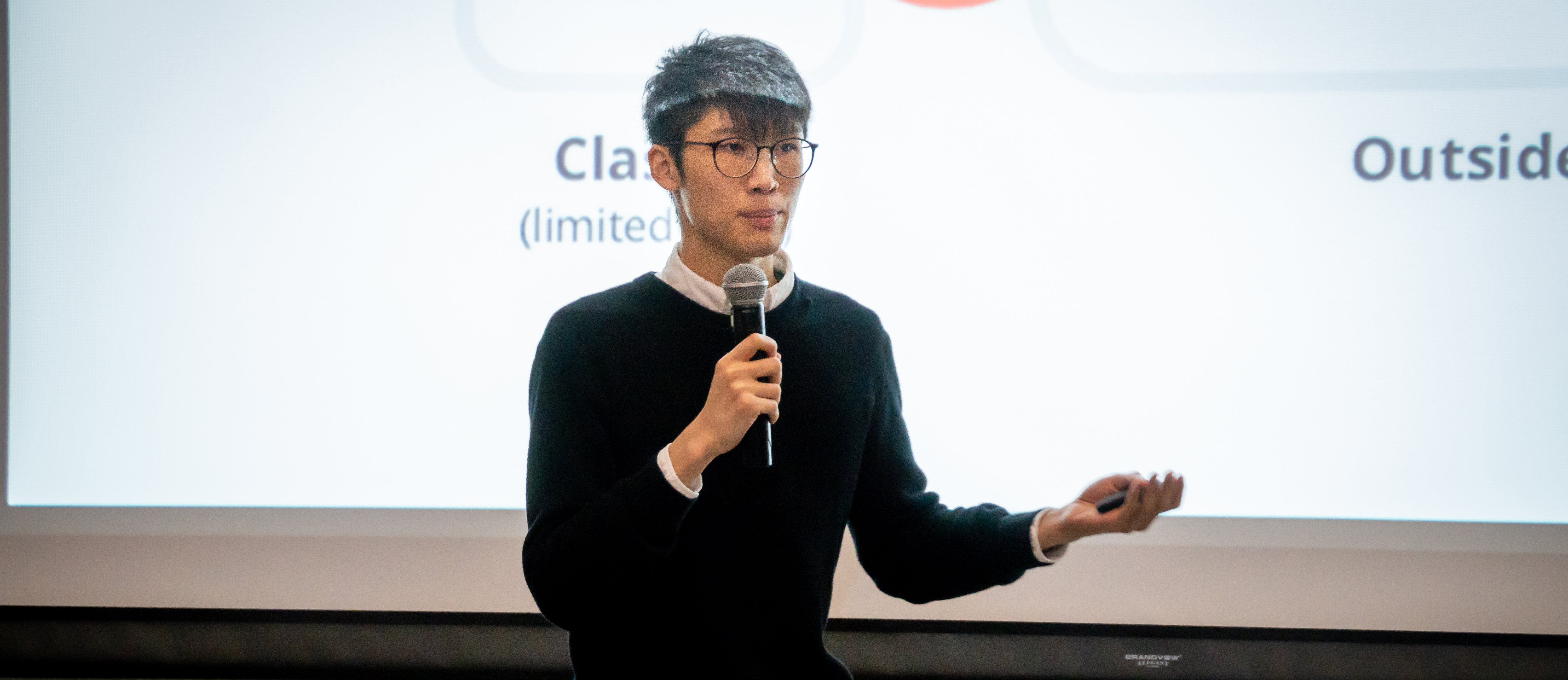 Mr. Eddy Yet, Project Coordinator of KEEP, presents on CUHK's innovative practices in online teaching.
Mr. Eddy Yet, KEEP's Project Coordinator, advises teachers to be flexible in teaching and visualizing students' responses for effective knowledge exchange:
Flexibility: To maximize the potential of flipped classroom, course teachers can adopt various e-learning tools to cater to students of different levels. For example, the instructor of a General Education Course, In Dialogue with Nature, presented the course content in the form of (i) Core Videos (which all students need to watch) and (ii) optional Online Supplementary Materials (for high achievers and those who are interested in further exploring the topic). This method of differentiated instruction allows flexibility in learning. The course team also developed a "Reading Companion" mobile app, which helps students evaluate their own learning from time to time with knowledge checks and a mini-dictionary.

"Reading Companion" mobile app of a CUHK General Education course (In Dialogue with Nature). [Image credit to KEEP]

Visualization: Often, a popular discussion thread in an online course contains over a thousand elaborated written responses. These responses are not effective if students do not read all of them. One solution is to introduce visualization tools, such as Sharing Board, where students illustrate their ideas with mind maps instead of words, or present data in word clouds. The KEEP team has witnessed successful examples of visualizing the course content and believes that this is an effective way to "summarize the learning content, and make good use of students' input".
TELI: Gamifying In-class Activities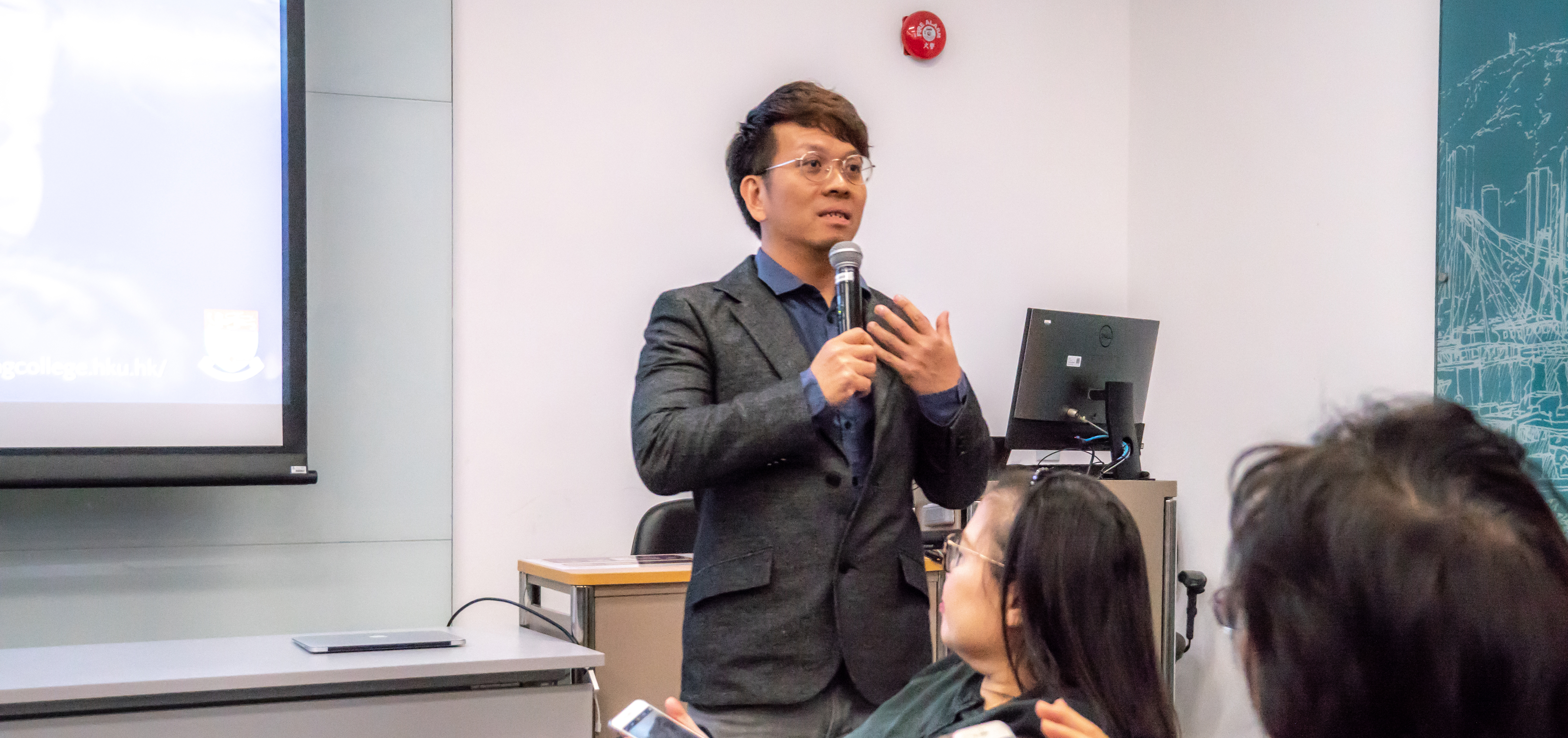 Professor Ricky Kwok, Associate Vice-President (Teaching and Learning) of HKU, introduces the course design of his Common Core course (Everyday Computing and the Internet).
Professor Ricky Kwok, Associate Vice-President (Teaching and Learning) of HKU, strives to spend quality time with students during class. Hence, he worked with TELI and designed a board game as an in-class activity of his Common Core course, Everyday Computing and the Internet.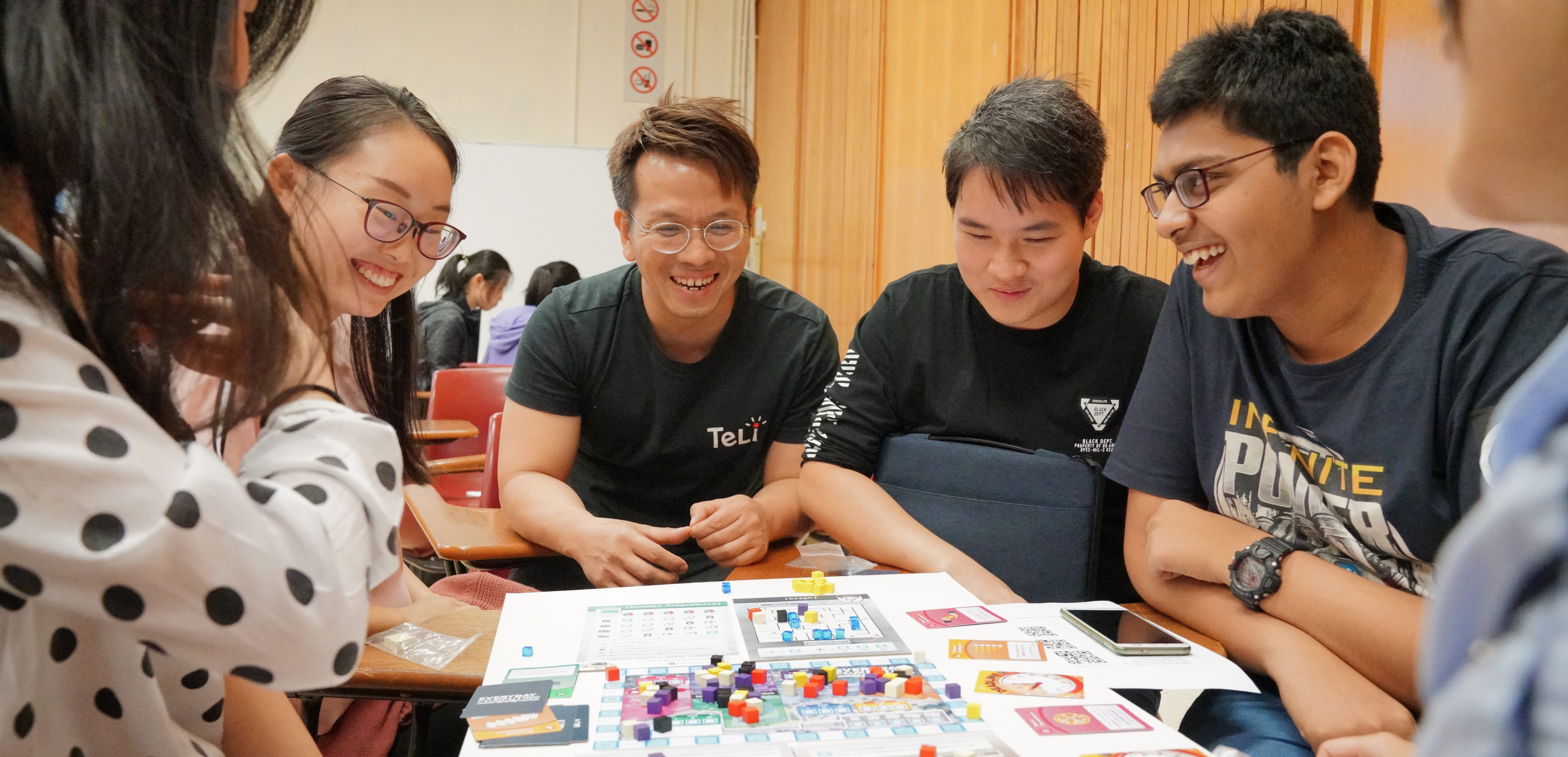 Professor Ricky Kwok (Middle) guides students to play the board game in his class.
The board game's design is similar to that of poker, but is integrated with the course's core concepts. To win the game, students need to first develop a good understanding of the course content by watching online explainer videos produced by the course team. The wish to win motivates students to actively participate in the board game, and therefore take greater ownership of their learning.
Having moved the lectures online, Professor Kwok can give more quality time to each student in class to support his/her learning. He jokes that when students are competing in the board game, he becomes a "server", walking around the classroom and answering students' questions about the game as well as the course content by asking them, "How can I help you, Sir?" Professor Kwok found that students, in such a way, are more vocal in asking questions, increasing his interaction with students.
At the end of the seminar, Professor Kwok summarizes three success criteria for gamification in education:
Is the game interesting and goal-orientated?
Does the game have a good pace? Do players have to spend much time to make one move?
Is the game connected to the course content?
It is always possible for educators, not just from HKU, but also from the other institutions, to digitalize, visualize, or even gamify their course content. Interested in bringing these ideas into your classroom? Don't hesitate to contact us!
Watch the full recording of 2019 TELI X KEEP Seminar:
Further Reading