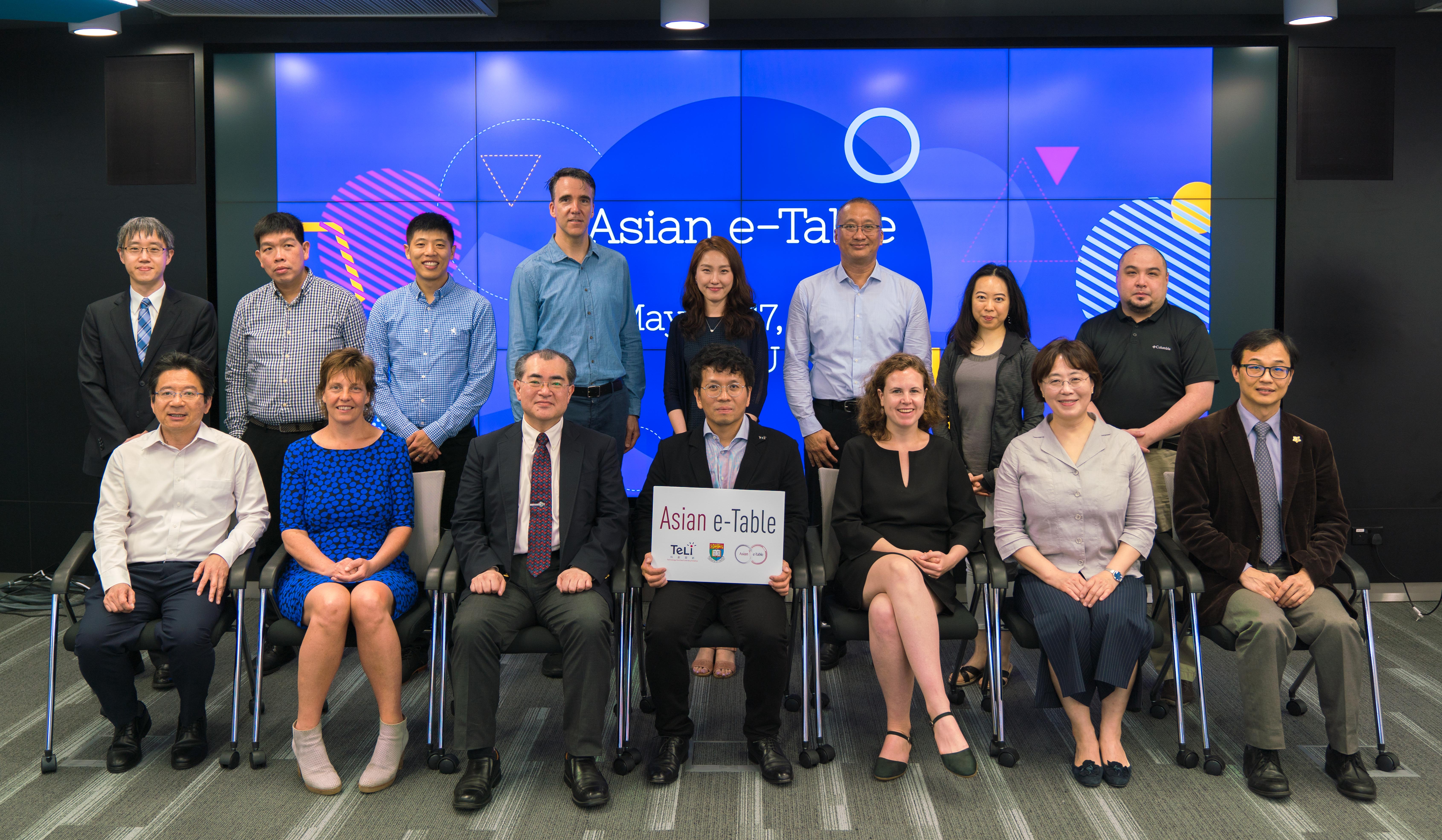 Representatives from nine institutions gathered at the fifth annual Asian e-Table to share their plans of commoditization of e-learning. We are glad to hear that our e-learning partners are scaling up e-learning not just on the teaching level, but also on the institutional level, i.e. credit recognition and regulations.
This year, we welcomed our new e-learning partner, SURFnet, a collaborative ICT organization for education and research in the Netherlands, to join our existing Asian consortium (in alphabetical order):
Kyoto University
National Taiwan University
National University of Singapore
The Chinese University of Hong Kong
The Hong Kong Polytechnic University
The Hong Kong University of Science and Technology
University of Macau
Yonsei University
Accrediting with Open Badges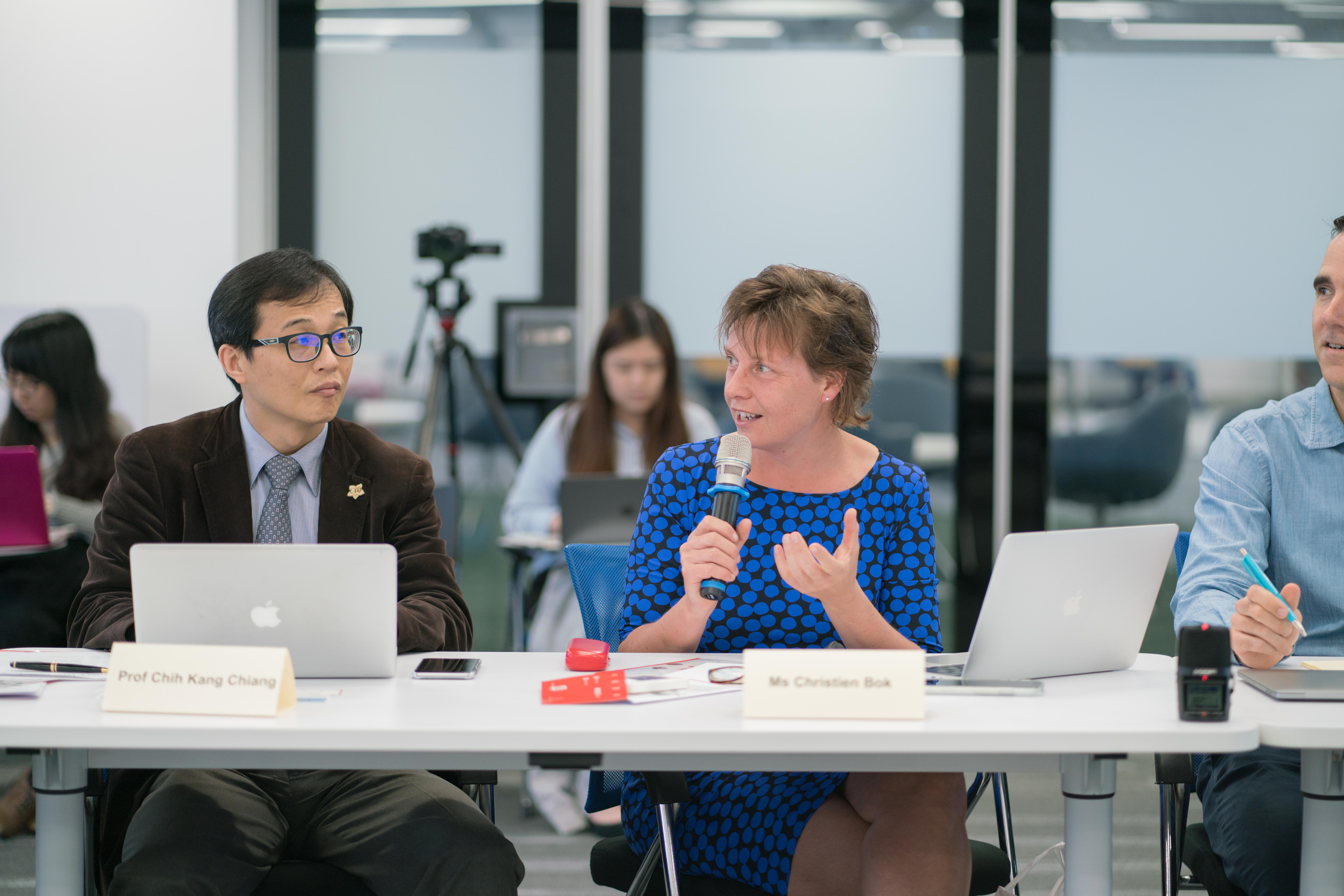 Sharing from Ms Christien Bok (Middle), Team Lead of Educational Service of SURFnet.
Lack of formal recognition for online learning undermines its values in students' minds. One solution that many institutions have adopted is to award certificates for recognizing students' skills and experience. In the Netherlands, SURFnet has developed an Open Badges system eduBadges, which is under pilot testing by 10+ Dutch higher education institutions. Unlike a traditional paper certificate, each Open Badge allows the badge community to link back to the information about who, why, and for what this badge was issued, displaying a more cooperative and complete picture of students' achievements. The badges, being the digital indicator which includes the issuer and value of the badge, contain unalterable digital information circulating among the badge issuers (e.g. educational institutions), badge earners (e.g. students) and badge consumers (e.g. employers).
The badge awarding system itself serves as a means to enhance the flexibility in education and helps make students' profile to be more visible on various online platforms. All in all, this "e-portfolio" helps students become more career-ready and, at the same time, makes them more aware of which skill sets they can improve, and motivates them to earn more "badges" in the future.
Harnessing the Power of Educational Data
Student data collection is under close watch, ever since the European Union's General Data Protection Regulations (GDPR) became effective. The educational research field is scrambling for ways to comply with the tougher regulatory environment. In Singapore, the National University of Singapore (NUS) has built an encrypted data storage system ALSET Educational Data Lake, securely housing the learning data of 120,000+ NUS students and alumni, including registrar data, job placement and salary data, module bidding, etc. From infrastructure (e.g. the data lake itself), staff training (e.g. how to access raw data) to data management policy (e.g. governed by the Learning Analytics and Data Advisory Board and the Learning and Analytics Committee on Ethics), NUS has produced very detailed codes of practice for ensuring data is ethically used and protected. Professor Ricky Kwok, Associate Vice-President (Teaching and Learning) of HKU, saw this data infrastructure as "the key towards institutional intelligence", guiding universities to actualize the commoditization of e-learning.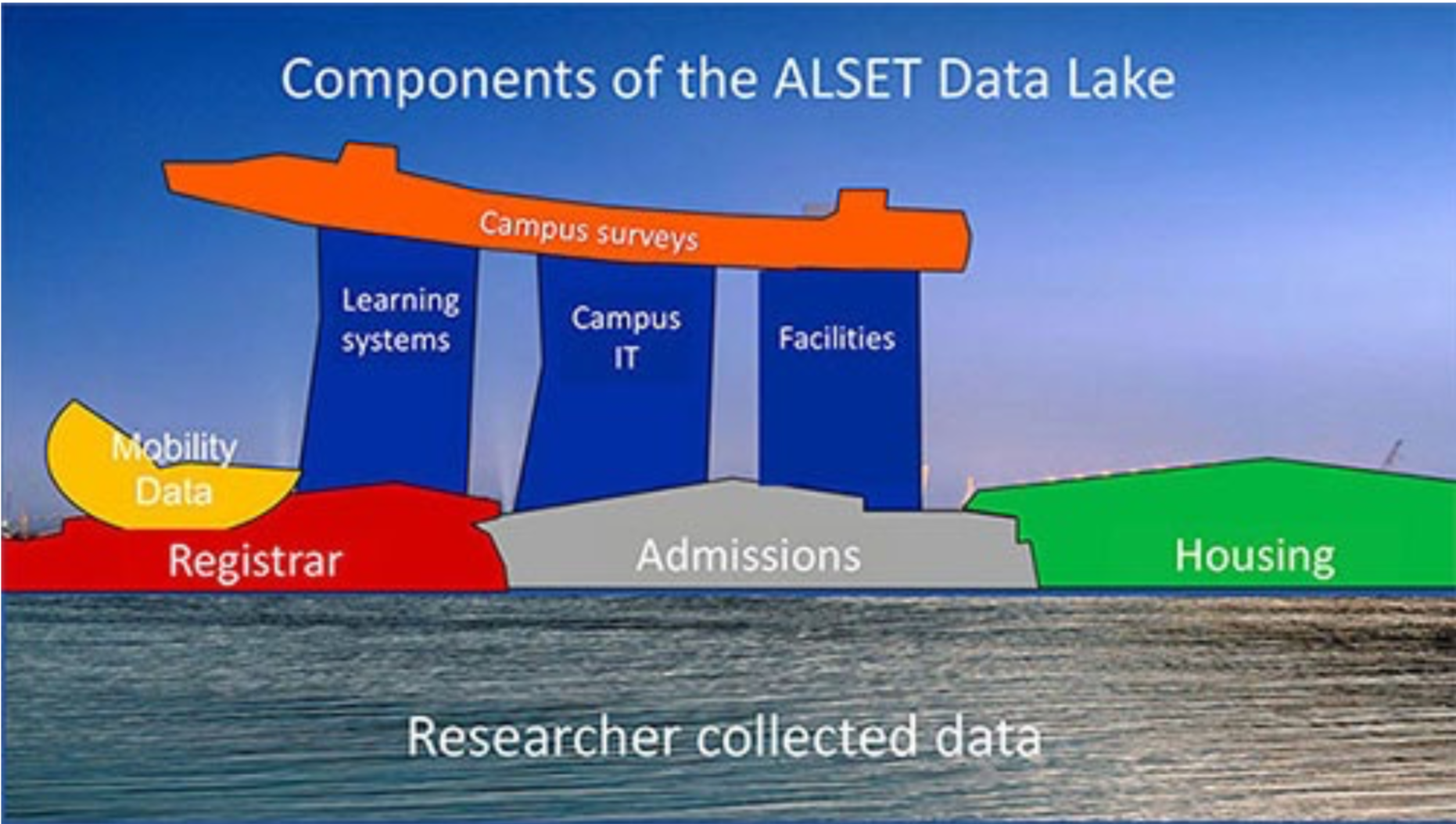 Structure of The ALSET Educational Data Lake of the National University of Singapore. [Image credit: National University of Singapore.)
Looking Forward
The one-and-a-half-day event was a valuable opportunity for institutions to exchange experiences and generate synergy in transforming learning and skills in the information age. Professor Toru Iiyoshi, Deputy Vice President for Education of Kyoto University, pointed out in his keynote speech that the "e" in "e-learning" stands not only for "electronic", but also "effective", "efficient", "engaging", "evidence-based", "empowered", "experimental", etc. In order to enhance the scalability and sustainability of institutional e-learning adoption, collective intelligence and efforts from within and across institutions are necessary to realize the commoditization of e-learning.
Contact us if you are interested in digitizing your classroom teaching.