From Centre for the Enhancement of Teaching and Learning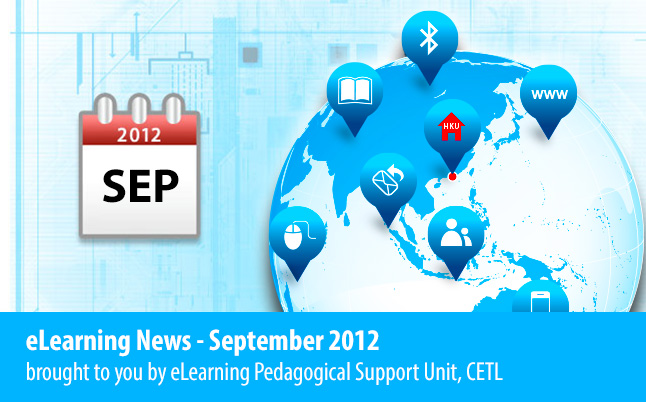 For the full version of the September newsletter, go to:
http://www.cetl.hku.hk/elearning-pedagogical-support-unit/elearning-news/.
e-learning Pedagogical Support Unit Services
The e-learning Pedagogical Support Unit has allocated staff to each of the Faculties. Full details of the allocations can be found in the newsletter. Take a look to find out who to contact for your e-learning needs.
e-learning Officer Faculty Level Support
The majority of Faculties have appointed e-learning Officers to support e-learning initiatives at a local level. Support includes advice on making best use of Moodle to enhance teaching and learning along with wider advice on the use of technologies in teaching and learning. Read the newsletter to find out who your e-learning Officer is.
Enhancements to Moodle
Do you want Moodle to do something that it doesn't do at the moment? Do you have an idea about how Moodle can be improved? You can make requests through the e-learning Enhancement Task Force. The newsletter will tell you how to get in touch with the Task Force.
Successful Completion of all WebCT courses to Moodle
ITS has successfully finished the year-long WebCT-to-Moodle course migration exercise. Three phases of course migrations had been completed as schedule and within timeline.
Moodle system has been upgraded from 2.2 to 2.3
Moodle version 2.3 was released on June 26, 2012.  There are some great improvements in version 2.3. Read about them here http://docs.moodle.org/dev/Moodle_2.3_release_notes.
Retirement of WebCT system
After a full-year parallel running of both WebCT system and Moodle, which enabled the successful and smooth transition of all WebCT courses to be migrated to Moodle, the WebCT system has retired on Aug. 16, 2012. Moodle is now the only centrally-supported LMS at the University.
Faculty of Education Moodle Users Group seminar
Every Thursday at lunchtime the Faculty of Education in conjunction with the CITE will host a Moodle Users Group workshop.  http://www.cite.hku.hk/news.php?theme=pd

Faculty of Education e-learning Moodle Seminar
Most Fridays at lunchtime the Faculty of Education in conjunction with the CITE will host an e-learning using Moodle seminar which focuses on the new tools and affordances that the Moodle LMS provides for the support of education.  http://www.cite.hku.hk/news.php?theme=itedu