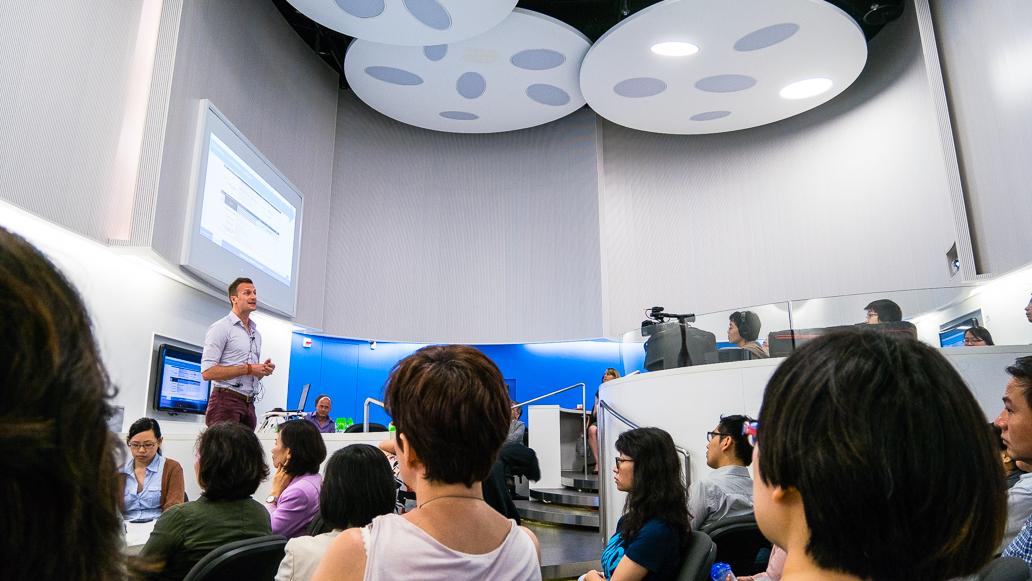 EPSU Seminar on University MOOCs Well Attended
EPSU hosted a seminar to update the HKU community on progress with the development of the University's four Massive Open Online Courses (MOOCs). Over 70 colleagues from the various Schools, Departments, and University Offices attended the session.
The EPSU will continue to organize discussions on the many aspects of MOOCs and how teaching and learning at the University will benefit from this new area of development. Those who have missed the first seminar can watch the session recording here.
What topics would you like to see in future EPSU seminar? Let us know.
Architecture and Philosophy MOOCs Open for Registration
Two more HKU Massive Open Online Courses (MOOCs), The Search for Vernacular Architecture of Asia, Part 1, and Humanity and Nature in Chinese Thought, are open for registration. In the comprehensive, dialogue-based Architecture course, Professor David Lung (Faculty of Architecture), joined by renowned experts from both HKU and abroad, lead participants in an in-depth exploration of the vernacular concept and its application to the culture and built environments of the past, present, and future. The Philosophy course offered by Professor Chad Hansen (Faculty of Arts) provides an introduction to traditional Chinese ethical thought and focuses on the pervasive contrast in the way Chinese and Westerners think about ethical guidance or guidance concerning what is right and what is wrong, good or bad.
Learn more about HKU MOOCs at https://www.edx.org/school/hkux
EPSU Director Interviewed by South China Morning Post
Dr. Iain Doherty, Director of the EPSU, was recently interviewed by the South China Morning Post for his views on the latest developments and future directions of Massive Open Online Courses. Click here to read the full interview.
EPSU Team at CITE Research Symposium
The EPSU team, including Mr. Steven Roberts, Mr. Darren Harbutt, and Mr. Nicky NG will be presenting their paper "Learning in MOOCs" at this year's Center for Information Technology in Education (CITE) Research Symposium. Join them on 13 June at 4 pm, in Runme Shaw Building, Room 204.
The Moodle LMS Upgrade
ITS is planning the upgrade of Moodle LMS to version 2.6.3 during the summer 2014. Released on May 12, 2014, Moodle version 2.6.3 brings a number of bug fixes, security improvements, functional changes and feature enhancements. Details can be found here. The e-learning Enhancement Task Force (EETF) is helping the testing and evaluations of the new version on a Moodle testing platform.
Panopto and Moodle Hands-On Training Courses
The ITS Panopto and Moodle hands-on training courses in June are now open for registration. Details can be found here.