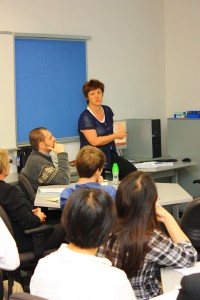 The third of the Assessment Workshop Series run by the Centre for the Enhancement of Teaching and Learning (CETL) was held on April 11, 2011. Professor Margaret Price, Director of the Assessment Standards Knowledge Exchange, Oxford Brookes University Business School, facilitated the highly interactive workshop. Participants were invited to discuss among themselves various issues relating to assessment, in particular, to standards based assessment. Ideas were exchanged on the difficulties involved in working with standards based assessment, and solutions were suggested to increase the assessment effectiveness.
Click here to access the presentation slides used at the workshop. (HKU Portal login required)
Click here to access resources at the HKU Assessment Resources Centre.