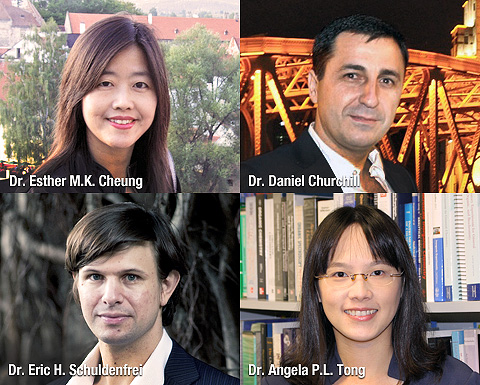 Message from The Vice-Chancellor
Dear colleagues and students,
I am very pleased to announce the winners of the Outstanding Teaching Award (OTA) of the Teaching Excellence Award Scheme (TEAS) for 2011:
Dr. Esther M.K. Cheung, School of Humanities (Comparative Literature), Faculty of Arts
Dr. Daniel Churchill, Faculty of Education
Dr. Eric H. Schuldenfrei, Department of Architecture, Faculty of Architecture
Dr. Angela P.L. Tong, Department of Chemistry, Faculty of Science
The Selection Panel has been deeply impressed by the achievements and contributions of the awardees as they have all demonstrated clear evidence of attainment in excellence in teaching and engagement with students and their learning, and curriculum design, renewal and innovation.
The awardees will be honoured at the annual Award Presentation Ceremony for Excellence in Teaching and Research, which has been scheduled for Thursday, February 9, 2012; and their names will be posted for a period of five years on the Teaching Excellence Awards Honour Board in the Main Library. Many congratulations!
I would like to thank other members of the Selection Panel for their advice: Professor Michael J. Worton (Vice-Provost of the University College London), Professor Amy B.M. Tsui, Professor Michael T. Prosser, Professor L.S. Chan and Mr. Ernest Cheung (student representative).
Last but not least, I wish to express my deep appreciation and gratitude to all the other nominees for the TEAS awards for their deep devotion and sustained contribution to promoting excellence in teaching at this great University.
I look forward to seeing you all at the Ceremony on February 9, 2012.
Professor Lap-Chee Tsui, Vice-Chancellor
Chairman
Selection Panel for Teaching Excellence Awards 2011