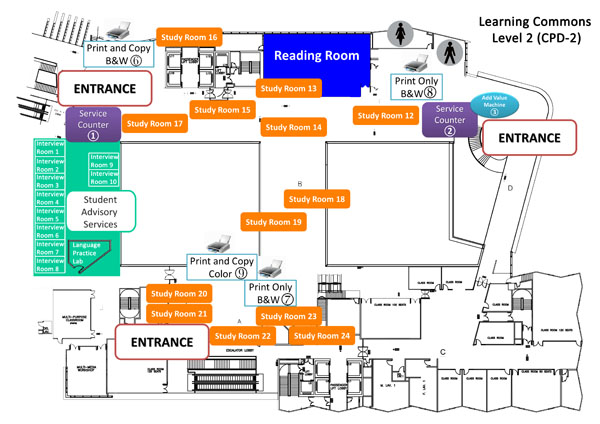 Message from Information Technology Services
Information Technology Services announced the commencement of advisory services for students on the second floor of the Chi Wah Learning Commons (智華館) on 15 October 2012 (Monday).
On the second floor, an area (shown in green in the following floor plan) is designated as a Student Advisory Services Zone where students may seek advice from a number of departments, namely the Academic Advising Office (AAO), Centre for Applied English Studies (CAES), Centre of Development and Resources for Students (CEDARS) and the University Libraries.
The Student Advisory Services Zone consists of an open space where the advisors are on duty; a Language Practice Laboratory (to be opened later); and ten interview rooms for one-on-one discussions. There is a display screen at each end of the Zone showing the servicing hours of the advising departments.
The following outlines the types of advice that students will be able to obtain in the Learning Commons.
---
The
Academic Advising Office (AAO)
will provide academic advice to students on a one-on-one basis in the following areas:
adjustment to university studies and development of study plans;
guidance on academic regulations and cross-faculty learning opportunities;
attending to academic areas of weakness;
planning for postgraduate studies; and
exploration of campus resources to enhance academic success.
---
The Centre for Applied English Studies (CAES) will provide English writing support in one-on-one sessions where undergraduates and postgraduate students can come to:
get advice from teaching assistants;
learn how to analyze and plan an assignment;
learn how to grow as a writer;
develop writing techniques in both academic and literary writing.
---
The
Centre of Development and Resources for Students (CEDARS)
will focus primarily on providing "non-academic" advice to students covering such areas as career advising, service and experiential learning opportunities, generic skills (e.g. time management, study and life skills, and personal growth), campus life planning (e.g. financial management, housing needs), and university life planning (e.g. goal setting, learning plans, cultural awareness).
---
The
University Libraries
will offer assistance to students in:
using the library services and facilities;
formulating search strategies;
searching the information resources, such as Dragon (the library catalogue) and the article databases; and
setting up personal consultations for in-depth information search.
---
Moreover, CAES and CEDARS are jointly offering the "Peer English Tutoring" scheme in the Zone; and, in conjunction with the Chinese Language Centre, CEDARS is also offering the "Survival Cantonese" scheme. More details of the schemes can be found at these websites: http://caes.hku.hk/ve and http://cedars.hku.hk
The University is committed to making the Learning Commons an inspiring, vibrant and technology-rich learning space.  The provision of high quality advisory services to enhance student experience and to enable skills development is pivotal to the development of the Learning Commons into a campus hub for student-centered learning activities.