From Centre for the Enhancement of Teaching and Learning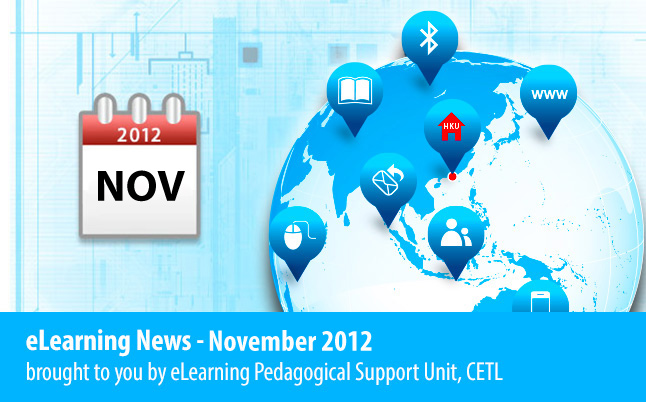 For the full version of thE newsletter, go to:
http://epsu.cetl.hku.hk/elearning-news/.
e-learning Pedagogical Support Unit Services
The e-learning Pedagogical Support Unit (EPSU) exists to support Faculties with their e-learning needs. If you have an idea for a Faculty level workshop, please get in touch with Iain Doherty.
3 e-learning Workshop Series
Commencing 25th October the e-learning Pedagogical Support Unit is offering a series of 3 workshops which focus on practical ways to successfully incorporate technologies into teaching and learning. There is still time to register for workshops 2 and 3 by visiting here.
Local Moodle User Groups
The EPSU has been consulting with colleagues within Faculties to set up Faculty level Moodle User Groups (MUGs). .
Have Your Say With Moodle
The University e-learning Enhancement Task Force (EETF) has continued to manage the process around requests to enhance Moodle so that the system meets the specific needs of Faculties.
Get in Touch
Please feel free to get in touch directly with the e-learning Pedagogical Unit Director – Iain Doherty – with questions, issues, requests related to e-learning at HKU.
The Moodle Users Group
The Moodle Users Group meets most Thursdays at lunchtime for workshops on teaching practice using the Moodle LMS, including blended learning activity development.
e-learning seminars by the Faculty of Education and CITE
The Faculty of Education in conjunction with CITE hosts seminars by speakers on a range of e-learning topics, with a focus on innovative use of technology to support teaching and learning.
Release of new Moodle plugins and support block
Two new plugins were released on the Moodle production system in September:
Quickmail – provides emailing capability within Moodle courses. It allows teachers (and optionally students) to email students or groups of students with attachments.
Questionnaire – a survey-like type of activity. It enables teachers to create a wide range of questions to get student feedback e.g. on a course or on activities.
A "Moodle support" block has also been built and put on the homepage of every Moodle course. It contains the most frequently asked user support information.
Moodle Hands-on Training Courses for Staff
The Moodle hands-on training courses conducted by IT Services for November are now open for registration. The courses details can be found at here.