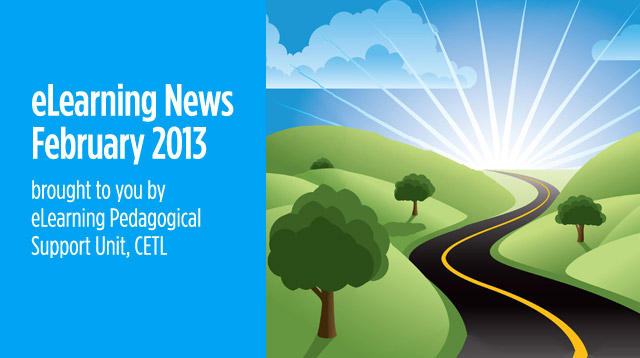 Message from Centre for the Enhancement of Teaching and Learning
To read more about any of the updates visit the full online version of the newsletter at http://epsu.cetl.hku.hk/elearning-news-feb2013/
1. e-learning Pedagogical Support Unit One Year On
View EPSU milestones on an animated timeline at http://epsu.cetl.hku.hk/epsu_timeline/.
2. Multimedia Development for Teaching and Learning
The EPSU has a multimedia developer who can produce interactive websites, graphics, video content, audio content and animations. Contact Iain Doherty (idoherty@hku.hk) to discuss your requirements.
3. Would You Like to Share Your e-learning Activities with Colleagues
If you would like to connect with your colleagues around e-learning through doing a lunchtime presentation please get in touch with Iain Doherty (idoherty@hku.hk).
4. Have Your Say With Moodle
If you want to see changes to Moodle you can make a request by self-enrolling in the EETF Moodle Site.
5. The Moodle Users Group
The Moodle Users Group meets most Thursdays at lunchtime for workshops on teaching practice using the Moodle LMS, including blended learning activity development (http://www.cite.hku.hk/news.php?category=seminar).
6. e-learning seminars by the Faculty of Education and CITE
The Faculty of Education in conjunction with CITE hosts seminars by speakers on a range of e-learning topics (http://www.cite.hku.hk/news.php?category=seminar).
7. Moodle New Plugins and Features
iClass, NanoGong voice activity and the SETL questionnaire are newly deployed plugins on the centralized Moodle LMS. They are now available for use.
8. Moodle Hands-on Training Courses for Staff
The Moodle hands-on training courses conducted by IT Services for February are now open for registration (http://moodle-support.hku.hk/cms/?q=training/cc-schedule/Feb2013).
Dr. Iain Doherty
Director, e-learning Pedagogical Support Unit
Centre for the Enhancement of Teaching and Learning
The University of Hong Kong
Email: idoherty@hku.hk
Tel: +852 39174917
Kenneth Siu
e-learning Team, Information Technology Services
The University of Hong Kong
Email: sky168@hku.hk
Tel: +852 39178708
Brant Knutzen, MSc. IT in Ed (HKU)
Learning Designer,
Faculty of Education
The University of Hong Kong
Email: brant@hku.hk
Tel: +852 2241 5455