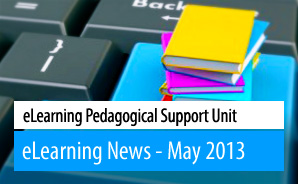 Last month (April) the e-learning Pedagogical Support Unit delivered five professional learning events: a half day workshop on creating engaging learning experiences; 2 seminars on the Evaluation of the Flipped Classroom at the Li Ka Shing Faculty of Medicine; one seminar by Dr. Weiyuan Zhang and Ms. Jeanne Lam from HKU SPACE; and one seminar by Mr. Darren Harbutt on using Moodle for assessment activities.
Further events are planned for this month including a seminar on Massive Open Online Courses (MOOCS). Details of upcoming events are available at http://epsu.cetl.hku.hk/.
If you would like to see a seminar or presentation on a particular topic – either delivered centrally or within your Faculty – please contact Dr. Iain Doherty, idoherty@hku.hk.
CITE Research Symposium 2013
The EPSU will be well represented at the CITE 2013 Research Symposium to be held on Friday 10 and Saturday 11May. The Symposium provides a great opportunity to hear about e-learning developments from across Hong Kong at both a secondary and tertiary level. It is also a great opportunity to network with e-learning enthusiasts. Details of the symposium can be found athttp://citers2013.cite.hku.hk/en/index.htm
Teaching Development Grants
The e-learning Pedagogical Support Unit has acted in an advisory role for a number of successful Teaching Development Grants that have focused on e-learning Developments. e-learning is one of foci of the Teaching Development Grants this year so if you have an idea in mind please get in touch. Contact Dr. Iain Doherty, idoherty@hku.hk.
Have Your Say With Moodle
The University e-learning Enhancement Task Force (EETF) has continued to manage the process around requests to enhance Moodle so that the system meets the specific needs of Faculties. If you want to see changes to Moodle you can make a request by self-enrolling in the EETF Moodle Site. To self-enroll follow the following procedure:
Go to http://moodle.hku.hk
Click on "Courses" in the navigation menu on the left hand side of the page.
Scroll to the bottom of the page and type "elearning" in the search box.
The search results will include "EETF e-learning Enhancement Task Force [2012]"
Click on the course title.
You will be asked to log in to the HKU Portal.
You can then self-enroll in the course.
The Moodle Users Group
The Moodle Users Group meets most Thursdays at lunchtime for workshops on teaching practice using the Moodle LMS, including blended learning activity development. Come by and bring your laptop to discuss issues you are facing and share solutions you have found to work in your teaching. Click here for the latest workshop schedule.
e-learning seminars by the Faculty of Education and CITE
The Faculty of Education in conjunction with CITE hosts seminars by speakers on a range of e-learning topics, with a focus on innovative use of technology to support teaching and learning. Click here for the latest seminar schedule.
Accessing SETL in Moodle
The first year students can now access the online Student Evaluation of Teaching and Learning (SETL) questionnaire via any of their Moodle courses. Once first year students have logged in Moodle, they can follow the following path to access the SETL: Moodle system -> Moodle course -> Block 'SETL' (located at the right handed side).
Panopto and Moodle Hands-on Training Courses for Staff
The newly introduced Panopto and Moodle hands-on training courses conducted by IT Services in April are now open for registration. Registration and details can be found at http://moodle-support.hku.hk/cms/?q=training/cc-schedule/May2013