Who is this workshop for?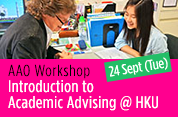 This workshop is designed for academic and academic-related staff, who recently joined the University or have been newly appointed to academic advising responsibilities at HKU.
What is the aim of this workshop?
The overall aim of the workshop is to provide a foundation on the developmental model of academic advising and to introduce key features of the academic advising system at HKU, as well as support for academic advisers.
Date: 24 Sept 2013 (Tuesday)
Time: Noon to 2:00 pm
Venue: Room 321, Run Run Shaw Building
What will I learn about?
Some of the topics covered in the workshops are:
Academic advising foundations and the role of academic advisers
Web-based academic advising support in the Student Information System
Referrals to University supporting units
Experiences from case studies
Who should I contact if I have questions?
For enquiries, please contact Dr. Amy Lewis at 2219 4684.
Please click HERE to register!
The programme rundown will be announced soon.
*Light lunch will be provided.