Message from Medical Ethics and Humanities Unit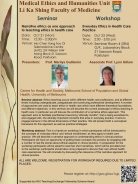 Teaching Exchange Fellowship Scheme
Seminar & Workshop
Hosted by Medical Ethics and Humanities Unit
Medical Ethics and Humanities Unit, Li Ka Shing Faculty of Medicine warmly welcomes you to join our seminar and workshop held by two visiting professors, Professor Marilys Guillemin and Professor Lynn Gillam from the University of Melbourne.
---
Seminar – Narrative ethics as one approach to teaching ethics in health care
12:30-2pm on Oct 21, 2013 (Monday)
Telemedicine Centre (MTC), 2/F William MW Mong Block, 21 Sassoon Road, Pokfulam
Ethics teaching occurs within different health care professions, and at different levels including undergraduate, postgraduate and continuing professional development. A number of approaches are used to teach ethics in health care which have different theoretical foundations, and different objectives. In this seminar we will describe the current landscape of ethics teaching in health care. In particular we will discuss the contribution of a narrative ethics approach. This approach aims to facilitate practitioners becoming "ethically mindful", that is being sensitized to, and engaged with, the ethically important moments that arise in everyday practice. It aims to engage learners in the ethical dimensions of their practice. We will present both a conceptual framework for this approach as well as practical strategies.
All are Welcome | Registration is Not Required for the Seminar
---
Workshop – Everyday Ethics in Health Care Practice
2-5pm on Oct 23, 2013 (Wednesday)
Seminar Room 4, G/F., Laboratory Block, 21 Sassoon Road, Pokfulam
This is a hands-on workshop in which participants will be introduced to the concepts of 'everyday ethics' and 'ethical mindfulness' as they apply to health care practice. We will describe a narrative approach to understanding ethics in clinical practice. Participants will have an opportunity of putting these concepts into practice by engaging with a number of real life stories about ethical aspects in clinical practice. In preparation for the workshop participants will be asked to read two short narratives, which will be provided prior to the workshop; participants should also come prepared to discuss their own ethical health care experiences. We will conclude by discussing the relevance of this narrative approach for clinical practice.
Aims:
To introduce the concepts of 'everyday ethics' and 'ethical mindfulness' as they apply to health care practice
To propose a narrative approach to understanding ethics in clinical practice
To provide a narrative framework to identify and engage with ethical issues in clinical practice
To workshop the narrative framework using narrative examples
All are Welcome | Space is limited. Please register for the workshop using the link below:
http://hkuems1.hku.hk/hkuems/ec_hdetail.aspx?UEID=26909
---
About the Presenters
Marilys Guillemin
Professor Marilys Guillemin is the Director of the Centre for Health and Society, Melbourne School of Population and Global Health at the University of Melbourne. Marilys is also the Associate Dean (Equity and Staff Development) in the Faculty of Medicine Dentistry and Health Sciences (MDHS). Marilys is a sociologist of health and illness, and teaches postgraduate subjects in qualitative research design and research methods, and health ethics. With Lynn Gillam, Marilys has been awarded the Carrick/ALTC Australian Award for University Teaching in 2007 and the University of Melbourne David White Teaching Award in 2005. She has published widely in the areas of sociology of health, illness and technology, innovative research methodologies, research practice, narrative ethics, and ethical practice in research and in health care. Her current research (with Lynn Gillam) focuses on the role of trust in human research from the perspectives of researchers and research participants. Marilys has also undertaken a number of research projects and published widely in the area of visual and sensory methodologies, and she is particularly interested in the ethical and methodological challenges of visual research.
Lynn Gillam
Assoc Prof Lynn Gillam (BA Hons, MA, PhD) is Associate Professor in Health Ethics at the University of Melbourne, and Clinical Ethicist and Academic Director of the Children's Bioethics Centre at the Royal Children's Hospital Melbourne. She teaches ethics in the university's medical course and postgraduate social health program. She has published widely in clinical ethics (especially paediatric ethics), research ethics, narrative ethics, and ethics education. She is the co-author with Marilys Guillemin of Telling Moments: Everyday ethics in health care (2006). Lynn's work includes clinical ethics case consultation, policy advice. Her current research interests include health care decision-making for children and, with Marilys Guillemin, the role of trust in human research.
Lynn is also Chair of the University of Melbourne Human Research Ethics Committee, which is an oversight and policy-making body. She also serves on a number of ethics advisory bodies for state and federal government agencies, including the NHMRC Embryo Research Licensing Committee, and the Victorian Newborn Screening Advisory Committee.
For Enquiries: medicalhumanities@hku.hk / 2819 9309