Message from Global Lounge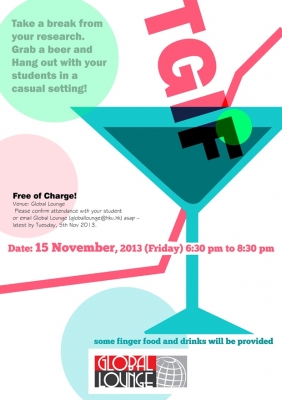 On behalf of Student Ambassadors: "TGIF @Global Lounge" organizing committee:
Dear Professors and Academic Staff,
We are writing to cordially invite you to an event called T.G.I.F (stands for "Thank God It's Friday) on:
Date: November 15, 2013 (Friday)
Time: 6:30 p.m. onwards
Venue: Global Lounge
This event is organized by HKU Student Ambassadors from all faculties and supported by Global Lounge. It aims at creating an opportunity for HKU teachers and students to meet outside the classroom setting. We hope that by creating a more relaxing atmosphere, the participants, be it students, professors or staff can meet each other and engage in freer interaction. We believe it will be a wonderful chance for you to show how much cooler you can be in real life than already in class!
Since an atmosphere easy for conversation is key to the event, we think it may be a nice conversation starter that everybody assumes a historical or fictional figure of special importance to her/him. Of course there is absolutely no need to dress up as or act out that figure. We will prepare the name tag for the figure for you and you can simply stick it on upon arrival, only if you feel like doing so. Please still do come and have a drink and a chat with students and staff. Also, you are more than welcome to bring your colleague, just let us know.
This is the first time students try to organize event like this. If this turns out to be a successful one, we plan to make it a regular event. Therefore your support it vital to us.
If you are interested to come, we will greatly appreciate it if you could kindly RSVP with your FULL NAME and FACULTY by email to globallounge@hku.hk by Thursday, 6th November as there is limited space available. We will be utterly thrilled to see you on November 15th, Friday. Hope to see you there.
Best Regards,
TGIF @Global Lounge
Student Organizing Committee