UGC Teaching Funding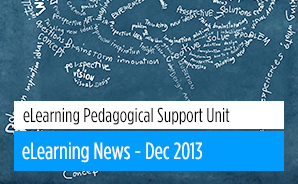 The UGC has made available additional funding to support teaching and learning related initiatives in the 2012-15 triennium. The funding has been provided to support pedagogical change across Hong Kong. The EPSU has been working on collaborative proposals with Universities across Hong Kong. The EPSU has also taken the lead in a HKU led proposal to develop Small Private Online Courses (SPOCS). You can read more about SPOCS here. Proposals are due to be submitted to the UGC by the end of the year with results being known in the first quarter of 2014.
GradeMark Trial
The EPSU continues to trial GradeMark with teachers at HKU. GradeMark is an electronic marking system that is designed to reduce the amount of time that teachers have to spend marking. Initial feedback from teachers is positive and a formal evaluation will be carried out with both teachers and students. If you would like to know more about GradeMark, visit the EPSU YouTube Channel where you will find tutorials on using GradeMark. You can also get in touch with Iain Doherty – idoherty@hku.hk – for assistance.
Frontiers Conference
The Frontiers in Medical and Health Sciences Education Conference is an annual event of the Institute of Medical and Health Sciences Education, Li Ka Shing Faculty of Medicine (IMHSE). This year's Frontiers Conference is scheduled for December 6-7, 2013 (Friday and Saturday) at the Li Ka Shing Faculty of Medicine. The conference title is "From Classroom to Clinic: Opportunities and Challenges in e-Learning". Dr Iain Doherty will present at the conference on "The Gold Standard in e-learning Research". The presentation will address the question of what e-learning Researchers should be aiming for with their research.
Panopto and Moodle Hands-on Training Courses
The ITS Panopto and Moodle hands-on training courses in December are now open for registration. Details can be found here.