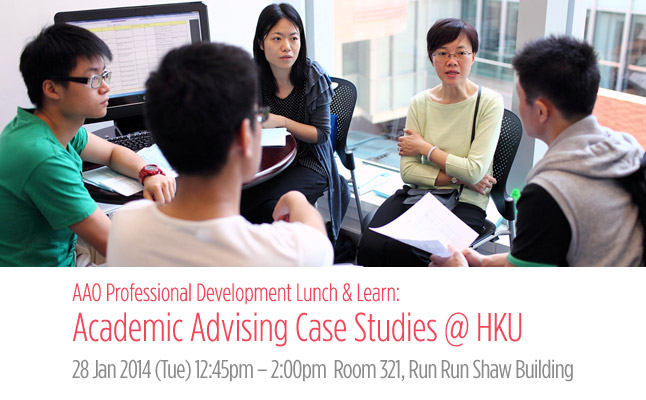 Date: January 28, 2014 (Tuesday)
Time: 12:45 pm to 2:00 pm
Venue: Room 321, Run Run Shaw Building
Who is this event for?
This event is designed for all staff involved with the academic advising system at HKU.
What is the aim of this event?
The overall aims of the session are: (a) to gain exposure to current academic advising trends through reviewing cases, (b) to apply relational knowledge to case studies by suggesting solutions and identifying available resources, and (c) to network and share experiences with colleagues in academic advising roles.
What takes place during this event?
Learn from recent cases at HKU
Discover resources and referrals available for academic advising
Case study debriefing and experience sharing with:

Dr. Amy Lewis, Academic Adviser, Academic Advising Office
Ms Katherine Wan, Head, Academic Advising Office
Dr. Eugenie Leung, Director, Counselling and Person Enrichment, CEDARS
Mr. Joe Poon, In-House Legal Counsel
* A light lunch will be served.
Please click HERE to register!
Who should I contact if I have questions?
For enquiries, please contact Dr. Amy Lewis at 2219 4684 / alewis@hku.hk.
Is there anything I can do to prepare for the workshop?
You can have a look at our Quick Reference Guide for Faculty Academic Advisers to gain some ideas on academic advising. You will have the opportunity to interact with other academic advisers and staff of the Academic Advising Office during the workshop.