Mobile Learning Seminar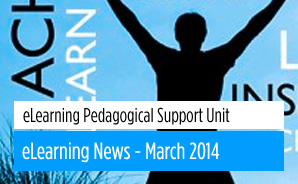 The EPSU ran a seminar on the 19th February on "Mobiles for Polling, Generating Resources and Reflecting". The seminar was attended by 38 colleagues from different Faculties across the University. If you have an idea for a seminar or would like to see EPSU deliver a seminar on a specific topic please get in touch with Dr. Iain Doherty.
Massive Open Online Courses
As we move into March it is just six months until HKU launches four MOOCs on the edX platform (https://www.edx.org/). EPSU is working with Professors in Architecture, Medicine and Philosophy. At the same time the fourth MOOC will be delivered by the Journalism and Media Studies Centre and EPSU liaises with the centre on the MOOC development.
New Moodle Plugins Installed
The following new Moodle plugins have been installed on the central Moodle platform on February 5, 2014.
Attendance block – A plugin that allows an attendance log to be kept.
Scheduler – An appointment scheduler for planning face-to-face meetings between teachers and students. Teachers can set up time slots, and students can choose one of these on Moodle.
OU wiki – An alternative wiki. Simple wiki designed for teaching and learning.
OU blog – An alternative blog. The blog can be used as a course activity.
Teaching and Learning Showcase
To provide staff members and students with a better understanding of how teaching and learning can be supported by the use of technologies, the e-learning Pedagogical Support Unit (EPSU) and Information Technology Services (ITS) jointly organized a two-day Teaching and Learning Showcase on February 11 and 12, 2014. More than 150 colleagues and students visited the booths in both Centennial Campus and Main Campus. Click here for more details.