Message from CEDARS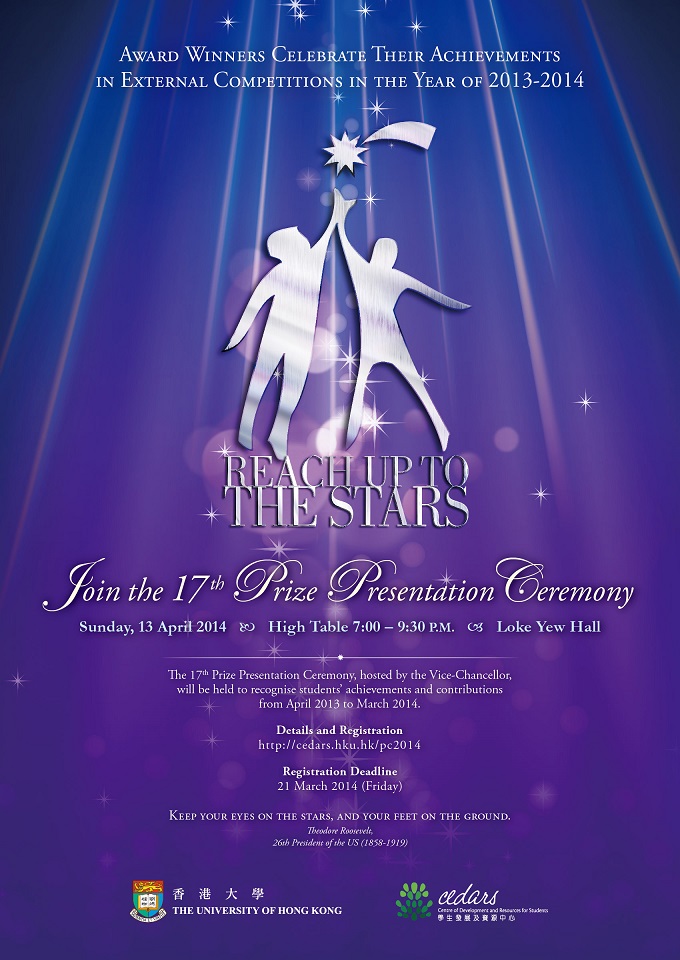 Dear colleagues,
Each year, the Vice-Chancellor hosts a Prize Presentation Ceremony for students winning external awards to honour and celebrate their extraordinary achievements, dedications and talents. The Ceremony will be held on 13 April (Sunday) evening in 2014.
We are inviting students who have received awards of significance in international, Pan-Asia Pacific region and local competitions during April 2013 to March 2014 to join the Ceremony. Awardees will be commended by the Vice-Chancellor and attend a High Table Dinner to celebrate their achievements with their teachers, family and friends.
If you have provided guidance to help student(s) win an external competition, please kindly invite them to register for the Prize Presentation Ceremony.
For detailed information on registration guidelines and eligibilities, please visit http://cedars.hku.hk/pc2014. Deadline for registration is 21 March 2014 (Friday).
Should you have any questions, please contact Ms Cindy Chan at cpychan@hku.hk.
Yours sincerely,
Cindy Chan (Ms)
Chief Student Advising Officer (Student Development)
Centre of Development and Resources for Students (CEDARS)