Message from CEDARS – Student Development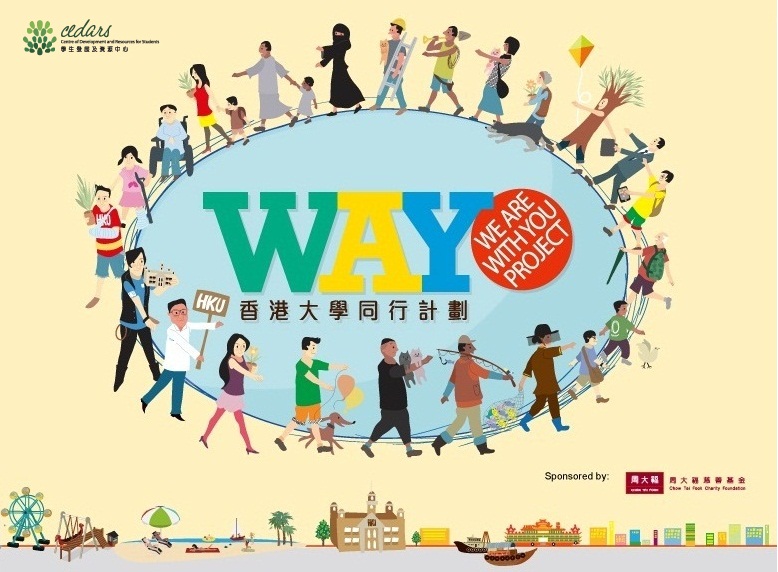 Dear Students and Colleagues,
Applications are now invited for We Are With You Project Fund (Fund).
"We Are With You" (WAY) is a four-year community-based social capital development project in the Southern District. HKU students and staff will contribute to improve the condition of the less privileged and empower them to improve their own conditions in the long run. Its objective is to develop a replicable model for social capital development, particularly with the involvement of staff and students of tertiary institutions. The Fund will support projects initiated by students and staff of HKU under WAY.
The Fund is open to all HKU full-time students and staff. Joint projects between students and staff will be preferred. The Fund may be used to support research, direct services, community events, exhibitions, social entrepreneurship, documentary making, art, cultural, history promotion and presentations, and all activities that contribute to the goals of WAY. The projects should be carried out in the Southern District of Hong Kong preferably in collaboration with at least one community partner/NGO in the District. The project should normally be completed within one year. Longer projects are also welcome but funding will be approved for one year in the first instance with possibility of renewal. The maximum amount to be granted to each project is HK$50,000.
Details of the Fund are available at: http://wp.cedars.hku.hk/fileupload/files/sd/WAY_Fund_Application_Guidelines.pdf.  To know more about We Are With You Project, please visit: http://cedars.hku.hk/way/.  Applications should be submitted to cedars-programmes@hku.hk on/before 13 April 2014 (Sunday).  Retrospective application will NOT be considered.
For enquiries, please contact us at cedars-programmes@hku.hk (email) or 2857 8387 (phone).
Centre of Development and Resources for Students (CEDARS)