Message from Residential College on Lung Wah Street
Dr Elizabeth Sinn was born and grew up in Hong Kong but for the first 30 years of her life, knew nothing about its history. She will tell you how she came to study Hong Kong history and the pains and pleasures of being a Hong Kong historian.
Date: Tuesday, 18 March, 2014
Time: 18:30 to 20:30
Venue: Lounge, Room A402, HKU Residential Colleges (Block A)
Please register here
This event is open to all College residents and the HKU community.
Map of Residential Colleges, click here http://wp.cedars.hku.hk/web/hkuresidentialcolleges/files/2012/09/map.png>
University Bus Service Schedule for Residential Colleges, click here http://www.estates.hku.hk/page/lwsrc-shuttle.html>
*Light refreshments will be provided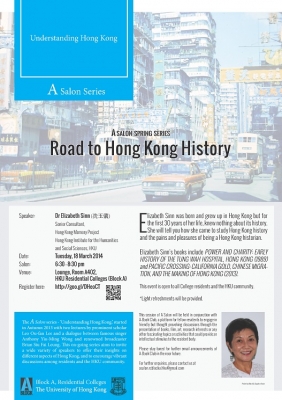 About the speaker
Dr Elizabeth Sinn (冼玉儀) is Senior Consultant of the Hong Kong Memory Project at the Hong Kong Institute for the Humanities and Social Sciences, the University of Hong Kong. Her books include POWER AND CHARITY: EARLY HISTORY OF THE TUNG WAH HOSPITAL, HONG KONG (1989) and PACIFIC CROSSING: CALIFORNIA GOLD, CHINESE MIGRATION, AND THE MAKING OF HONG KONG (2013).
This session of A Salon will be held in conjunction with A Book Club, a platform for fellow residents to engage in friendly but thought provoking discussions through the presentation of books, film, art, research interests or any other fascinating topics or activities that could provide an intellectual stimulus to the resident body.
For further enquiries, please contact us at asalon.rcblocka.hku@gmail.com<mailto:asalon.rcblocka.hku@gmail.com>.
For more information about Residential Colleges (Block A), visit us at http://www.rcblocka.hku.hk/.