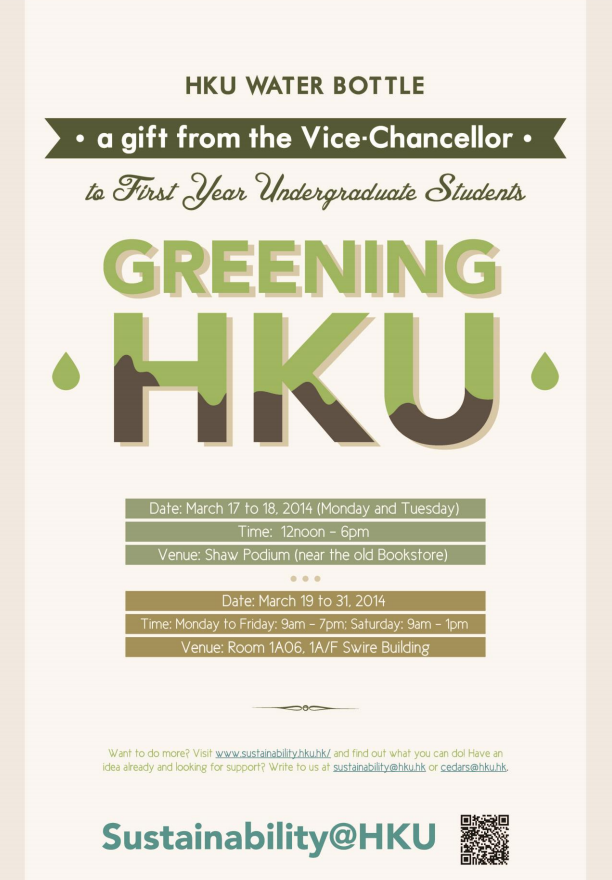 Dear First Year Undergraduate Students,
Celebrate your entrance to HKU with a brand new "Greening HKU" water bottle! A limited supply of durable stainless steel water bottles is available for full-time first year undergraduate students.
The initiative, funded by the Vice-Chancellor's Office, is part of the University's effort to promote the development of a sustainable campus. We also hope the water bottle will help you start a sustainable living style early in your undergraduate days.
During your time at HKU, carry your HKU water bottle and refill your bottles at the free, filtered water dispensers around campus (http://www.sustainability.hku.hk/sustainable-hku/water)! Each one litre of water you refill will save up to 250ml of crude oil and three litres of water used to produce the same amount of bottled water.
Simply present your Student ID Card to get your water bottle during the following redemption periods (while supply lasts):
Date: March 17 to 18, 2014 (Monday and Tuesday)
Time: 12noon – 6pm
Venue: Shaw Podium (near the old Bookstore)
Date: March 19 to 31, 2014
Time: Monday to Friday: 9am – 7pm;
Saturday: 9am – 1pm
Venue: Room 1A06, 1A/F Swire Building
Want to do more? Visit www.sustainability.hku.hk and find out what you can do! Have an idea already and looking for support? Write to us at sustainability@hku.hk or cedars@hku.hk.
May we also wish you a successful and rewarding undergraduate education ahead.
Best regards,
Centre of Development and Resources for Students (CEDARS) Sustainability Office