Message from Department of Architecture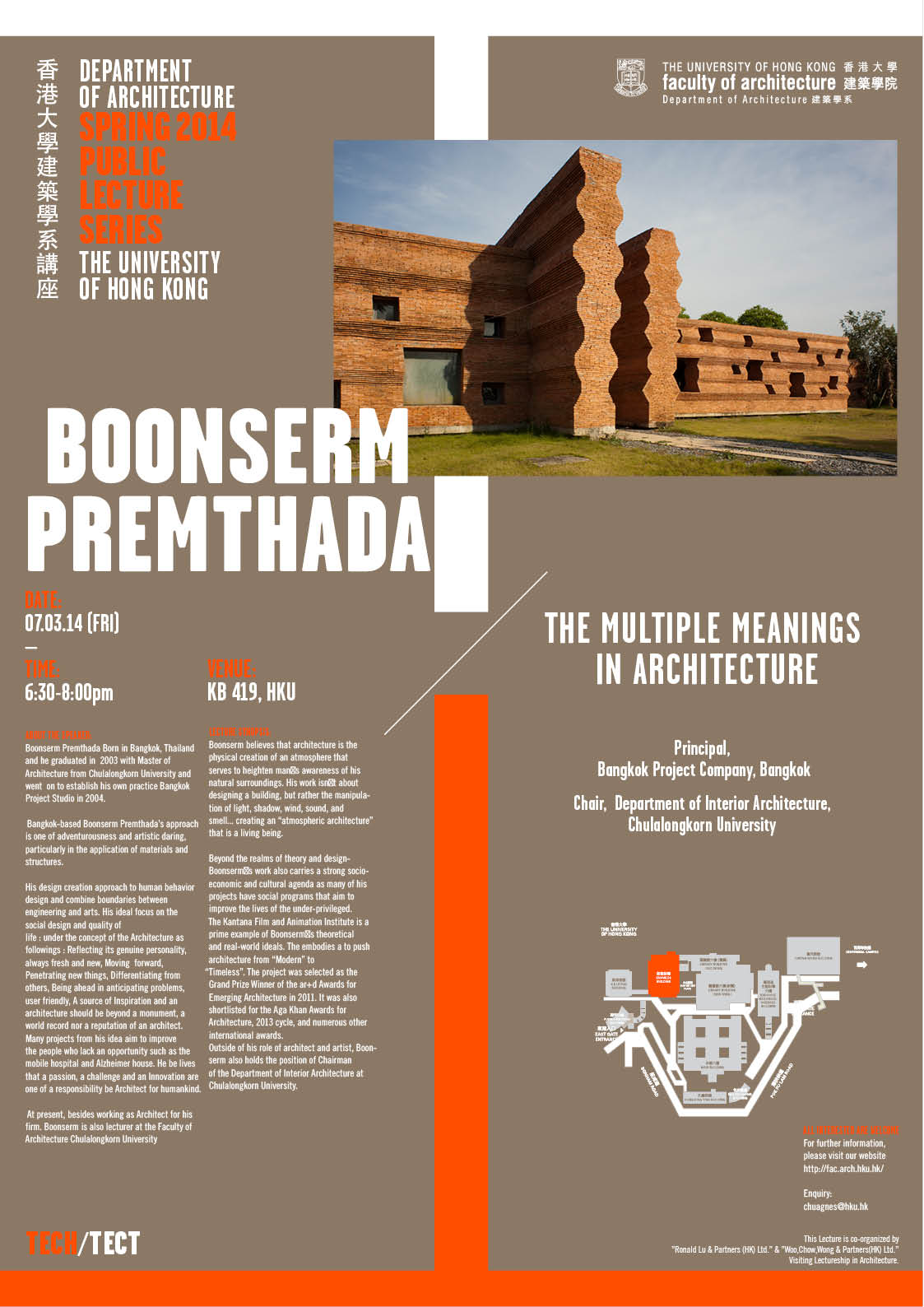 Speaker: Boonserm Premthada
Lecture Title: The Multiple Meanings in Architecture
Date: 7 March 2014 (Friday)
Time: 18:30 – 20:00
Venue: KB419, 4/F Knowles Building, HKU
About the Speaker
Boonserm Premthada Born in Bangkok, Thailand and he graduated in 2003 with Master of Architecture from Chulalongkorn University and went on to establish his own practice Bangkok Project Studio in 2004.
Bangkok-based Boonserm Premthada's approach is one of adventurousness and artistic daring, particularly in the application of materials and structures.
His design creation approach to human behavior design and combine boundaries between engineering and arts. His ideal focus on the social design and quality of life : under the concept of the Architecture as followings : Reflecting its genuine personality, always fresh and new, Moving forward, Penetrating new things, Differentiating from others, Being ahead in anticipating problems, user friendly, A source of Inspiration and an architecture should be beyond a monument, a world record nor a reputation of an architect. Many projects from his idea aim to improve the people who lack an opportunity such as the mobile hospital and Alzheimer house. He be lives that a passion, a challenge and an Innovation are one of a responsibility be Architect for humankind.
At present, besides working as Architect for his firm. Boonserm is also lecturer at the Faculty of Architecture Chulalongkorn University.
Lecture Synopsis
Boonserm believes that architecture is the physical creation of an atmosphere that serves to heighten man's awareness of his natural surroundings. His work isn't about designing a building, but rather the manipulation of light, shadow, wind, sound, and smell… creating an "atmospheric architecture" that is a living being.
Beyond the realms of theory and design- Boonserm's work also carries a strong socioeconomic and cultural agenda as many of his projects have social programs that aim to improve the lives of the under-privileged. The Kantana Film and Animation Institute is a prime example of Boonserm's theoretical and real-world ideals. The embodies a to push architecture from "Modern" to
"Timeless". The project was selected as the Grand Prize Winner of the ar+d Awards for Emerging Architecture in 2011. It was also shortlisted for the Aga Khan Awards for Architecture, 2013 cycle, and numerous other international awards.
Outside of his role of architect and artist, Boonserm also holds the position of Chairman of the Department of Interior Architecture at Chulalongkorn University.