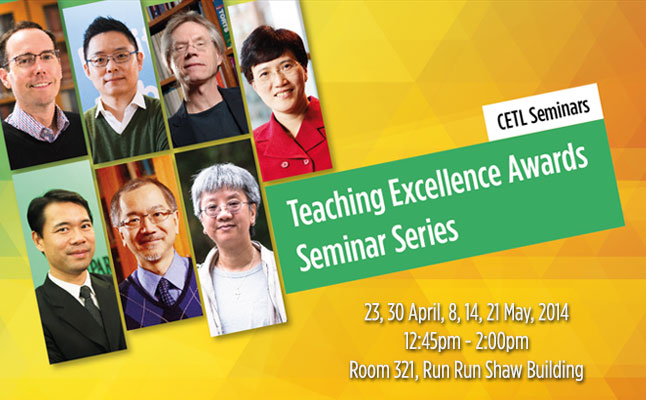 Organized by Centre for the Enhancement of Teaching and Learning (CETL)
Seminar 1
Date: Wed, 23 April 2014
Time: 12:45pm – 2:00pm
Venue: Room 321, Run Run Shaw Building

Topic: School-University Partnership (SUP) – nurturing professional competence of student teachers, enhancing professional development of mentor teachers
Speaker: Dr Tammy Y.L. Kwan, Faculty of Education
Student teachers enrolling in the initial teacher education programmes have to successfully complete the professional practicum before they become qualified teachers. However, not all schools are willing to offer practicum places. School University Partnerships work towards the creation of a win win environment to allow our STs getting quality mentoring support from mentor teachers, while at the same time, create avenue for MTs further strengthening their continuous professional development.

Topic: Engage Students in Authentic Task with Constructivist Approach
Speaker: Dr Shui Fong Lam, Department of Psychology, Faculty of Social Sciences
To engage students in learning, a teacher does not need to be a stand-up comedian who provides entertainment in a lecture hall. Students will be naturally engaged if the learning has real-life significance to them. Students are particularly engaged when they are involved in the process of finding answers to authentic problems.
---
Seminar 2
Date: Wed, 30 April 2014
Time: 12:45pm – 2:00pm
Venue: Room 321, Run Run Shaw Building

Topic: Maximizing Online Resources
Speaker: Dr Cole Roskam, Department of Architecture, Faculty of Architecture
Online resources present tremendous opportunities as well as significant challenges for enhancing student learning, both inside as well as outside the classroom. I will share my own struggles to incorporate online resources into my teaching methods in ways that appeal to students while satisfying my own pedagogical objectives.

Topic: Lessons from Our Own Bodies
Speaker: Dr Lap Ki Chan, Institute of Medical and Health Sciences Education &
Department of Anatomy, Li Ka Shing Faculty of Medicine

In traditional dissection, students learn anatomy by passively follows a set of specific instructions to reveal the structures in the human body. In this short talk, I will describe several structured activities that have been designed to help students actively learn anatomy and other important lessons in life.
Sandwiches will be served with coffee and tea.
---
Seminar 3
Date: Thu, 8 May 2014
Time: 12:45pm – 2:00pm
Venue: Room 321, Run Run Shaw Building

Topic: Teaching Common Core Course on Politics and History
Speaker: Dr Xiaojun Yan
Department of Politics and Public Administration
Faculty of Social Sciences
Politics and History are considered to be the two notoriously "dry" subjects for colleges students of our time; yet, both are crucial elements in a liberal education curriculum. In this seminar, Dr. Yan Xiaojun will share his experiences in teaching political and historical subjects in a lively way in HKU's common core curriculum.

Topic: Environmental Sustainability Education for Engineering and Non-Engineering Students
Speaker: Dr Kaimin Shih, Department of Civil Engineering, Faculty of Engineering
Environmental sustainability is a new element in both engineering and non-engineering curriculums. Today's engineering teachers need to acquire new knowledge from cutting-edge research findings and bring them to their students. At the same time, it is also extremely crucial to work with students of non-engineering majors to facilitate the interdisciplinary innovations in this field. This presentation will demonstrate how we enjoy the communications with HKU students on this timely important environmental topic.
Sandwiches will be served with coffee and tea.
---
Seminar 4
Date: Wed, 14 May 2014
Time: 12:45pm – 2:00pm
Venue: Room 321, Run Run Shaw Building

Topic: The Enabling Power of Assessment in Higher Education
Speaker: Prof. Rick Glofcheski, Department of Law
The role and power of assessment in higher education is such that it poses significant risks as much as it does opportunities for learning. Teachers in higher education must bear in mind that there are often unintended consequences of assessment – so much so that, if improperly designed, assessment can direct students away from meaningful learning. This presentation, drawing on research and collaborations conducted at two leading Australian teaching and learning centres, under the auspices of a University of Hong Kong Teaching Exchange Fellowship Scheme (TEFS) award, will identify some of the risks and opportunities that assessment poses, and some examples of how, if properly understood and utilized, assessment has the potential to ensure more meaningful and sustainable learning that can serve student purposes well beyond graduation. The presentation will have relevance across the disciplines.
---
Seminar 5
Date: Wed, 21 May 2014
Time: 12:45pm – 2:00pm
Venue: Room 321, Run Run Shaw Building


Topic: Teaching Excellence Award Scheme Workshop
Speakers: Dr Cecilia Chan and Dr Susan Bridges, Centre for the Enhancement of Teaching and Learning
This workshop is open to all teaching staff who are interested in finding out more about the Teaching Excellence Awards. Staff will be provided an overview of the award scheme, the key selection criteria and advice in preparing an evidence-based teaching portfolio. Staff who are thinking about applying in the next round are strongly encouraged to attend. Staff who are not sure, or would simply like to know more about the scheme, are most welcome.
---
For information on registration, please contact:
Ms Ivy Lai , CETL
Phone: 3917 8996; Email: laichun2@hku.hk.