Message from Centre for the Enhancement of Teaching and Learning
Massive Open Online Courses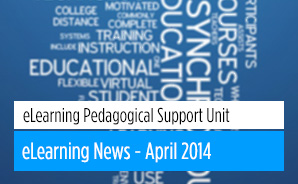 We are very pleased to let colleagues know that the MOOC course pages for three of HKU's MOOCs will soon be launched. The course pages give potential students information about the course content, pre-requisites, expected workload etc. If you've not yet had a look at a MOOC course page try visiting one of the most well-known MOOCs, "Justice" by Harvard's Professor Sandel.
On another note, the EPSU is planning a lunchtime seminar to update colleagues on what is happening with HKU's MOOCs. Colleagues will have the chance to find out about the course content, the development processes and the challenges and opportunities presented by MOOCs. Details of the seminar will be released shortly.
New EPSU Staff
The EPSU team will grow next when we are joined by a new instructional designer, Jingli Cheng. Jingli has come from Stanford University and has extensive instructional design experience. He will be working with us on the MOOCs whilst also integrating in to existing EPSU projects.
Moodle User Guides for Teachers
Four new Moodle user guides of the recently installed plugins (Scheduler, Attendance, OU wiki & OU blog) have been prepared by ITS for teachers to familiar with these new features. They are available at here.
Panopto and Moodle Hands-On Training Courses
The ITS Panopto and Moodle hands-on training courses in April are now open for registration. Details can be found here.