Message from Knowledge Exchange Office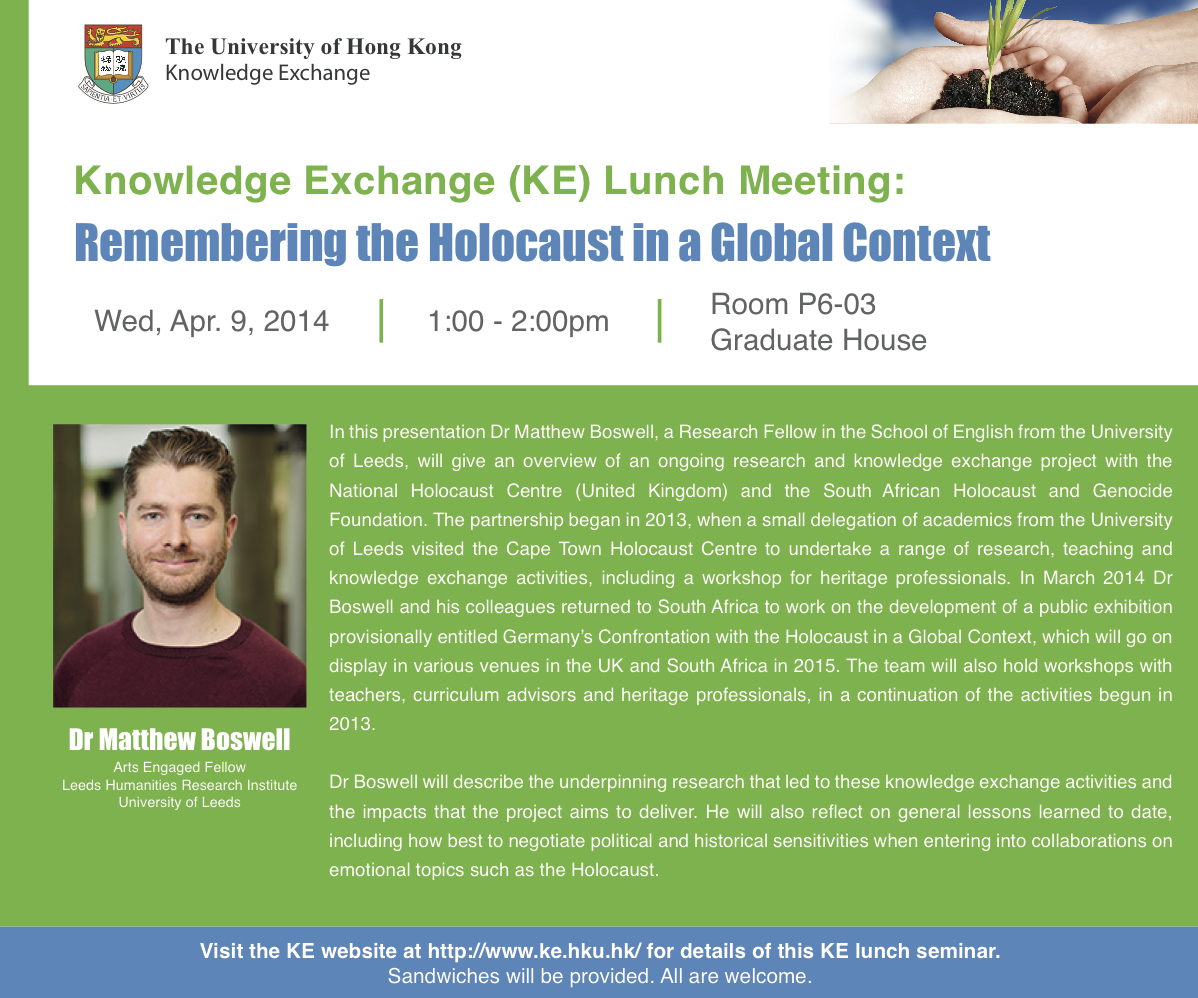 Remembering the Holocaust in a Global Context
by Dr Matthew Boswell, Arts Engaged Fellow
Leeds Humanities Research Institute, University of Leeds
Date: April 9, 2014 (Wednesday)
Time: 1:00-2:00pm
Venue: Room P6-03, Graduate House
Sandwiches will be provided. All are welcome.
Abstract
In this presentation Dr Matthew Boswell, a Research Fellow in the School of English from the University of Leeds, will give an overview of an ongoing research and knowledge exchange project with the National Holocaust Centre (United Kingdom) and the South African Holocaust and Genocide Foundation. The partnership began in 2013, when a small delegation of academics from the University of Leeds visited the Cape Town Holocaust Centre to undertake a range of research, teaching and knowledge exchange activities, including a workshop for heritage professionals. In March 2014 Dr Boswell and his colleagues returned to South Africa to work on the development of a public exhibition provisionally entitled Germany's Confrontation with the Holocaust in a Global Context, which will go on display in various venues in the UK and South Africa in 2015. The team will also hold workshops with teachers, curriculum advisors and heritage professionals, in a continuation of the activities begun in 2013.
Dr Boswell will describe the underpinning research that led to these knowledge exchange activities and the impacts that the project aims to deliver. He will also reflect on general lessons learned to date, including how best to negotiate political and historical sensitivities when entering into collaborations on emotional topics such as the Holocaust.
About the Speaker
Dr Boswell is a member of the Arts Engaged at the University of Leeds, a project designed to realise impact and innovation in the arts. He was a key respondent on an AHRC-funded project entitled "Testimony" (2009-2011), with research interest in "hybrid testimony" (which involves collaboration between victims and professional writers), perpetrator representation, heritage cinema and transnational memories of the Holocaust. He also discussed provocative responses to the Holocaust across a variety of media, including literature, film, documentary, comedy, the graphic novel, and punk and post-punk music.
For further details, please visit the KE website:
http://www.ke.hku.hk/events/seminars