Message from Medical Ethics and Humanities Unit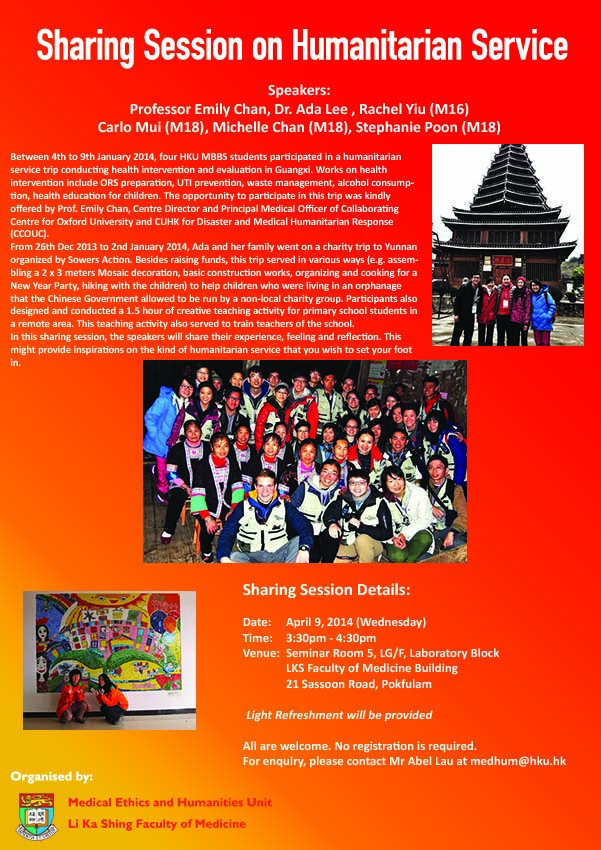 Speaker
Prof. Emily Chan, Dr. Ada Lee, Rachel Yiu, Carlo Mui, Michelle Chan, Stephanie Poon
Between 4th to 9th January 2014, four HKU MBBS students participated in a humanitarian service trip conducting health intervention and evaluation in Guangxi. Works on health intervention include ORS preparation, UTI prevention, waste management, alcohol consumption, health education for children. The opportunity to participate in this trip was kindly offered by Prof. Emily Chan, Centre Director and Principal Medical Officer of Collaborating Centre for Oxford University and CUHK for Disaster and Medical Humanitarian Response (CCOUC).
From 26th Dec 2013 to 2nd January 2014, Ada and her family went on a charity trip to Yunnan organized by Sowers Action. Besides raising funds, this trip served in various ways (e.g. assembling a 2 x 3 meters Mosaic decoration, basic construction works, organizing and cooking for a New Year Party, hiking with the children) to help children who were living in an orphanage that the Chinese Government allowed to be run by a non-local charity group. Participants also designed and conducted a 1.5 hour of creative teaching activity for primary school students in a remote area. This teaching activity also served to train teachers of the school.
In this sharing session, we will hear about their experience, feeling and reflection (e.g. an awareness of our limited knowledge, how one could better prepare himself/herself for participation in humanitarian service work). This might serve to give ideas on the kind of humanitarian service that you wish to set your foot in.
Sharing Session Details
Date: April 9, 2014 (Wednesday)
Time: 3:30pm – 4:30pm
Venue: Seminar Room 5, LG/F, Laboratory Block
LKS Faculty of Medicine Building
21 Sassoon Road, Pokfulam
Light Refreshment will be provided
All are welcome. No registration is required.
For enquiry, please contact Mr Abel Lau at medhum@hku.hk