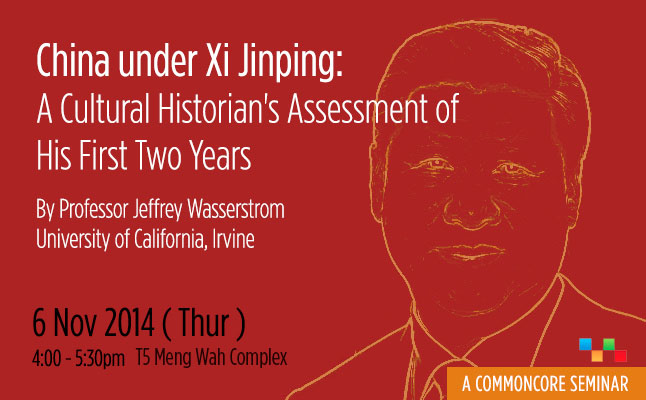 As the Common Core expands its seminars, events, and exhibits for students and the campus as a whole, we are pleased to announce a seminar by Professor Jeffrey Wasserstrom (University of California, Irvine) entitled "China under Xi Jinping: A Culture Historian's Assessment of His First Two Years."
Speaker: Professor Jeffrey Wasserstrom (University of California, Irvine)
Date: Thur, Nov 6, 2014
Time: 4:00 – 5:30 pm
Venue: T5, Meng Wah Complex (Main Campus)
Abstract
In mid-November of 2014, Xi Jinping will have completed two years as head of the Chinese Communist Party. Which past leader or leaders is he most like? Should he be thought of largely continuing the policies of his predecessor Hu Jintao – or as having shifted in dramatic new directions? What are the most significant trends of the last two years when it comes to domestic and international relations? This illustrated talk will explore these questions, bringing into the picture not only parallels between Xi's policies and style and those of previous Communist Party leaders but also ways that some of his moves bring to mind those of other Chinese leaders of the past, from emperors to Chiang Kai-shek.
About the Speaker
Professor Jeffrey Wasserstrom is Chancellor's Professor of History at the University of California, Irvine, where he also holds a courtesy position in the Law School. He is the author of four books, including China in the 21st Century: What Everyone Needs to Know (2010 and 2013), and the editor or co-editor of several others, including Chinese Characters: Profiles of Fast-Changing Lives in a Fast-Changing Land (2012). He has contributed to a range of scholarly periodicals and written commentaries and reviews for newspapers as well as a wide variety of magazines. Before returning to his native California, he taught at the University of Kentucky and at Indiana University, where he spent a decade-and-a-half as a member of the History Department and served for a time as the Director of the East Asian Studies Center.
Professor Wasserstrom visited HKU in March 2013 as Distinguished Speaker
for the China: Culture, State and Society AoI of the Common Core Distinguished Lecture Series.
For registration, please visit
https://hkuems1.hku.hk/hkuems/ec_regform.aspx?ueid=33086
For enquiries, please mail to chiting@hku.hk or call 2219 4957.