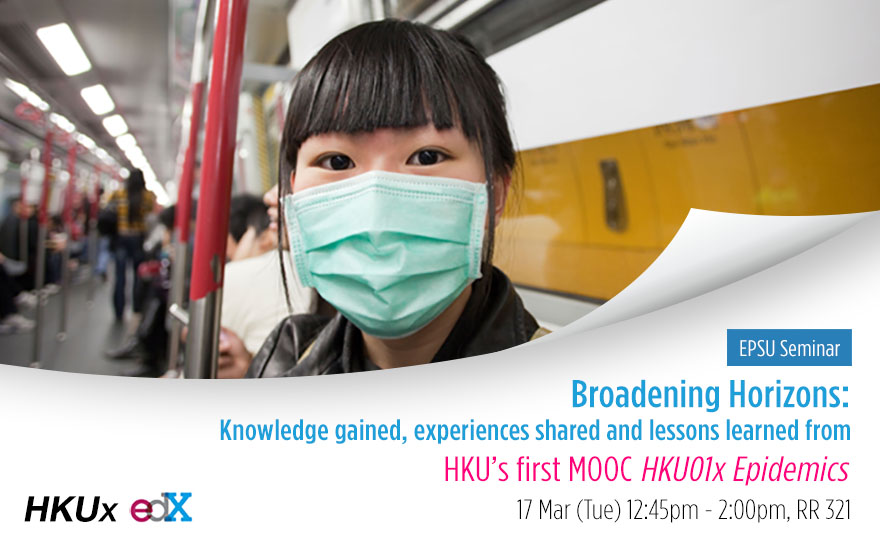 Organized by
e-learning Pedagogical Support Unit, CETL
Speakers:
· Dr. Joseph Wu, Associate Professor, Division of Epidemiology and Biostatistics, School of Public Health, Li Ka Shing Faculty of Medicine
· Dr. Chao Quan, School of Public Health, Li Ka Shing Faculty of Medicine
· Dr. Jingli Cheng, Mr. Darren Harbutt, Instructional Designers, E-learning Pedagogical Support Unit
· Professor Ricky Kwok, Associate Vice-President (Teaching and Learning); Chairman of MOOC Working Group
Date : 17th March, 2015 (Tuesday)
Time : 12.45pm-2.00pm
Venue : Room 321, Run Run Shaw Building
Abstract
From September to December last year, HKU's first MOOC HKU01x Epidemics ran on the edX platform. Over 10,000 learners enrolled on the course taught by 12 experts in the field, with 12% of students earning a certificate of completion on HKU's successful first venture into the world of MOOCs. However, the preparation started one year beforehand and the knowledge gained, the experiences shared and the lessons learned will resonate long after the course itself has finished.
In this seminar, the speakers will explore various viewpoints arising from HKU01x Epidemics: the institutional perspective for HKU and how it relates to current and future MOOC development; the professors' perspective on leading and teaching in a MOOC; the perspective of a coordinator and facilitator; the students' perspective, gathered from research data; and the development and implementation perspective from the instructional designers. Join us as we look back on this rewarding experience and look forward to HKU's increasing presence in online learning.
About the Speakers
Joseph Wu leads the infectious disease modeling research in the HKU School of Public Health. In 2014, Joseph led the production of HKU's first MOOC Epidemics which had more than 10,000 enrollees on the edX platform.
Chao Quan is involved in undergraduate teaching for the MBBS TB Clerkship/Emergency Medicine modules. He has also developed HKU's MOOC, Epidemics.
Jingli Cheng and Darren Harbutt are instructional designers in the E-learning Pedagogical Support Unit, who helped to design, build and run Epidemics.
Ricky Kwok is Associate Vice-President (Teaching and Learning) and Professor in the Department of Electrical and Electronic Engineering at HKU. His work focuses on e-learning, and he is currently leading EPSU to work on HKU MOOCs.
Sandwiches will be served with coffee and tea.
---
For information on registration, please contact:
Ms Carmen Cheung
Phone: 2857 8539; Email:
carmen.cheung@hku.hk
.