Message from Faculty of Engineering
Abstract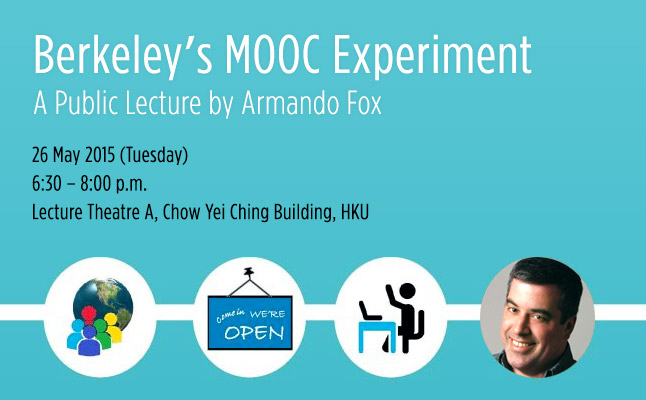 This lecture will discuss how Berkeley has been performing relative to its MOOC goals: what has worked well, what they perhaps should have done differently or what they wish they were doing better, what challenges they face next, how MOOCs have affected classroom learning and teaching, and what their future might be at Berkeley. They continue to believe that the new momentum in online education is a strategic and permanent change for universities, even if that change ultimately takes a very different form than what the original MOOC creators envisioned.
Date: May 26, 2015 (Tuesday)
Time: 6:30 p.m. – 8:00 p.m.
Venue: Lecture Theatre A, Chow Yei Ching Building, The University of Hong Kong,
Pokfulam Road, Hong Kong
Speaker: Professor Armando Fox
Charge: Free registration
About the Speaker
Armando Fox is a Professor in Berkeley's Electrical Engineering & Computer Sciences Department and the Faculty Advisor to the UC Berkeley MOOCLab. With his colleague David Patterson, he co-designed and co-taught Berkeley's first Massive Open Online Course on "Engineering Software as a Service", offered through edX, through which over 10,000 students in over 120 countries have earned certificates of completion. He also serves on edX's Technical Advisory Committee, helping to set the technical direction of their open MOOC platform. His current research in online education includes automatic grading of students' computer programs for style and improving engagement and learning outcomes in MOOCs.
Those interested in attending are requested to register online before noon, May 22, 2015.
For inquiries, please contact us by email at enggfac@hkucc.hku.hk or by phone at 2859 2803.